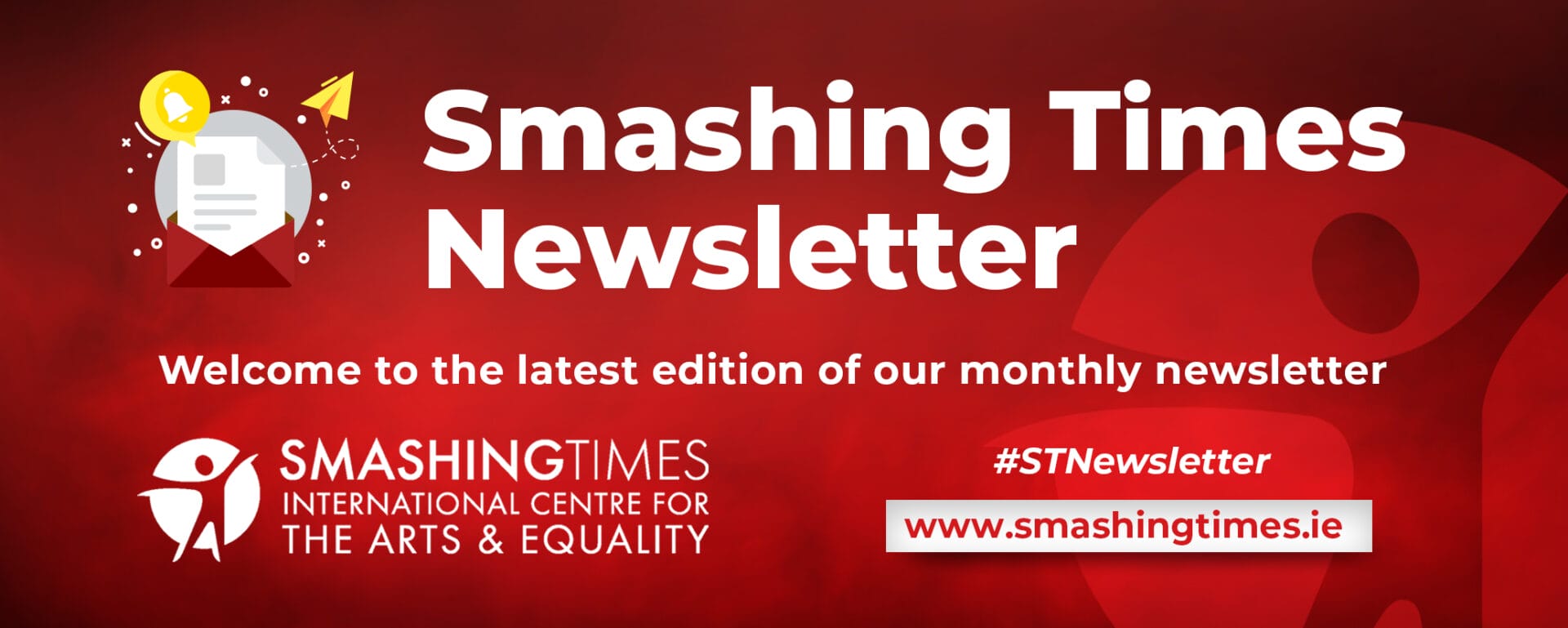 Welcome to the July 2023 edition of the Smashing Times Newsletter. Our theme this month is Friendship.
What better time for an exploration of the complexities, joys, and challenges of friendship, as people flock to holiday destinations with their companions. Moreover, the UN's International Day of Friendship is on 30 July – just two days' time.
Included below is a diverse array of artworks on the theme of friendship. The poems of Featured Artist Áine Ní Ghlinn examine friendships past and future, while artist Noelle McAlinden's vibrant painting responds to a poem by Irish Nobel Laureate WB Yeats. Yeats himself makes an appearance next; 'In Memory of Major Robert Gregory' is a touching tribute not just to one dead friend but to a number of figures from the poet's past. Finally, Dillon McLaughlin's novel excerpt is an equally profound depiction of human-animal friendship.
Read on for news – including information about upcoming events for States of Independence in Dublin, Kerry, and Donegal – quotes, music recommendations, 10 We Admire, and more.
Favourite Quotes
'A true friend never gets in your way unless you happen to be going down.'
– Arnold H Glasow
'Each friend represents a world in us, a world possibly not born until they arrive, and it is only by this meeting that a new world is born.'
– Anaïs Nin
'True friends stab you in the front.'
– Disputed origin
Recommended
Music has a way of saying the things we find hardest to express. And when it comes to our true friends – the ones who have always been there, to uplift us on our darkest days or to accompany us in happy times – a song lyric, like a heartfelt quote, can be the perfect way to capture how we feel.
'Thank You for Being a Friend' by Andrew Gold
Perhaps more familiar to many as the theme song to the forever wonderful Golden Girls, 'Thank you for Being a Friend' was written by Andrew Gold and released as a single on his album All This and Heaven Too in 1978. He referred to it as 'just a little throwaway thing' that only took him an hour to write. Years later, Cynthia Fee would go on to cover it and it was repurposed for the NBC show. Listen here.
'Lean on Me' by Bill Withers
Bill Withers' 'Lean on Me" was featured on Rolling Stone's 500 Greatest Songs of All Time as number 208. The song is an anthem for unity and camaraderie. Withers released it in June 1972 on his album Still Bill. Click here to listen.
'That's What Friends Are For' by Dionne Warwick feat. Stevie Wonder, Elton John, and Gladys Knight
'That's What Friends Are For' was covered in 1985 by a selection of star-studded artists: Dionne Warwick, Stevie Wonder, Elton John, and Gladys Knight. The original recording by Rod Stewart came three years prior. This new edition was made to raise funds to support AIDS research. Not only did it peak at number one on Billboard Hot 100 chart, but its popularity led it to win a Grammy Award for Song of the Year and Best Pop Performance by a Duo or Group with Vocals in 1986. Listen to (and watch) their timeless rendition here.
Art Inspires
Featured Artist: Áine Ní Ghlinn
Áine Ní Ghlinn is this month's Featured Artist. A poet and children's writer working in the Irish language, Áine was Ireland's Laureate na nÓg, Children's Literature Laureate, from 2020 to 2023. She has 36 books published, with three more on the way in 2023/2024. These include poetry (for adults and children), young adult fiction, stories, novels, and drama for young readers.
Áine has won a range of awards, including the Patrick Kavanagh Fellowship (2019), Children's Books Ireland fiction honour award, and the Irish Literacy Association Book of the Year for the Young Adult novel Daideo (2014/2015). She has won Gradam Reics Carló, Irish Language young people's Book of the Year on three occasions. She has also won various Oireachtas awards for poetry and teen fiction as well as several poetry awards at Listowel Writers' Week and Strokestown Poetry Festival. She was one of Ireland's three nominees for the Astrid Lindgren Memorial Award (ALMA) in 2023.
The poems included below – namely 'Oideas', 'Is mé ag dul in aois', and 'Linne an Oíche' – deal with three different but equally powerful modes of friendship. 'Oideas', which gains its immediacy through its combined use of present tense and imperative mood, is an intimate portrayal of that which the COVID-19 pandemic deprived us: tactile expressions of friendship, such as a hug.
Where 'Oideas' deals with the immediate present, 'Is mé ag dul in aois' concerns itself with the future. Specifically, the speaker lays out a scrupulous vision for her friendships going forward. Through its unambiguous declarations and its stylistic flirtation with refrain, the poem resembles a prayer, one born out of years of interpersonal experience and the hard-earned wisdom this enabled.
'Linne an Oíche', Áine's third and final poem, presents a bond that is perhaps the closest of all, owing to its continuity, its totality, its precedence, and its bestowal of supreme responsibility. This is the relationship between parent and infant, or mother and infant in this case – a detail which further deepens the relationship through the provision of sustenance via breastfeeding. In this moving poem, the speaker embraces, and finds solace in, the time spent alone with her infant.
Oideas
Cuir do dheasóg thart timpeall
ar mo ghualainn. Do chiotóg
faoi m'ascaill. Fáisc beagáinín.
Déan cuimilt b'fhéidir ar mo
dhroim. Déan fáscadh eile.
Do leiceann le mo leiceannsa.
Fan mar sin. Fiche soicind.
Triocha b'fhéidir. Cleachtaigh
go laethúil nó go dtuigimid
arís cluthaireacht barróige.
Is mé ag dul in aois

Is mé ag dul in aois
tá ag teip ar mo chuid foighne
leo siúd nach ndearna botún riamh
is nár fhoghlaim puinn dá bharr
leo siúd nár cheannaigh ciall
le haois ná imeacht saoil
Tá ag teip ar mo chuid foighne
leo siúd a cheapann
gur ionann aois is baois
leo siúd nach n-éisteann
mar nach fiú éisteacht ach
lena bhfuil le rá acu féin
Is mé anois ar na sleasa thall
de shliabh an tsaoil
b'fhearr liom pé blianta atá
fágtha romham a chaitheamh
leo siúd nach spéis leo baothchaint
nár ghlac riamh le baothfhreagraí

Roinnfidh mé gach uile nóiméad
leo siúd a thuigeann
saibhreas na barróige
a thuigeann luach na ndeor
is nach bhfuil leisce orthu
barróg a bhreith ná deoir a shileadh

Leo siúd a roinnfidh cúis na ndeor
a bhain súp is spraoi as peacaí saoil
a cheannaigh ciall go daor
is nach gcuirfidh oiread is
soicind luachmhar amú
ar aiféala ná breithiúnas

B'fhearr liom na blianta
romham a roinnt
leo siúd a shiúlfaidh liom
a roinnfidh caint nó tost nó gáire
a dhéanfaidh rince liom chomh fada
le béal geal na huaighe
Linne an Oíche
Troscán an tí ag gíoscán.
Thíos staighre taibhsí
ag síneadh a gcnámh.
An oíche curtha chun suain
ach ní aithníonn tusa
grian ó ghealach fós,
a linbh diúil.
Ardaím ón gcliabhán tú.
Fuist! Ná déanaimis
na scáileanna a mhúscailt.
Déanann tú bolaireacht
ar mo ghualainn.
Ligeann scairt mífhoighne.
Ar ais linn chun na leapa.
Aimsíonn tú cíoch is diúlann.
Linne an neomat seo.
Linne an oíche,
a chroí diúil.
Post-Covid Prescription
Put your right hand just around
my shoulder. Your left hand
under my arm. Squeeze gently.
Maybe pat or stroke my back.
Then another gentle squeeze.
Your cheek against mine.
Hold it there. Twenty seconds.
Perhaps thirty. Practise daily
until eventually we fully know
again the value of a hug.
As I grow older

As I grow older, I am losing patience
with those who are never wrong,
who have learnt nothing from
mistakes they think they never made,
with those who see no value
in the lessons of experience.
I have lost patience with those
who think that age is all about
senility, with those who listen
only to the sound of their own voice,
who think there's no one else
whose thoughts have any value.

Now that I am on the far slope
of this hill of life, I want to spend
the years ahead with those
who have no time for idle talk
and gossip, with those who waste
no energy on foolish answers.

I'll spend whatever time I have
with those who understand
the wealth of a hug, with those
who know the value of tears,
with those who are willing
to share both or either.
I'll spend my days with those
who share their sorrows and
their sins, those who value the
lessons learnt from both, those
who won't waste my time or theirs
on judgement or regret.

I want to spend whatever
years remain with friends
who'll walk with me and share
a conversation or silence,
who'll dance and laugh with me
right up to the brink of the grave.
Our Time
Downstairs the furniture
unwinds while ghosts
stretch out their bones.
The night has gone to sleep
but you can't yet distinguish
sun from moon,
my little one.
I lift you from your crib.
Shush! Let's not disturb
the shadows.
You snuffle at my shoulder,
whimper your impatience.
Back in bed, you find
the breast and suckle.
This is our time.
This night is ours.
Ours alone,
my little one.
Acrylic on Canvas 30 x 20 cm, 2021
A company of friends, a conscience set at ease, It had but made us pine the more by Noelle Mc Alinden
Inspired by WB Yeats' dazzling 1923 poem 'Meditations in Time of Civil War', this painting by Noelle Mc Alinden was part of a group exhibition commissioned by Martina Hamilton of The Hamilton Gallery, Sligo. Noelle was invited to respond to Yeats' poem 'Meditations in Time of Civil War', the poet's personal reflection on inheritance and the dangers of idealism, all set against the context of Ireland's ruinous civil war.
In Mc Alinden's painting, the figures dancing in a circle represent the joy of connection and friendship, while Yeats is portrayed as a distant onlooker, not involved but perhaps yearning to be. Within his body, there are a number of chambers, his body constituting the biggest chamber of all. They are chambers of sadness, regret, unrequited love, and occasional joy, an emotional interior landscape traversed by the winding stairway of his tower, which he references in the poem. This dynamic, arresting painting was first shown at The Hamilton Gallery Sligo in 2021.
Noelle Mc Alinden is an artist, creative adviser, curator, and educator based in Fermanagh, who exhibits regionally and internationally. An arts and human rights activist, she has over 40 years of experience in the arts, culture, education, and community sectors. Currently nominated as High Sheriff for County Fermanagh for 2023, she is using the role as a platform to continue to promote arts and culture in peace and reconciliation, mental health and wellbeing, and life-long learning.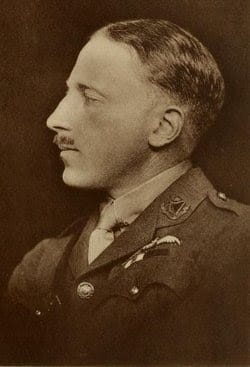 Robert Gregory, a friend of WB Yeats and the son of his long-time colleague and collaborator, Lady Gregory. He died in 1918, aged 36, while flying for the Royal Flying Corps in World War I.
'In Memory of Major Robert Gregory' by WB Yeats
I
Now that we're almost settled in our house
I'll name the friends that cannot sup with us
Beside a fire of turf in th' ancient tower,
And having talked to some late hour
Climb up the narrow winding stair to bed:
Discoverers of forgotten truth
Or mere companions of my youth,
All, all are in my thoughts to-night being dead.
II
Always we'd have the new friend meet the old
And we are hurt if either friend seem cold,
And there is salt to lengthen out the smart
In the affections of our heart,
And quarrels are blown up upon that head;
But not a friend that I would bring
This night can set us quarrelling,
For all that come into my mind are dead.
III
Lionel Johnson comes the first to mind,
That loved his learning better than mankind,
Though courteous to the worst; much falling he
Brooded upon sanctity
Till all his Greek and Latin learning seemed
A long blast upon the horn that brought
A little nearer to his thought
A measureless consummation that he dreamed.
IV
And that enquiring man John Synge comes next,
That dying chose the living world for text
And never could have rested in the tomb
But that, long travelling, he had come
Towards nightfall upon certain set apart
In a most desolate stony place,
Towards nightfall upon a race
Passionate and simple like his heart.
V
And then I think of old George Pollexfen,
In muscular youth well known to Mayo men
For horsemanship at meets or at racecourses,
That could have shown how pure-bred horses
And solid men, for all their passion, live
But as the outrageous stars incline
By opposition, square and trine;
Having grown sluggish and contemplative.
VI
They were my close companions many a year,
A portion of my mind and life, as it were,
And now their breathless faces seem to look
Out of some old picture-book;
I am accustomed to their lack of breath,
But not that my dear friend's dear son,
Our Sidney and our perfect man,
Could share in that discourtesy of death.
VII
For all things the delighted eye now sees
Were loved by him; the old storm-broken trees
That cast their shadows upon road and bridge;
The tower set on the stream's edge;
The ford where drinking cattle make a stir
Nightly, and startled by that sound
The water-hen must change her ground;
He might have been your heartiest welcomer.
VIII
When with the Galway foxhounds he would ride
From Castle Taylor to the Roxborough side
Or Esserkelly plain, few kept his pace;
At Mooneen he had leaped a place
So perilous that half the astonished meet
Had shut their eyes; and where was it
He rode a race without a bit?
And yet his mind outran the horses' feet.
IX
We dreamed that a great painter had been born
To cold Clare rock and Galway rock and thorn,
To that stern colour and that delicate line
That are our secret discipline
Wherein the gazing heart doubles her might.
Soldier, scholar, horseman, he,
And yet he had the intensity
To have published all to be a world's delight.
X
What other could so well have counselled us
In all lovely intricacies of a house
As he that practised or that understood
All work in metal or in wood,
In moulded plaster or in carven stone?
Soldier, scholar, horseman, he,
And all he did done perfectly
As though he had but that one trade alone.
XI
Some burn damp faggots, others may consume
The entire combustible world in one small room
As though dried straw, and if we turn about
The bare chimney is gone black out
Because the work had finished in that flare.
Soldier, scholar, horseman, he,
As 'twere all life's epitome.
What made us dream that he could comb grey hair?
XII
I had thought, seeing how bitter is that wind
That shakes the shutter, to have brought to mind
All those that manhood tried, or childhood loved
Or boyish intellect approved,
With some appropriate commentary on each;
Until imagination brought
A fitter welcome; but a thought
Of that late death took all my heart for speech.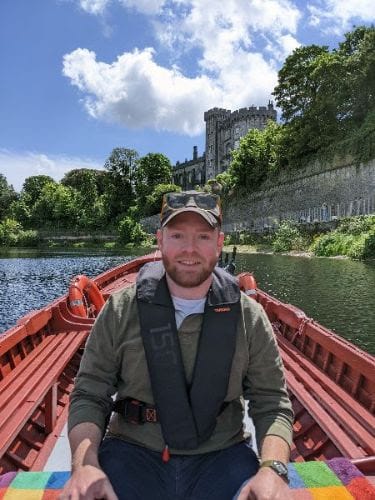 'Russel's Story' From Applejack by Dillon McLaughlin
Russel threw open the basement door and entered the bar. He was, as usual, dressed impeccably, opting for an off-white linen suit, with a pale blue-and-white-striped shirt underneath with no tie. His shoes matched the blue of his shirt. The swishing of his pants as he approached the bar revealed shining brown bare ankles and there was a light sweat beading around his forehead. He tipped an imaginary hat to Rose. 'Rosaleen, hello.'
'Russel, good to see you. Excellent suit.'
He pulled at his lapel proudly. 'Thank you. Thank you.' He looked around the room. 'And my nephew is…' He found Gus. 'Here! Excellent.' He rubbed his hands together and bellied up to the bar. 'Rosaleen, I would like a tall glass of something gold and transparent, if you wouldn't mind at all.'
'Not in the slightest.' Rose pulled Russel's reserved stein from below the bar and tilted it below the lager tap. She turned her face to Russel as she waited for the stein to fill. 'Any reason for the high spirits today?'
'Spirits, my effervescent barmaid, are the reason for my spirits.' Russel eyed the liquor behind the bar as he spoke. 'As soon as I looked out my window this morning I could tell that this was the kind of day that demanded a bit of afternoon indulgence.'
Rose dropped the stein in front of Russel. 'Indulge away, Russel.'
Russel took a large swig from the stein and closed his eyes as the pilsner washed over his tongue. He savoured the beer and opened his eyes. 'I have found, Rosaleen, that these beers are best enjoyed with a companion. And considering you do not drink on the job…'
Rose smirked guiltily. 'At least not to the degree you're asking for.'
'May my companion take the form of something short?'
'No objection from me there.' Rose retrieved Russel's favourite whiskey from the liquor shelf, pulled a tumbler from under the bar, and splashed a healthy serving into the waiting glass. 'Ice?'
Russel sucked his teeth. 'As loudly as my taste buds are screaming their objections, the dilution may do me good. Please, use your best judgment.'
Rose dropped a few ice cubes into the whiskey and gently placed it next to Russel's stein.
Russel took both in his hands and admired the pairing. He took in just enough whiskey for it to coat the inside of his mouth, breathed out his nose, and gave his head an approving shake. He looked at the few other customers in the bar over his shoulder. 'I do wish that we could have an outdoor space here. I understand that with our retreat's dubious legal status, that would look highly suspicious.'
Rose nodded. 'I think about that any time the sun is out.'
Russel's face returned to Rose. 'I hope my sincerity comes through when I thank you for this establishment. It's a great comfort to have this place on days like today.' Russel raised his glass in acknowledgment and fell into an unexpected contemplative silence. The glass hovered around his mouth until it was finally tipped for a sensible sip.
Rose eyed him. 'Then I'll say thank you. And ask why you're talking like this is your last visit.'
Surprise bounced across Russel's face. 'Oh, my dear Rosaleen, not at all. This is far from the last time I will prop up your bar. Though, I do admit I'm putting on a bit of a show to cover my melancholy and you have sensed a crack. My postman's delivery did not match the weather's optimism.' He took a letter from his inside pocket and dropped it on the bar. His voice became slightly more strained. 'Today, I received a reply to a letter I wrote to an attorney, trying to bring a case against the National Guard. The attorney has done the professional equivalent of laughing me out of the room.'
'Why the hell would you sue the National Guard?'
'Please, Rosaleen, you really need not think on it.'
'Oh, I'm thinking on it, Russel.' She leaned in closer. There was a different depth to the wrinkles beside his eyes and mouth today. Normally, these were jovial creases, earned over life filled with music, conversation, and laughter. Today, they were gouges of a morose carpenter, deep lines carved into a wooden face.
Genuine concern replaced amiable persistence. She reached out for Russel's forearm. 'Is there anything I can do?'
Russel shook his head.
Gus joined the two at the bar and saw the letter. He picked it up and scanned it quickly, his expression darkening. 'Russ, I'm sorry.' He took his uncle's shoulder in a gentle grip.
Rose tried to soften her voice as much as she could. 'Russel, I didn't mean to be dragging up bad memories or anything.'
'You did no such thing. Thinking of Lem still makes me happy. What saddens me is dragging his memory through the sucking quagmire of litigation.' He took a deep breath. 'I'm sorry to impose your vocation on you once again, but I'm sure that Gus is wanting a drink. A stein and small glass for him as well, would you please?'
'Of course.'
'Thank you.'
While Rose got Gus his drinks, Russel spoke, ostensibly addressing Rose, though the words resembled an introspective pep talk more than anything else. 'I like to think, Rose, that we have become some version of friends over the past few months, though it's possible the age difference makes "friends" the wrong word. Perhaps the two of us are something closer to me and Gus. An uncle and niece. That, at least, it how I think of you, Rose. As an adopted niece.'
Rose felt her throat tighten when he said it. She tried to force words through the knot, failed, and settled instead for a nod and the deliverance of Gus's drinks.
'Good. I'm glad.' Russel paused. 'Lem was my childhood canine companion. He was so named because when he first came to me, my parents were wearing needle after needle off their turntable playing Lem Winchester recordings. I don't know what kind of dog he was, only that I had never seen, and still have never seen, a dog like him. He grew large, maybe only a head and shoulders shorter than me, and he had a beard that flowed graceful and dignified from his snout and muzzle. His ears were stiff straight until the very ends of them, where they fell in limp curls. His colour was beautiful, a bold mix of grey and black at his head and neck that blended into a beautiful brindle on his body, all of which washed out into four white feet. My research as an adult, when I could bear to do it, forced me to conclude he was a mix between a schnauzer and a St. Bernard.'
The basement felt close and the sun outside beat on the basement stairs.
'I found him when I was five years old, himself no older than a few months. One morning, a Saturday if I remember, he was curled up tight in one of our wicker chairs, his fur heavy with late autumn's condensation, shivering in a fitful sleep. No one else in the house was awake and the situation did not seem so dire as to warrant an alarm. My five-year-old mind was confident I could handle this puppy. I poured two bowls of cereal and grabbed two sweaters and gave him one of each. My mother found us out there an hour or so later and knew instantaneously we had a new familial addition.
'We were, as the cliché goes, inseparable. Lem walked me around the city, pulling me from smell to smell, giving me begrudging side-eyes when I yanked him to a stop at intersections so that neither of us would be destroyed by passing cars piloted by negligent drivers. Sometimes, when we were out, I imagined the places Lem might pull me on a walk that allowed his nose the roaming freedom it craved. The two of us visited Egyptian pyramids and Saharan nomads and Italian mountain villages and Mayan ruins and the towering mesas carved by American Indians.
'When we were home, it became harder to tell who was following whom. If it was me, it was because he needed the supervision and I needed the company. If it was him, he knew I needed the protection and he never wanted to be far from what I was eating. I think, as most things are, it was an equal split between the two.'
Russel took another pause and contemplated his whiskey, though he didn't drink. 'If Lem had a fault, it was that he could not be let off leash, or else his nose would take him to Maryland or Pennsylvania or to the pristine forests of Washington state. We tried to keep doors closed whenever we could, not because he made a break for it at the first opportunity, but because he'd simply stroll out like he was running an errand. That is likely exactly what he was doing. We were never afraid he would run away. We were afraid he'd lose track of time while he was out on the town.'
Rose's laugh was tinged with morbidity. 'Kind of like yourself, no?'
Russel's laugh echoed hers. 'I would be surprised if he has not worn off on me.' The amusement left him quickly as he went on. 'My days with Lem live in striking, unfaltering fidelity. His snuffling is as audible to me sitting in this bar as when I was being towed along five-and-change decades ago.'
There was still the soft buzz of conversation from other bar patrons, but more and more were eavesdropping as Russel went on. He didn't seem to mind the extra ears.
'You may very well have reasoned out that the time period we're talking about is the late '60s. If you're familiar with the history of this city around that time, you'll know we reacted strongly to the assassination of Dr King. When he was killed, there were some who stormed the streets to voice horrified incredulity. We were angry and some wanted to show that our anger could manifest in ways that were not pacifist marches that ended in us being pummeled and drenched by fire hoses.' Russel tapped his fingers to his chin. 'White families, on the other hand, fell to fear. They saw only senseless violence and the irreconcilability of the American racial question. To them, the occupation by federal troops that followed was a shameful necessity. And so we had months of National Guardsmen patrolling the city, convinced the city itself was on the verge of self-immolation, constantly vigilant for a threat that did not exist.
'One night, in the middle of the occupation, our front door was left ajar. It was not done on purpose, nor could it have been open for long. But it was long enough for Lem's nose and innate curiosity to take him on his errand. When we finally saw the door was open, I did not wait for my parents. I threw on my jacket and shoes and cast myself into the night, hoping that we were not so late in searching that Lem had made his way across state lines. Of course, now I wish he had. It would have been a better end.'
The rest of the bar was listening to the story now. Anyone who'd been trying to hide their eavesdropping had given up the effort.
Russel strengthened himself with a large sip from both drinks in front of him. 'An hour or so into my search, the booming cracks of gunshots ripped the night. My feet heard the sounds first and swept me toward the source. As I turned the corner, I saw Mr Purnell, one of a scant few Black policemen, berating four Guardsmen with the silent intensity of a mother to her children in church. One of the Guardsmen saw me, and the shift in attention distracted Mr Purnell. He followed the Guardsman's stare and ran over to me. He grabbed my shoulders, planted me in the spot, and made me swear I would not move until he retrieved me himself. Then he went back and pushed past the Guardsmen. He removed his large policeman's coat and draped it across something in the street. As he did, my parents caught up to me. My mother took my hand and stayed with me while my father approached Mr Purnell. The two spoke quietly for a minute, then Mr Purnell returned and walked me and my mother back to our house.' Russel wiped his eye with the back of his hand. 'It was through Mr Purnell's intercession that I was saved the brutal heartache of finding Lem dead in the street.'
Russel stopped for a moment, lost in the memory. Tears were in Rose and Gus's eyes now and both were staring fixedly in front of them.
'My appreciation for Mr Purnell and my father has grown over the intervening years. I have come to better understand the risk they took, challenging the Guardsmen's authority and judgment. That risk brought Lem home to a modest grave beside our tool shed. Because of their care, my last memory of my dog was not a mangled corpse of broken bone and blood splashed on pavement.' Russel's voice had the shakiness of someone barely holding onto his composure. 'Because of the two of them, I was able to hold Lem's head in my hands and do the best a twelve-year-old could to say goodbye.'
Rose took Russel's hand in hers. He gave her a teary, appreciative smile and squeezed her fingers, then dabbed at his tears with his free hand.
He continued. 'I asked Mr Purnell years later what happened. He kept the topic short. He said that he got a copy of the report, a decade or two later, after exploiting the unofficial, friend-of-a-friend channels available to him. In the Guardsmen's report, itself only a few sentences long, the men claimed the dog attacked them and they reacted accordingly. Mr Purnell knew Lem almost as well as I did and that the "attack" was likely Lem's playful initiation. He was excited to see a group of new friends on the street and jumped to say hello. Mr Purnell destroyed his copy. When I asked him why, he said there was no reason to remember the wording of a lie, only that a lie was told.
'The occupation was the death knell for the city. Whatever industry we had left shuttered and fled in favour of cheaper operations in South American or Asian territory. Those with the money to buy in the burgeoning suburbs did so and sprinted away with our tax base. When they built the new financial district in the '70s, they swore up and down we would reap the financial benefits of a revitalised city. All we had to do was give up a few blocks of our community. The cynical among us were proven right again when our homes were replaced with office buildings and parking lots and the banks decided they preferred the college degrees of suburbanites. In the midst of it all, Lem was either disinterred and discarded or paved over. I lost him a second time.'
Russel picked up the letter and brandished it in a tight fist. 'And now this attorney responds as if I'm a doddering fool unable to let go of the past. This is a firm that routinely debases the law with trip-and-fall claims, yet my legitimate claim of theriocide is dismissed out of hand. The attorney even hinted that I was mining my past for potential litigation to shore up my finances. I worried myself sick at defiling Lem's memory with a lawsuit. I had weeks of fidgeting insomnia at the thought of the psychological contamination of my childhood companion. But I consoled myself that this might be a way to turn a spotlight to our routine of tragedy. I was not the first of our children to lose something precious to the intentional mixing of ignorant fear and righteous indignation. Every family I know can tell you this story, though we may not share specifics. I only hoped we might be able to tell it.'
Dillon McLaughlin graduated from the National University of Ireland, Galway, in 2019. He is currently working on a novel and a collection of short stories, and his fiction has previously appeared in The Galway Review and Ropes in Ireland, and The Broadkill Review and Philadelphia Stories in the United States.
The excerpt above is from his novel Applejack, which concerns a recent college graduate, Rose, who inherits her grandmother's house and turns the basement into an unauthorised pub, which quickly becomes a gathering point for her community.
Smashing Times News
States of Independence: A Celebration of Changemakers
Smashing Times International Centre for the Arts and Equality would like to cordially invite you to a series of events we are holding over the next few weeks and months. Presented as part of our project States of Independence, the performances, exhibitions, film installations, and panel discussions take place in Dublin, Kerry, and Donegal.
States of Independence celebrates the stories of changemakers from the Decade of Centenaries in Irish history, linking them to stories of changemakers today working to make society a better place. The stories gathered act as inspiration for the creation of new artworks by artists working in visual art, film, dance, theatre, creative writing, and digital arts. The artists come together to create a range of artworks and performances for public display in sites – both ancient and modern – across Ireland, for display via a creative billboards campaign, and online on the Smashing Times Virtual Art Gallery.
Enjoy live projections, visual art exhibitions, film installations, and multi-disciplinary performances. Live events are accompanied by public panel discussions and post-show structured talks with audience Q and A on the arts for equality, human rights, and diversity, and new visions for a peaceful and equal society for all, taking place in Dublin, Kerry, Clare, Donegal, and online, reaching across Ireland and internationally. Join us as we celebrate and explore a co-existence of multiple states of independence where all people are welcome and all stories are told. Learn more about the project here.
For more information about, and to book, these various events – which include performances about Constance Markievicz, Robert Emmet and Sarah Curran, WB Yeats, Hanna Sheehy-Skeffington, and more – please click here.
Smashing Times Travel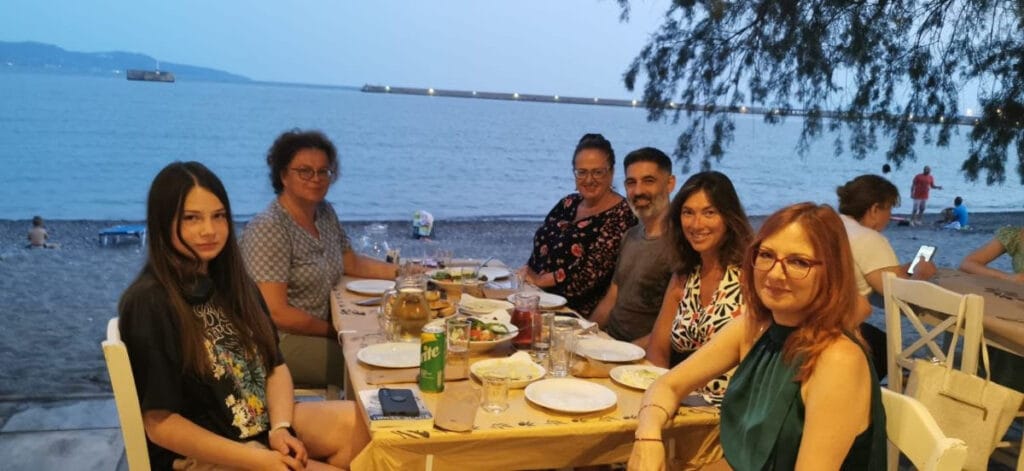 Smashing Times representatives were on the move again this past month. From 28 June – 2 July, Company Manager Freda Manweiler and singer Hilary Bow were in Kalamata, Greece as part of a transnational partner exchange for the project Empower Active Young Citizens to Influence Society (AYE), of which we are the lead partner. Ella Moynihan Ní Bhrádaigh and Joni Piskorski also travelled to Kalamata, participating in a training course in digital production for young people, as well as attending the Kalamata Street Festival. The project, supported by the Erasmus+ Programme of the European Union, aims to promote young people's initiative and civic engagement, and to contribute to quality and innovation in youth work. Read more on the project here.
Additionally, Smashing Times artists Elizabeth Moynihan and Rob Harrington attended storytelling workshop training in Volos, Greece, as part of the Remembrance project, again supported by the Erasmus+ programme. The objective of this project is to develop training tools that use stories of activists who stood up against fascism in a time of war to explore what happens when free speech and democratic practices are denied. More on this project here.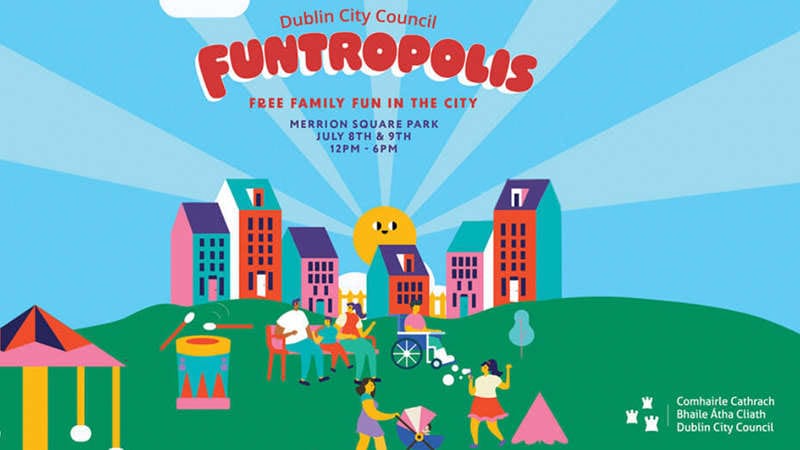 Changemakers Performance at Funtropolis
Smashing Times International Centre for the Arts and Equality and Goal NEXTGEN were pleased to present a changemakers performance at Funtropolis in Merrion Square, Dublin, on 8 and 9 July. This involved four performances (two each day) of Love the Earth, written by Mary Moynihan and inspired by three stories from Goal's Global Citizenship Education Resources, which aim to foster a sense of global connectedness and oneness (read more about this programme here). Love the Earth was performed by Amy Kidd, directed by Eftychia Spyridaki, and stage-managed by Rob Harrington, as part of Smashing Times' States of Independence project. Supported by Theatre in Palm, Creative Europe, and the Arts Council.
The three stories which function as the basis of the performance are as follows. The Water Princess tells the story of Josie and her journey with her mother to get clean water. The story of The Hummingbird illustrates how, no matter how big or small we are, we can all make a difference. The story of The Salmon of Knowledge is a reflection on the importance of taking care of our oceans and planet.
States of Independence celebrates the stories of ten changemakers from the decade of centenaries and the stories of ten changemakers today working to make society a better place for all. Learn more here.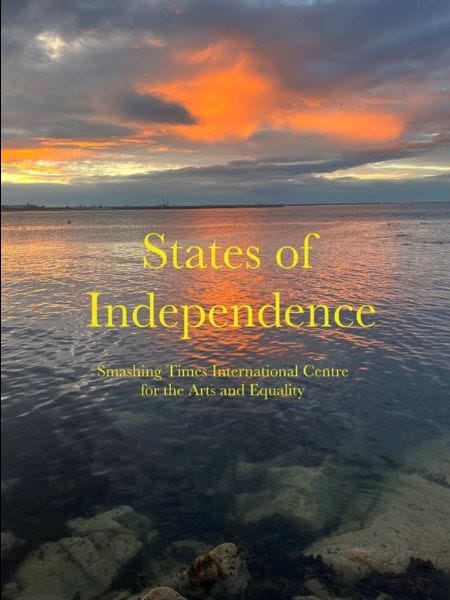 Photograph: Mary Moynihan
Changemaker Theatre Workshop in Civic Theatre
Smashing Times delivered a theatre-based changemaker workshop with SoloSIRENs theatre collective on 4 July in the Civic Theatre, Tallaght. The workshop, run by Smashing Times Artist/Facilitator-in-Residence Michael McCabe, celebrated stories of changemakers from the decade of centenaries (1912-1922), linking them to the stories of changemakers today working to make society a better place. Open to the public, the following themes were explored: 'Who are the changemakers, visionaries, champions, or warriors that inspire us?' and 'Revolutionary visions for the future', imagining new visions for an equal and peaceful society for all.
This event was conducted as part of the project States of Independence, for which Smashing Times are planning a unique series of live performances, multi-disciplinary exhibitions, live projections, workshops, and talks on the theme of stories of changemakers from the past and today, taking place in Dublin, Kerry, Clare, and Donegal, with a number of events presented for the upcoming Dublin International Arts & Human Rights Festival, 13-22 October, 2023. Read more on the project here. Supported by the Arts Council.
10 We Admire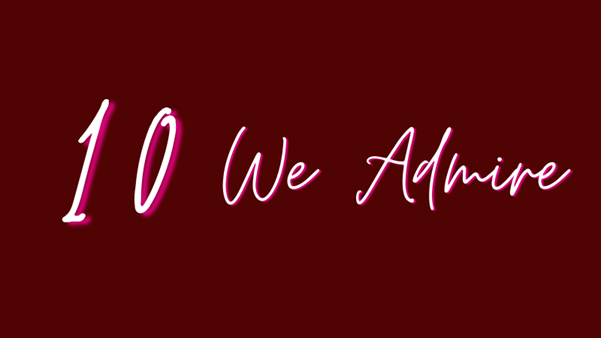 In celebrating the theme of friendship, our focus for 10 We Admire this month is artistic collaborations. Nothing exists in a vacuum. Though they may occupy different creative spheres, artists of all kinds, from photographers and painters to musicians, often take inspiration from one another, and some have taken the inspiration further and collaborated over both long and short periods of time. Below are ten of our favourites.
Guerrilla Girls
Brought together by outrage at the lack of diversity in the Museum of Modern Art's (MoMA) International Survey of Painting and Sculpture in 1984, this group of anonymous radical feminists conjoined in a bid to protest. Creating propaganda-esque posters that now hang in galleries worldwide – Do Women Have to be Naked to Get into The Met. Museum? (1989), about another prominent art gallery in New York, the Metropolitan Museum of Art, is their most famous – this gang of gorilla-masked artists eschew individual applause in favour of the liberation granted by divorcing your 'self' from your work. As one of the group professes: 'you wouldn't believe what comes out of your mouth when you're wearing a gorilla mask'. Besides the liberation offered by this collaborative approach, their work offers a comment on the art market itself too: 'The concept of the individual genius artist is outdated, anyway, kept alive by an art market that needs super expensive art objects made by "geniuses".' Read more about this pioneering group here.
Andy Warhol and Jean-Michel Basquiat
Pop artist Andy Warhol and graffiti prodigy Jean-Michel Basquiat collaborated on a number of pieces between 1980 to 1986. In doing so, they developed a working process of their own. Warhol usually painted first, followed by Basquiat's colourful imagery. A popular example of their collaborative work is Olympic Rings (1985). Learn more about the relationship between Andy Warhol and Jean-Michel Basquiat here.
Frida Kahlo and Diego Rivera
Mexican Artists Frido Kahlo and Diego Rivera painted each other for 25 years, with their artistic collaboration providing a unique insight into their relationship. Rivera, the older of the two, was a celebrated master of frescoes who helped revive an ancient Mayan mural tradition, and gave a vivid visual voice to indigenous Mexican labourers seeking social equality after centuries of colonial oppression. Kahlo magically wove from piercing introspection and chronic physical pain paintings of a severe and mysterious beauty. Together, they were two of the most important artists of the 20th Century. Read more in 'The Elephant and The Dove: A look at Frida and Diego's Relationship' here.
'Ain't No Mountain High Enough' by Marvin Gaye and Tammi Terrell
The story of Marvin Gaye and Tammi Terell is one, ultimately, of tragedy. Two soul artists with their own rapidly rising careers, in collaboration they carved out enduring hits such as 'You're All I Need to Get By', 'Your Precious Love', 'If I Could Build My Whole World Around You', and 'Ain't No Mountain High Enough'. Tammi was diagnosed with a brain tumour at just 22, and, after years of poor health, died at the age of 25. A star taken far too soon, it's remarkable to think that after diagnosis she continued touring and indeed penned some of the aforementioned hits with Gaye. The two artists adored each other and brought out the best in each other. After Terrell's passing, Marvin Gaye was objectively never the same; he withdrew from touring and wrote far more introspective music such as 1971's legendary album What's Going On, a trend that continued until his own tragic death. Listen to Marvin Gaye and Tammi Terrell's 'Ain't No Mountain High Enough' here.
Jasper Johns and Robert Rauschenberg
Jasper Johns and Robert Rauschenberg, both abstract expressionist painters, created incredible art in the middle of the American Neo-Dada movement. The word combine, widely used to describe Rauschenberg's technique of including everyday objects in his abstract paintings, is often attributed to Jasper. The fact that there is a profound likeness in their art is reflective of the extensive influence they had on each other in the 1950s. For more on the relationship between Jasper Johns and Robert Rauschenberg, click here.
Georgia O'Keeffe and Alfred Stieglitz
Georgia O'Keeffe and Alfred Stieglitz were two of the greatest American artists of the first half of the 20th century. Together, they formed a passionate but deeply complicated couple who engaged in many artistic adventures. Not long after meeting, O'Keeffe quickly became the muse of photographer Stieglitz, who took nearly 300 photographs of her from every angle. In many images, her hands form hypnotic and dancing movements. Stieglitz included O'Keeffe's drawings in a group show immediately after their meeting, and her one-person show was the last to be mounted at the 291 Gallery. He would continue to promote her work at subsequent galleries, and in 1925 he featured her in the landmark Seven Americans exhibition alongside his own photography and pieces by Charles Demuth, Arthur Dove, Marsden Hartley, John Marin, and Paul Strand. Read more here. Read more here.
'Where The Wild Roses Grow' by Nick Cave & the Bad Seeds feat. Kylie Minogue
In 1995, Kylie Minogue was the pristine, sparkling princess of pop. Nobody expected 'Where The Wild Roses Grow'. This collaboration was a striking work of musical brilliance. The very idea of Kylie Minogue featuring on a Nick Cave & The Bad Seeds album entitled Murder Ballads is as ludicrous today as it was at the time. But it is certainly one of the great musical collaborations. Listen, and watch the music video, here.
'Get Lucky' by Daft Punk feat. Pharrell and Nile Rodgers
A trio of collaboration masters. Daft Punk have worked with the likes of Kanye West, The Weeknd, and more, creating some of modern music's most iconic hits. Similarly, Pharrell has collaborated with everyone from Snoop Dogg to Gwen Stefani and Katy Perry. In so doing, he's crafted more hip hop/pop hits in collaboration than most artists achieve in a lifetime. And then there's Nile Rodgers. One of the great guitarists, formerly of Chic, he has worked with everyone from Diana Ross, Duran Duran, David Bowie, and Madonna. In combination, the trio are electric. 'Get Lucky' was the anthem of 2013 and continues to be one of the most heavily played songs across the globe. Listen here.
Christo Javacheff and Jeanne-Claude Denat de Guillebon
Christo Javacheff and Jeanne-Claude Denat de Guillebon were born on the same day in 1935. After meeting in Paris in 1958, the two artists embarked on a 51-year alliance that resulted in some of the largest and most daring feats of public art ever seen. In 1995 they swaddled Berlin's Reichstag in 1,076,390 square feet of silver fabric; in 1983 they surrounded 11 islands in Miami's Biscayne Bay with 6.5 million square feet of floating pink polypropylene. Their partnership was based on equality and close collaboration. Learn more here.
Andy Warhol and The Velvet Underground
Andy Warhol wore many hats: painter, filmmaker, publisher. Adding another string to his bow, Warhol also produced album art for the immensely influential American rock back The Velvet Underground. As their manager, Warhol orchestrated a groundbreaking series of events featuring the group entitled the Exploding Plastic Inevitable, a string of multimedia performances that combined music with dance and projections of Warhol's films and other artworks. Read more about these performances here.
News From the Network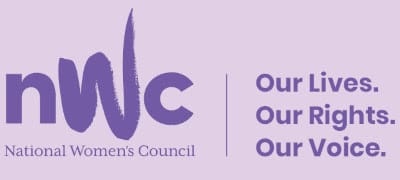 National Women's Council: Call for diversity of voices in Good Friday Agreement commemorations
The commemorations of the Good Friday Agreement have been dominated by men, with little consideration given to the various communities who paid the highest price in the conflict, such as working-class communities, women, and young people. That's according to some participants in the National Women's Council (NWC) All-Island Women's Forum, which met in Newry on 5 July, and was attended by Smashing Times Artistic Director Mary Moynihan.
Rachel Coyle, NWC Head of Campaigns and Mobilisation said: 'Women have been historically underrepresented in peacebuilding and decision-making spaces. The 25th anniversary of the Good Friday Agreement was a historic opportunity to reflect on its significance for communities, particularly working-class communities, who either were not included or have been written out of the peace process. Today we will reflect on the successes and limitations of the Good Friday Agreement through the lens of women and people from diverse communities on this island without whom peace could not be maintained.' Read more about the above here.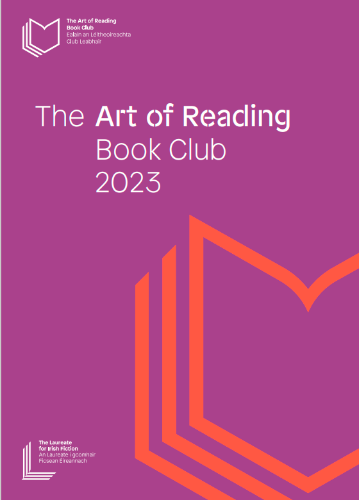 The Art of Reading Book Club
Colm Tóibín, the current Laureate for Irish Fiction, is proud to present The Art of Reading, a monthly book club for library book clubs across the country and offered as an online event for readers everywhere on the last Thursday of every month.
The Laureate will meet a different library book club each month to discuss a novel by an Irish writer, highlighting outstanding Irish writing and celebrating the reader and book clubs. The selected titles will include new work by contemporary Irish writers as well as novels from the past that the Laureate wishes to bring to a new generation of readers. Readers, book lovers, and book clubs everywhere are invited to join in the Art of Reading with the Laureate, to read these outstanding books and to engage in reading in a deep and focused way.
How can readers everywhere take part in The Art of Reading? While the book club events themselves will take place with a different library book club each month, a video recording will be posted on the Art of Reading page on the last Thursday of each month. Read more here.
Poetry Ireland 'Ireland Is': A New Spoken Word and Live Music Tour
Poetry Ireland are delighted to announce details of 'Ireland Is', a series of five spoken word and live music performances, which will take place in Dublin, Limerick, Cork, Galway, and Longford this autumn.
The tour will run on consecutive dates from 27 September to 1 October 2023, and feature a line-up of acclaimed poets, including Colm Keegan, Felispeaks, Hollie McNish, Danez Smith, and Erin Fornoff, as well as guest performances by musicians JyellowL (Dublin), Strange Boy (Limerick), Olympio (Cork), Síomha (Galway), and SOAK (Longford).
Through their performances, the artists will shine a light on the Ireland of today and explore themes of identity and social justice, including issues of race, gender, body image, relationships, feminism, equality, love, resilience, and more.
Commissioned by Poetry Ireland, co-produced with SoFFt Productions, and funded by the Arts Council, the performances will take place in the following venues:
Axis Ballymun, Dublin, on Wednesday, 27th September, 8pm
Lime Tree Theatre, Limerick, on Thursday, 28th September, 8pm
The Everyman Theatre, Cork, on Friday, 29th September, 8pm
Black Box Theatre, Galway, on Saturday, 30th September, 8pm
Backstage Theatre, Longford, on Sunday, 1st October, 8pm

For more information and to book tickets, click here.
For writers, artists, and creators
The Arts Council of Ireland: Touring of Work Scheme
Applications are invited for proposals seeking funding to support the touring of work across all artform and arts practice areas for tours taking place in the Republic of Ireland from January to December 2024. The deadline for applications is 10 August, 2023. Learn more details via our Grants and Opportunities page.
The Arts Council of Ireland: Late-Night Events (Pilot Programme)
The Late-Night Events (Pilot Programme) 2023 intends to further extend and diversify the offering for late-night activity and provide opportunities for new and exciting work, encouraging new audiences to explore existing cultural facilities. It will also seek to identify and address any challenges venues may associate with staying open late. The deadline for applications is 24 August, 2023. Further details can be reached through our Grants and Opportunities page.
We hope you enjoyed this month's edition of the Smashing Times Newsletter. The theme for next month's edition is 'Indigenous Voices', where we will champion native voices from Ireland and across the world. So watch this space, and keep an eye out on our website and social media for our submissions call if you're interested in contributing.
Bye for now,
Féilim Ó Brádaigh and Niamh Clowry