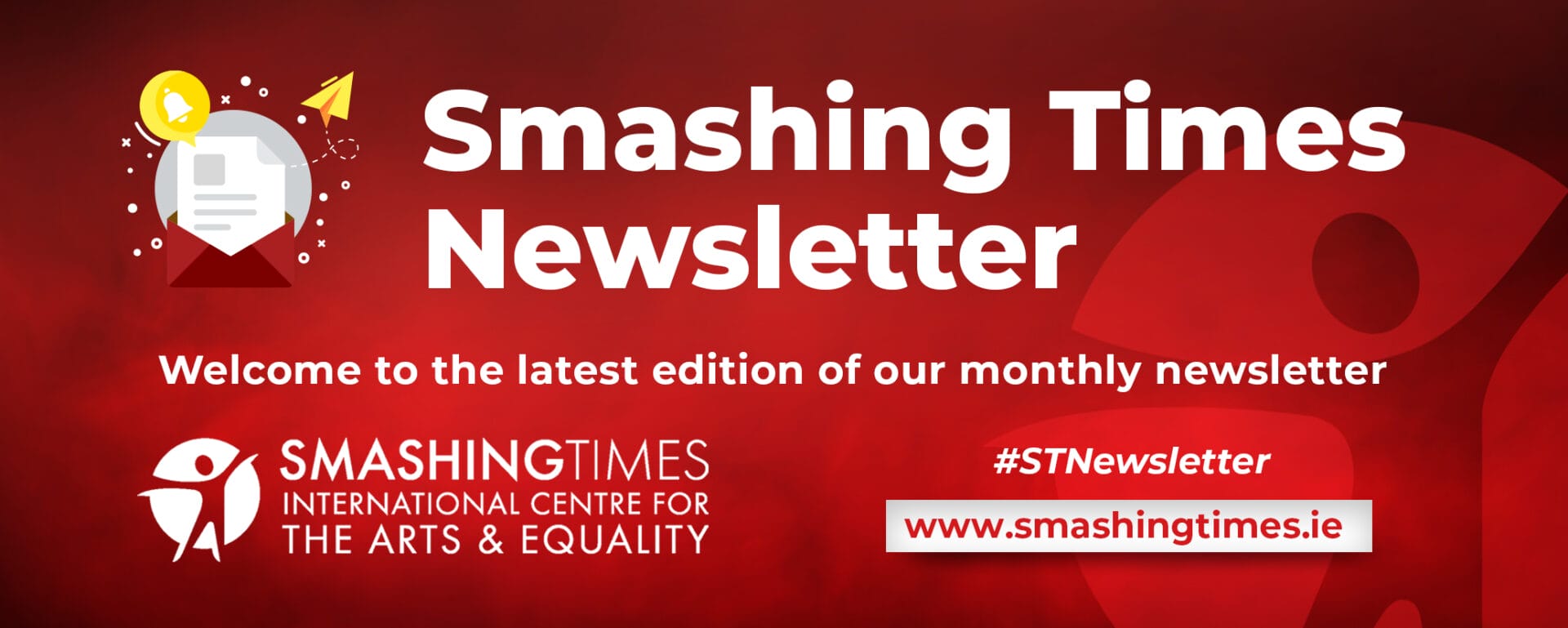 Welcome to the August 2023 edition of the Smashing Times Newsletter. The theme this month is Indigenous Voices, tying in with the UN International Day of the World's Indigenous Peoples.
In this edition, we are putting the spotlight on often-neglected indigenous voices from Ireland and abroad, while exploring the complexities and challenges of indigenous identity. Our Featured Artist this month is American sculptor Edmonia Lewis, who defied the odds by overcoming racism and becoming a major artist of the 19th century. Read on for artworks from Colm Mac Gearailt, Sandrine Ndahiro, Catherine Osikoya, and Johnny Doran, an article by Peter Kearns, news on our upcoming Dublin Arts and Human Rights Festival, grant opportunities, and more.
Favourite Quotes
'Humankind has not woven the web of life. We are but one thread within it. Whatever we do to the web, we do to ourselves. All things are bound together. All things connect.'
– Chief Seattle
'While settled women talk of a glass ceiling, Traveller women are still outside, looking in through the window.'
– Dr Rosaleen McDonagh
'The single story creates stereotypes, and the problem with stereotypes is not that they aren't true, but they are incomplete. They make one story become the only story.'
– Chimamanda Ngozi Adichie
Recommended
Reservation Dogs
Reservation Dogs is a groundbreaking sitcom about Native American teens. The dark comedy from Sterlin Harjo and Taika Waititi set in rural Oklahoma is a watershed for indigenous representation. Harjo, who grew up in Holdenville, Oklahoma, is only Hollywood's second ever Indigenous showrunner, while New Zealand-bred Waititi is Maori on his father's side. Reservation Dogs is the first TV series with an all-native writers' room and slate of directors. All three seasons of the series have received critical acclaim. Watch the trailer here.
Woman in Color by Raye Zaragoza
From New York, and now based in LA, Raye Zaragoza is a protest folk singer-songwriter who released her sophomore album Woman in Color on her own independent label, Rebel River Records, in 2020. With a mother who emigrated from Japan and a father who is of Mexican and Indigenous American descent, Zaragoza's lyrics concern her experience of being mixed race, as well as social justice issues that Indigenous communities are facing. In Woman in Color, Raye Zaragoza confronts her audience with powerful, strident protest songs – the kind of direct, timeless lyrics that everyone with a guitar has been reaching for since November 2016. Listen to Woman in Color here on Spotify.
'Adhlacadh Mo Mháthar' le Seán Ó Ríordáin
Mórfhile na Gaeilge ab ea Seán Ó Ríordáin, a rugadh i mBaile Bhuirne i gContae Chorcaí. Cuirtear ina leith gur thug sé téamaí Eorpacha isteach i bhfilíocht na hÉireann, agus meastar go forleathan é mar dhuine de na filí Gaeilge is fearr riamh. D'fhoilsigh sé an dán 'Adhlacadh Mo Mháthar', ina ndéanann an file machnamh ar bhás agus ar adhlacadh a mháthar, in Eireaball Spideoige (1952), a chéad cnuasach filíochta. Dúirt an scríbhneoir Seán Ó Tuama an méid seo faoin dán: 'Geit nua a bhain 'Adhlacadh mo Mháthar'. . . as friotal liteartha na Gaeilge. . . Is é ócáid an dáin seo, a déarfainn, a d'fhuascail an fheith ann, a leag cibé bacanna teanga nó síceolaiochta a bhí á chosc, a thug neart dó scaoileadh le samhailteacha as íochtar a aigne; a chuir air cumasc a dhéanamh, faoi strus, idir na gnéithe iasachta agus na gnéithe dúchais ina chuid filíochta.' Cliceáil anseo chun an dán a léamh.
Art Inspires
Featured Artist: Edmonia Lewis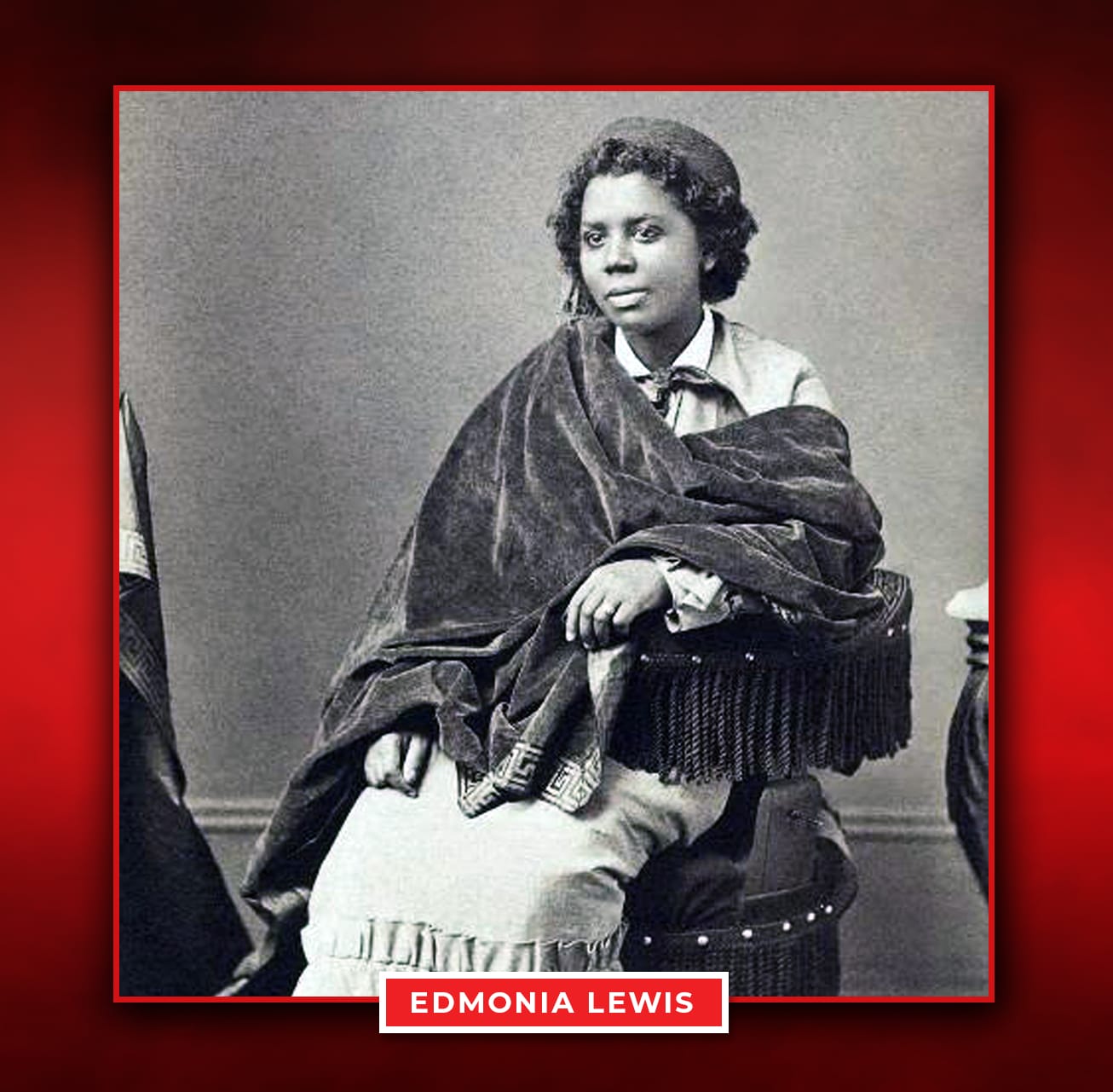 Our Featured Artist this month is American sculptor Edmonia Lewis, also known as Wildfire. The daughter of an African American man and a woman of African and Ojibwa (Chippewa) descent, her neoclassical works explored religious and classical themes, winning her contemporary praise.
Orphaned at a young age, afterward she reportedly lived with her maternal aunts among the Ojibwa, who called her Wildfire. With the help of an older brother, she obtained admission to the preparatory department of Oberlin College in 1859, and from 1860 to 1863 she attended the college proper.
Lewis' first work seen publicly was a medallion, advertised for sale early in 1864, that featured the head of militant abolitionist John Brown. Later in the year, she received praise for her bust of Colonel Robert Gould Shaw, a Boston hero who had been killed leading his black troops in the attack on Fort Wagner, part of the assault on Charleston, South Carolina, in the American Civil War. Sales of copies of the bust allowed her to sail in 1865 to Rome, where Charlotte Cushman, Harriet Hosmer, and other members of the American art community took her under their wing. Lewis mastered working in marble and refused to hire Italian stone carvers to transfer her plaster models to marble, in order to quell any question that the work was her own.
Lewis quickly achieved success as a sculptor. Inspired by the Emancipation Proclamation, she carved The Freed Woman and Her Child (1866) and Forever Free (1867). She subsequently turned to Native American themes and created The Marriage of Hiawatha (c. 1868) and The Old Arrow Maker and His Daughter (more than one version), both based on the narrative poem 'The Song of Hiawatha' (1855) by Henry Wadsworth Longfellow, of whom she carved more than one bust. Her other notable works include busts of Abraham Lincoln (1870) and Hygieia (1874).
Lewis spent most of her adult career in Rome, where Italy's less pronounced racism allowed increased opportunity to a black artist. During her time in Oberlin College in the US, she was subject to daily racism and discrimination. She, and other female students, were rarely given the opportunity to participate in the classroom or speak at public meetings. She was even accused of poisoning two of her classmates in 1862. A mob beat her severely before her trial for accusations of poisoning; she was later acquitted, with the help of African American lawyer John Mercer Langston.
In Italy on the other hand, Lewis enjoyed more social, spiritual, and artistic freedom than she had had in the United States. She was Catholic and Rome allowed her both spiritual and physical closeness to her faith. In America, Lewis would have had to continue relying on abolitionist patronage; but Italy allowed her to make her own in the international art world.
Her career reached its peak in 1876 when her sculpture The Death of Cleopatra was exhibited at the Philadelphia Centennial Exposition. In 1883 she received her last major commission, a version of the Adoration of the Magi, from a church in Baltimore, Maryland. It was variously reported that Lewis had last been seen in Rome in 1909 or 1911, but death records discovered in the early 21st century show that she died in London in 1907.
Edmonia Lewis is known for incorporating themes relating to Black people and Indigenous peoples of the Americas into Neoclassical-style sculpture. She was the first sculptor of African American and Native American descent to achieve international recognition, and her immaculately crafted, emotive works have stood the test of time. Below we examine two of her best-known sculptures.
The Death of Cleopatra
A major coup in Lewis' career was participating in the 1876 Centennial Exposition in Philadelphia. For this, she created a monumental 3,015-pound marble sculpture, The Death of Cleopatra, depicting the queen in the throes of death. This piece shows the moment popularised by Shakespeare in Antony and Cleopatra, in which Cleopatra allows herself to be bitten by a poisonous asp following the loss of her crown. Of the piece, JS Ingraham wrote that Cleopatra was 'the most remarkable piece of sculpture in the American section' of the Exposition. Much of the viewing public was shocked by Lewis' frank portrayal of death, but the statue drew thousands of viewers nonetheless. Cleopatra was considered a woman of both sensuous beauty and demonic power, and her self-annihilation has been portrayed many times in art, literature, and cinema. In The Death of Cleopatra, Lewis added an innovative flair by portraying the Egyptian queen in a dishevelled, inelegant manner, a departure from the refined, composed Victorian approach of representing death. Considering Lewis's interest in emancipation imagery as seen in her work Forever Free, it is not surprising that Lewis eliminated Cleopatra's usual companion figures of loyal slaves from her work.
Forever Free
Forever Free is a sculpture by the American artist Edmonia Lewis. Created in 1867, it commemorates the abolition of slavery in the United States two years earlier. The work differs from many other depictions of abolition from the period by showing the Black man standing and unshackled rather than bound or kneeling. Scholars have frequently puzzled over Lewis's decision to Europeanise the features of the female figure. At least one scholar has suggested that the choice may have been an acknowledgment of the varied appearance and heritage of African Americans such as Lewis herself, who was of both African and Native American descent. Another theory is that, owing to the fact that Lewis' largely white audience often misread her work as self-portraiture, her female figures typically possess European features.
'An Triúr Deirféir (The Three Sisters)' le Colm Mac Gearailt
Is píosa filíochta ó bhéal é 'An Triúr Deirféir' le Colm Mac Gearailt faoi theacht as an ndúlagar, le cabhair tírdhreachta – sa chás seo, An Triúr Deirféir, grúpa trí bhinne i nGaeltacht Chorca Dhuibhne, Condae Chiarraí. Cliceáil ar an bhfíseán thuas chun féachaint ar an bpíosa, lena bhfuil fo-theidil Ghaoluinne, teanga dhúchais Choilm.
'The Three Sisters' is a spoken-word poetry piece by Colm Mac Gearailt about overcoming low spirits with the help of nature – in this case, The Three Sisters, a group of three peaks in the Gaeltacht of Corca Dhuibhne, County Kerry. Click the video above to watch the piece, which has subtitles in Gaoluinn, Colm's native tongue.
Colm Mac Gearailt is an award-winning spoken word poet, actor, and historian from the Corca Dhuibhne Gaeltacht in Co. Kerry. He was named the inaugural 'Poet-in-Residence' for An Díseart, Dingle, 2021-22, and has performed at a number of slams and festivals in Ireland, such as Other Voices, Electric Picnic, the International Festival of Literature, Dublin, and Féile Liú Lúnasa, Belfast, where he was awarded first place in the 2019 Comórtas Slam Filíochta.
'Celebrating the Integral Role of Disabled People, a 1,109,557-Strong Community, in Ireland's Narrative' by Peter Kearns
Within the rich tapestry of Ireland's history and culture, a narrative that often goes unnoticed emerges, one of disabled people interwoven into the very fabric of both pre-colonisation and post-colonisation Irish society. As the DPO Development Coordinator at the Independent Living Movement of Ireland (ILMI), I argue that mainstream cultural, social, and political narratives fail to effectively recognise us as integral contributors to the lands we call home. While the term 'indigenous' might not immediately conjure thoughts of disabled people in Ireland, a closer examination reveals a unique perspective. Much like indigenous communities, we, as disabled people, share collective ancestral ties to the lands, resources, and lived experiences that make up our world.
Over centuries, our experiences have been woven into Ireland's history, often taking centre stage in vital roles. We have been healers, storytellers, and artists, adding distinctive perspectives to the vibrant composition of Irish life. Disabled people and activists in Ireland have long argued that mainstream cultural, social, and political narratives fail to effectively recognise disabled people as integral contributors to the lands they call home.
Historical accounts reveal our profound impact on Ireland's cultural landscape. From the recent archaeological discovery of graves containing people with impairments dating back to Brehon Law times, to the inspirational leadership of disabled people like Seán Mac Diarmada during the 1916 rebellion, we have significantly shaped the nation's narrative.
Understanding Ireland's lived historical experiences in light of a disability equality framework is essential. For instance, a closer examination of the colonial post-Brehon Law oppression faced by Irish disabled people highlights a broader societal bias against impairments. This bias, rooted in historical factors such as Roman-led Christianity's influence and the Dissolution of the Monasteries, significantly shaped societal perceptions.
Moreover, we contribute immeasurably to Ireland's social tapestry. Our stories, resonating with the spirit of Ireland itself, exhibit the resilience and determination that define the nation. While recognising the impact of disability, it is important to avoid reducing our stories to mere inspiration, focusing instead on celebrating diversity.
The reclamation of our integral role offers an opportunity for empowerment. Embracing our cultural narrative, which transcends the physical and cognitive, underscores shared experiences of strength, resilience, and adaptation. This reclamation process encourages the celebration of diversity and challenges societal norms.
By acknowledging the historical contributions of disabled people within the framework of shared ancestral ties and indigenous narratives, we pave the way for unity. This acknowledgement enables society to bridge divides that have persisted for far too long. The incorporation of disabled voices enriches the broader narrative and enhances the nation's understanding of diversity.
Intersectionality further enriches this narrative, with disabled people encompassing various identities. These intersections bring depth and complexity to our stories in Ireland. The experiences of disabled people within ethnic minority communities, including Travellers, highlight unique perspectives that underscore our challenges and resilience.
Embracing this perspective fosters inclusivity and change. Much like indigenous advocates champion cultural preservation, environmental sustainability, and social justice, we, as disabled people, can similarly advocate for issues aligned with our experiences. Through unity and a celebration of diversity, our collective voices can amplify advocacy for change on local and global scales.
Ultimately, this perspective fosters an environment where every member of society, including the 1,109,557-strong disabled community as reported by the Census 2022, is recognised as an essential thread in Ireland's past, present, and future. Disabled people can proudly stand within Ireland's narrative, our contributions intertwined with the essence of the nation's story, echoing the themes of empowerment and unity that define Ireland's history and culture.
Peter Kearns is the DPO Development Coordinator at the Independent Living Movement of Ireland (ILMI). In the mid-1990s, Peter established The Workhouse, a disability consultancy company involved in equality/mentor/arts training in Ireland, Europe, and Asia, while he is also a writer/dramatist and a documentary and film-maker.
Unsilencing Black Voices by Sandrine Ndahiro and Catherine Osikoya
Unsilencing Black Voices (2020) is a documentary which compiles experiences of racism among the black Irish community. Individuals were asked to recount one instance of racism they experienced that stuck out the most. Click on the video above to watch this moving and illuminating journey into a deplorable side of Irish society.
Sandrine Uwase Ndahiro is an English PhD student in the University of Limerick. She co-produced a documentary entitled Unsilencing Black Voices which details personal stories and accounts from members of the black community in Ireland. Her magazine Unapologetic, which can be viewed here, is a multidisciplinary, literary, cultural, and artistic response to the social issues and creative opportunities of contemporary Ireland.
Catherine Osikoya is a first-generation immigrant originally from Nigeria. Unsilencing Black Voices is a documentary she co-created during the wake of the Black Lives Matter movement in May 2020.
'Colonel Fraser, My Love Is in America, Rakish Paddy' by Johnny Doran
Renowned Irish uilleann piper Johnny Doran was born in 1908 in Rathnew, County Wicklow. His family were Travellers with a distinguished musical heritage; his father John Doran and brother Felix Doran were also pipers, and his great-grandfather was the celebrated Wexford piper John Cash.
By his early twenties, Doran was working as an travelling musician, moving with his family from town to town in a horse-drawn caravan and playing for money at fairs, races, and sporting events throughout rural Ireland in the 1930s and '40s.
The influence exerted by Doran's music on other players is incalculable, and remarkable given he only ever made one recording. He directly inspired other musicians, notably Willie Clancy in Co Clare, to devote their lives to the uilleann pipes.
In 1947 the fiddle player John Kelly, a friend of Doran's, was concerned about the piper's health. He contacted Kevin Danaher of the Irish Folklore Commission, who arranged for a recording to be made on acetate disks. Ten sets of tunes were recorded, including the three reels 'Colonel Fraser', 'My Love Is in America', and 'Rakish Paddy'. Click on the video above to listen to this bravura performance.
And yet for all his success, his life was brought to a tragic and untimely end. On 30 January, 1948, Doran's caravan was parked on waste ground near Back Lane in Dublin's Cornmarket area. It was very windy, and a brick wall collapsed on the caravan, and on Doran, who was outside lacing up his shoes. He was completely covered by bricks and rubble. His lower back was injured during the rescue process as he was pulled free from the debris. Doran was paralysed from the waist down. His injuries led to continuing ill health and he died on 19 January, 1950 in Athy, County Kildare. He is buried in Rathnew cemetery, his birthplace. His musical legacy remains undimmed, however, as he is widely acknowledged as one of the greatest uilleann pipers known to traditional Irish music.
Smashing Times News
Lisa McLoughlin-Gnemmi, Rob Harrington, Lorna Fox, and Michael McCabe in Tales of Love and Loss in the Pearse Museum
States of Independence Events
We recently held a number of States of Independence events across the country. In Dublin, Tales of Love and Loss: Changemaker Stories From History was performed in The Pearse Museum and St Enda's Park, Rathfarnham, on the 12, 13, 19, and 20 August. The show features storytelling, poetry, and music reflecting on the lives of Sarah Curran, Robert Emmet, William Butler Yeats, and the Pearse Women, Mrs Margaret (Brady) Pearse, Margaret Mary Pearse, and Mary Brigid Pearse.
In Kerry, from 24 July to 13 August, the Eternal Rebels: Women Changemakers Exhibition was held in St John the Baptist Church, Valentia Island. This comprised a reflection on the stories of women changemakers in Irish history, including poet and activist Eva Gore-Booth, feminist and pacifist Hanna Sheehy Skeffington, and many more.
Staying on Valentia Island, Tales of Love and Loss: Changemaker Stories From History was performed in St John the Baptist Church on 5 August. Meanwhile, Tales From an Afterworld by Féilim James, a narrative monologue reflecting on the life and work of William Butler Yeats, was performed in the courtyard of Valentia Lighthouse on 6 August, alongside the poetry of Eva Gore-Booth and live music from violinist Emma Byrne. The event culminated in a panel discussion on States of Independence: Artist Changemakers From the Decade of Centenaries and New Visions for the Future, with some of the artists and invited guest speakers. Finally, the film instillation Courageous Women: A Celebration of Changemakers was screened in Valentia Island Heritage Centre from 24 July to 31 August.
On 26 August, we brought Tales From an Afterworld, alongside the poetry of Eva Gore-Booth and live music from violinist Emma Byrne, to Glebe House in Co Donegal. Again, the event closed with a panel discussion entitled States of Independence: Artist Changemakers From the Decade of Centenaries and New Visions for the Future.
Ongoing Events
The Paradise Lost and Found: Visual Art, Film Projection, Photography, and Poetry Exhibition has been running in The Old Barracks Heritage Centre, Cahersiveen, Co Kerry, since 1 August, and will continue to do so until 31 October. The exhibition, which runs daily from 10am to 5pm, features the work of Hina Khan, visual artist and miniaturist; Amna Walayat, visual artist; and artist and Smashing Times Artistic Director Mary Moynihan. The exhibition is a visual and poetic reflection on a search for peace and ways to hold on to the courage to carry on and let ourselves shine. This event is unticketed. For more information, please click here.
Courageous Women Film Installation: A Celebration of Changemakers is currently running in The Tearooms, Glebe House, Co Donegal. Having begun on 1 August, the installation takes place Monday to Sunday, 11am-4pm, until 31 October. The exhibition consists of screenings of Courageous Women, a film inspired by a creative re-imagining of moments from the lives of Constance Markievicz, Helena Moloney, Margaret Skinnider, and Hanna Sheehy Skeffington. The film, written by Mary Moynihan, is inspired by and incorporates original writings from Constance Markievicz, poetry excerpts by Eva Gore Booth, original testimony including an adaptation from Doing My Bit for Ireland by Margaret Skinnider, original testimony from Helena Molony, and writings by Hanna Sheehy Skeffington. No booking required. Click here for more information.
Dublin Arts and Human Rights Festival 2023
Smashing Times International Centre for the Arts and Equality and Front Line Defenders, and a range of partners, are pleased to present the fifth annual, international Dublin Arts and Human Rights Festival from the 13 to 22 October 2023. The festival features exciting and innovative events that promote equality, human rights, and diversity through the arts, taking place in Dublin, Kerry, Donegal, and Clare, with artists and speakers in attendance from Ireland, Finland, Sweden, Italy, Spain, Portugal, the Netherlands, Greece, Belgium, Cyprus, Romania, and Bulgaria. The aim of the festival is to showcase and highlight the extraordinary work of human rights defenders in Ireland and around the world, past and present, and the role of the arts and artists in promoting human rights today.
The artistic curator for the festival is Mary Moynihan, Artistic Director, Smashing Times, while the human rights curator is Laura O'Leary, International Events and Promotions Coordinator, Front Line Defenders. The festival, supported by The Arts Council of Ireland, is a hybrid programme delivered over 10 days, hosting an exciting blend of events happening in person and online. The festival features Irish and international artists and guest speakers, reaching audiences locally, nationally, and internationally. There is something for everyone interested in the arts for equality, human rights, and diversity.
The festival promotes human rights and justice for all, and the vision of a world where all people are treated equally, with dignity and respect – linking the arts to civil society, active citizenship, and politics. The extraordinary work of human rights defenders in Ireland and around the world, past and present, and the role of the arts in promoting human rights will be showcased and highlighted at the festival, aiming to celebrate and unite community connections, artists, human rights organisations, and human rights defenders.
The festival showcases world-class and diverse acts, artists, and speakers, including up-and-coming performers. It brings arts and human rights together through interdisciplinary events which include workshops, theatre performances, musical performances, visual arts, exhibitions, film screenings, panel discussions, poetry and literature events, historical memory performances, live art, digital installations, and more.
Join us to illuminate stories of courage and inspiration and to share stories of ordinary people who stand up for human rights. We bear witness to, and remember, the past, explore the present, and celebrate the future, linking it all in with equality, human rights, and diversity for all. For more information on the Dublin Arts and Human Rights Festival, click here.
Stay tuned for a special edition of the Smashing Times Newsletter next Thursday, 7 September, detailing all of the events taking place as part of the Dublin Arts and Human Rights Festival.
Open Call for Hybrid Residency
Do you want to work in a joint Hybrid Residency of 12 European countries in November? Theatre in Palm, an international project funded by Creative Europe, is hosting a Hybrid Residency on 6–17 November, 2023. During the two-week residency, you will work with 10 local artists and 20 international artists, both in person and online. The residency will end with 4–12 co-produced, new theatre pieces that are shared online with the whole group of 120 artists, plus 12 mentors, and the rest of the online world.
Take a chance to learn, connect, get inspired and perhaps even get a job opportunity. Travel and accommodation in another country will be paid for by the project. Apply before 6 September, 2023. Click here for more information and to submit.
The Theatre in Palm project brings together twelve partners from across Europe to collaborate and co-create as part of an international, intercultural platform supporting artists, including emerging artists, to engage in international networking and to build theatre-based skills in transnational cooperation and co-creation. Learn more about this project here.
Changemakers Performance at Funtropolis
Smashing Times International Centre for the Arts and Equality and Goal NEXTGEN were delighted to present six changemakers performances at Funtropolis in Mountjoy Square, Dublin, earlier this month. Love the Earth, written by Mary Moynihan and inspired by three stories from Goal's Global Citizenship Education Resources, which aim to foster a sense of global connectedness and oneness (read more about this programme here), was performed three times on 19 August and three more times on 20 August. Love the Earth was performed by Amy Kidd, directed by Eftychia Spyridaki, and stage-managed by Barry Simpson, as part of Smashing Times' States of Independence project. Supported by Theatre in Palm, Creative Europe, and the Arts Council.
The three stories which function as the basis of the performance are as follows. The Water Princess tells the story of Josie and her journey with her mother to get clean water. The story of The Hummingbird illustrates how, no matter how big or small we are, we can all make a difference. The story of The Salmon of Knowledge is a reflection on the importance of taking care of our oceans and planet.
States of Independence celebrates the stories of ten changemakers from the decade of centenaries and the stories of ten changemakers today working to make society a better place for all. Learn more here.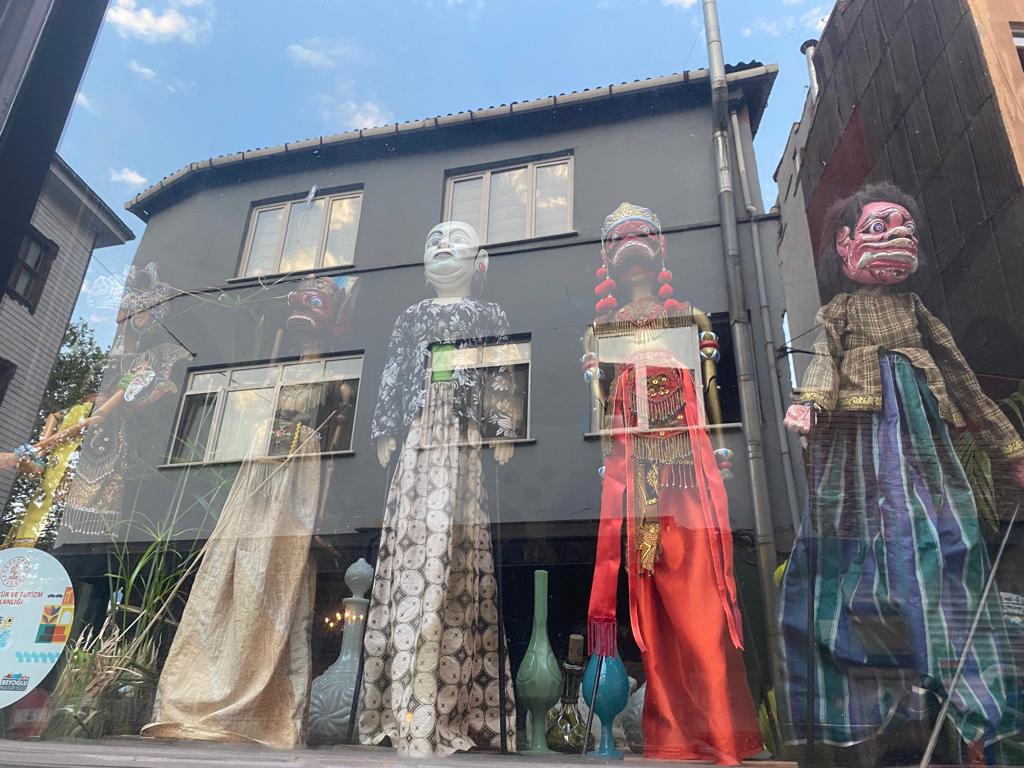 Traditional Karagöz puppets in Istanbul, Turkey
Smashing Times Travel: Creative Connections
From 14-18 August, Smashing Times Company Manager Freda Manweiler was in Istanbul, Turkey, where she was joined by facilitator Dijana Milošević from DAH Theatre, Serbia, as part of the Creative Connections Arts-Based Training Programme. They used the creative processes of theatre and film to promote exchange between local communities in the South Caucasus and the Republic of Moldova. The unique 'train the trainer' training programme provided training in theatre facilitation practice, with trainees learning how to use creative processes of theatre and film to promote conflict resolution and peace-building with local communities. This was the first of a two-part training programme and the second phase will take place over three days in October.
The Creative Connections training programme is developed and delivered by Smashing Times International Centre for the Arts and Equality as part of a consortium delivering the EU-funded project EU4Dialogue, which improves exchanges across the divide through education and culture. Read more about this project here.
10 We Admire
Celebrating this month's theme of Indigenous Voices, we have chosen 10 artists from Canada, Australia, Kenya, Ireland, Japan, the United States, and Ecuador, who have, through their unique art forms, put the spotlight on often-neglected indigenous voices. These artists have contributed some of the most significant indigenous art and illuminated themes of race, racism, and privilege. There is a wealth of beauty, courage, and talent in their art, and we encourage you to look at their work in more detail via the links provided below.
Ruth Cuthand
Ruth Cuthand (born 1954) is a Canadian artist of Plains Cree, Scottish, and Irish ancestry. She is considered an influential feminist artist of the Canadian prairies, and is lauded for her interpretation of racism and colonialism. Her work challenges mainstream perspectives on colonialism and the relationships between settlers and Indigenous people in a practice marked by political invective, humour, and a deliberate crudeness of style. In her own words, 'adopting the traditional craft of beading in my recent work was a way to continue to centre the Aboriginal woman in my art while addressing other issues of concern. Maintaining the anti-aesthetic principles on which my practice was founded, I have traded crudeness of style for materials and techniques that have long been denied status as serious art. This shift has allowed for a more sophisticated end-product that capitalises on my fascination with the attractive and repellent subject; the simultaneously beautiful and abhorrent. This dichotomous relationship between appearance and content, or between style and subject, creates a cognitive schism; it is that gap that creates a space for contemplation about the work and what it means.' You can view her work here.
Vernon Ah Kee
Vernon Ah Kee (born 1967) is a contemporary Australian artist, political activist, and founding member of ProppaNOW. Based primarily in Brisbane, Queensland, Ah Kee is an Aboriginal Australian with ties to the Kuku Yalandji, Waanji, Yidinji, and Gugu Yimithirr peoples in Queensland. His art practice typically focuses on his Aboriginal Australian identity and place within a modern Australian framework, and is concerned with themes of skin, skin colour, race, privilege, and racism. Ah Kee has exhibited his art at numerous galleries across Australia, including the Art Gallery of New South Wales (AGNSW) and the Museum of Contemporary Art Australia, and has also exhibited internationally, most notably representing Australia at the 2009 Venice Biennale and the 2015 Istanbul Biennial. Ah Kee has an extremely diverse arts practice, using a broad range of techniques and media such as painting, installation, photography, and text-based art. He is particularly renowned for his manipulation of colonial language and imagery to highlight racial issues in Australia. His works are hosted in both public and private collections around the world. Click here to read more.
Wangechi Mutu
Wangechi Mutu (born 1972) is a celebrated Kenyan artist. Best known for her collages, she gathers imagery from sources ranging from magazines such as Vogue and National Geographic, to old medical illustrations, and recombines them into startling hybrid figures in otherworldly landscapes. She embellishes the figures' skin, exaggerates their facial features, and replaces their limbs with gears, wheels, and animal parts. All her work examines and extends the female body, which she sees as the point of departure in her art. By gathering, juxtaposing, and repurposing images and objects, she commandeers control and subverts the long-standing convention of art and culture to project all 'that is desired or despised' on the body of women. In 2019 Mutu's most prominent work, 'The NewOnes, will free Us', was unveiled at the Metropolitan Museum of Art (the Met) in New York City. To learn more about Mutu, and view her artworks, click here.
Rebecca Belmore
Rebecca Belmore (born 1960) is an interdisciplinary Anishinaabekwe artist who is notable for politically conscious and socially aware performance and installation work. She is Ojibwe and a member of Obishikokaang; she presently resides in Toronto, Canada. Her images of provocation, subtle intervention, and resistance are rooted in the tragic history of native cultures in North America. She tackles the difficult issues of injustice, racism, violence, and the plight of the disenfranchised and marginalised in society, convinced that art has the potential to effect social change. A series of recurring themes or elements connect her work: the questioning of official narratives, the labouring, struggling, or missing body, the repetitive gesture and the use of natural materials. You can watch her in conversation with Wanda Nanibush here.
Leanne McDonagh
Leanne McDonagh (born 1990) is an artist and an educator from Ireland. With her degree in Fine Art from Crawford College of Art and Design, she is among just 1% of the Traveller community to have graduated from third-level education in Ireland. She works for Cork Institute of Technology as the Traveller Education Coordinator, while also developing her practice as an artist. She is currently working on a public sculpture funded by the % for Art scheme, and has recently illustrated a short story book, titled, 'Why The Moon Travels', written by a fellow Traveller, Oein De Bhairduin, which is the first of its kind in Ireland. As a visual artist, she feels she has a unique opportunity to represent and record her community from within. 'My work is subtle, contemplative, distinctly modern and entrepreneurial in its approach to presenting hidden aspects of contemporary Ireland's Traveller culture from the rarely seen standpoint of an insider.' You can access her website here.
Daniel Boyd
Daniel Boyd (born 1982) is an Australian contemporary artist working in painting, sculpture, and installation. Boyd was born in 1982 in Cairns, Queensland. He is an indigenous Australian with Kudjala, Ghungalu, Wanggeriburra, Wakka Wakka, Gubbi Gubbi, Kuku Yalanji, Yuggera, and Bundjalung – as well as Ni-Vanuatu – heritage. He is the first indigenous Australian to win the prestigious Bulgari Art Award, and focuses his practice on images of colonial and postcolonial Australian-European history. He reinterprets portraits of prominent figures in his signature black-and-white dotted style, suggesting an alternative truth underlying the representation of these so-called heroes. Boyd's practice is research-intensive; during a three-month residency at the Natural History Museum, he studied the relationship between aboriginal people and the British Empire. By presenting in-depth narratives, Boyd resurfaces what has been lost to history. According to the artist, it is important for native peoples in Australia to 'continue to create dialogue from their own perspective, to challenge the subjective history that has been created.' Read more and view his work here.
Tomiyama Taeko
Tomiyama Taeko (1921-2021) was a Japanese visual artist and writer whose work addressed the moral, emotional, and social issues related to nationalist, patriarchal, colonial, and post-colonial power structures in East Asia. She employed popular media such as oil painting, lithographic prints, collages, multimedia slideshows, books, and installations to explore marginalised figures. From the 1980s on, much of Tomiyama's work drew on indigenous Asian mythology, symbols, and aesthetics as a critique and rejection of the violent, exploitative, Euro-American-centric values embedded in modernist thinking. She was a devoted feminist, leftist, and anti-nationalist whose work told the stories of miners, ethnic minorities, comfort women, Minjung activists, and other marginalised groups, in order to advocate for a reckoning with the nuances of the colonial and imperial histories of Japan in Asia. In recognition of her contribution to supporting and promoting the Korean pro-democracy movement, Tomiyama was awarded the Order of Civil Merit by the Korean government in June 2021. She died in August 2021, at the age of 99. Her work can be viewed here.
Mirdidingkingathi Juwarnda Sally Gabori
Mirdidingkingathi Juwarnda Sally Gabori (1924-2015) was an Aboriginal Australian artist who at age 81 began painting in an abstract-like style she developed to represent her country, on the south side of Bentinck Island in Queensland, Australia. She represented Australia in the 55th Venice Biennale of 2013, and her works are held in the permanent collections of the Musée du Quai Branly, Paris; the National Gallery of Australia; all of the Australian state galleries; and others. Although Gabori's paintings may be perceived as pure abstraction, her practice was inherently referential, with paintings depicting topographical reference points, places, physical features, and totems with deep significance to the artist, her family, and her country. View her work here.
Joan Hill
Joan Hill (1930-2020), also known as Che-se-quah, was a Muscogee Creek artist of Cherokee ancestry. She was one of the most awarded Native American women artists of the 20th century. Throughout her career, she experimented with many mediums and styles, ranging from realism to abstract expressionism. She also combined the traditional Native American two-dimensional style with various contemporary styles. However, she admittedly never had a preferred style; she found unique qualities in precise work as well as the abstract pieces she created. Today Joan Hill is still recognised as a painter who beautifully and truthfully depicted her heritage. Her paintings honour her ancestors and serve as visual reminders of a rapidly fading style of traditional Native American art. Her paintings are mostly held in public collections, including several of the most prestigious collections in the United States. Among the institutions that conserve her work are: the Bureau of Indian Affairs, the Indian Arts and Crafts Board, the National Museum of the American Indian, the Smithsonian Institute in New York, the George Gustav Heye Center, and the Philbrook Museum of Art. Click here to read more.
Oswaldo Guayasamín
Oswaldo Guayasamín (1919-1999) was an eminent Ecuadorian painter and sculptor whose heritage traces back to Quechua and Mestizo Indigenous populations. He was given a prize for 'an entire life of work for peace' by UNESCO, because his humanist work reflects the pain and misery of humankind, and speaks against the omnipresent violence of the twentieth century, which was marked by world wars, civil wars, genocides, dictatorships, and torture. His series 'The Age of Anger' consists of 260 works, in which the painter gathers various elements of his own life experience and translates them into a dazzling succession of contemporary dramas and tragedies. 'The Age of Anger' is considered one of the greatest politically inspired achievements in twentieth-century painting. In his life, Guayasamín made over 13,000 paintings and held more than 180 exhibitions all over the world. His work, which often represents different forms of social criticism, was highly influenced by cubism, the works of Pablo Picasso, and Mexican artist José Clemente. You can view his work here.
News From the Network
Publication of Trumpet, Poetry Ireland's Literary Pamphlet
Issue 12 of Trumpet, Poetry Ireland's literary pamphlet, is now available to purchase. This issue explores the theme of 'crossing', examining how we cross binaries and boundaries through the act of writing. Guest-editor William Keohane explains: 'This issue is a celebration and exploration of gender, identity, memory, and form. Trumpet 12 includes reflections on age, heritage, home; on the thin line between sickness and health, life and death. I had two primary aims with this issue: to highlight literary talent from Limerick, my hometown, and to platform some work from emerging trans and non-binary artists working across Ireland today.' Contributors to Trumpet 12 include Matt Kennedy, Eoin McEvoy, Megan Nolan, Jesús Castro Yáñez, Eva Griffin, Rory O'Sullivan, Rere Ukponu, John Ennis, Raevynna El Messaoudi, Casey Jarrin, and Zara Meadows, with artwork and erasures from Limerick artist Laura O'Loughlin. Read more and purchase your copy here.
Fidget Feet Aerial Dance Theatre Celebrates 25 Years
Fidget Feet Aerial Dance Theatre is the leading aerial dance theatre in Ireland, producing original shows that create impact in terms of visual scale, agility, and emotional engagement. This year as they celebrate 25 years they are showcasing 25 of the artists within the Fidget Feet Family. They had this to say about the showcase: 'We have an outstanding and amazing company of artists many of whom have been with us for several years. We are a family. We create sacred arts. Since the beginning we have always mentored and supported aerial artists to realise their full artistic creative selves and grow as human beings together. We want to celebrate all of these connections.' You can view the Artist Showcase here.
Irish Council for Civil Liberties: Hate Crimes Hurt Us All
The Irish Council for Civil Liberties are currently seeking signatures to their Hate Crimes Hurt Us All Campaign. Hate crimes are message crimes. They not only affect the person subjected to them – the hurt is felt by entire communities, in many cases hundreds of thousands of people who share the same identity, and by society as a whole. One act can make an entire community feel excluded and unsafe. Hate crime legislation is essential to protect impacted communities, but there must be a multi-faceted approach to tackle the roots of hate. We must go beyond criminalisation if we truly want to transform society. You can read more here and add your voice to the call for a National Action Plan to tackle hate.
Grants and Opportunities
For writers, artists, and creators
Arts Council: Arts Centre Funding
The purpose of Arts Centre Funding is to invest in and support the infrastructure of arts centres required to sustain and develop the arts in Ireland. Arts centres are defined as full-time, public-facing, professionally managed, building-based arts organisations. They support the creation, presentation, and mediation of the arts across a range of artforms and arts practices. They support professional, collaborative, voluntary, and amateur arts practice. The deadline is 14 September, 2023. Further details can be reached through our Grants and Opportunities page.
CERV: Citizens' engagement and participation
This call aims to support projects promoted by transnational partnerships and networks directly involving citizens. These projects will gather a diverse range of people from different backgrounds in activities directly linked to EU policies, giving them an opportunity to actively participate in the EU policymaking process and thus contribute to the democratic and civic life of the Union. The projects will encourage citizens', including young persons', understanding of the policymaking process, showing in practice how to engage in the democratic life of the EU and enabling them to make known and publicly exchange their views in all areas of Union action. The deadline is 5 September, 2023. Further details can be reached through our Grants and Opportunities page.
PEACE PLUS: Quality and Impact
The purpose of this call is to appoint a Quality and Impact Body that will perform a quality assurance and impact support role to the range of actions undertaken by projects tasked with directly working with young people for the primary delivery of the PEACEPLUS Youth Programme. This body will be independent from the projects but will work closely with all of them, as well as with SEUPB, while also assisting in the general delivery of the theme. Cross-border co-operation will be encouraged through the development of appropriate partnerships and implementation arrangements where these add value to the delivery of the programme. There will only be one successful application under this call. The deadline is 7 September, 2023. Further details can be reached through our Grants and Opportunities page.
Job Opportunities
Projects and Engagement Coordinator: AEMI (Artists' Experimental and Moving Image)
AEMI is currently looking to hire for the key role of Projects and Engagement Coordinator to provide support across AEMI's activities in dialogue with AEMI's co-directors Alice Butler and Daniel Fitzpatrick. The deadline is 1 September, 2023. Further details can be reached through our Grants and Opportunities page.
Heritage Project Manager (Part-Time): In Your Space Circus (Derry)
In Your Space Circus (IYSC) is seeking an exceptional candidate for the new role of Heritage Project Manager, supporting the Cathedral School development project. The deadline is 4 September, 2023. Further details can be reached through our Grants and Opportunities page.
For many more grants and opportunities, please click here.
Sin é don leagan seo. We'll be back next Thursday, 7 September, with a special edition of the newsletter listing all of the Dublin Arts and Human Rights Festival events. Then, on 28 September, we return with the next monthly newsletter, themed 'Peace and Democracy'.
Take care,
Féilim Ó Brádaigh and Niamh Clowry