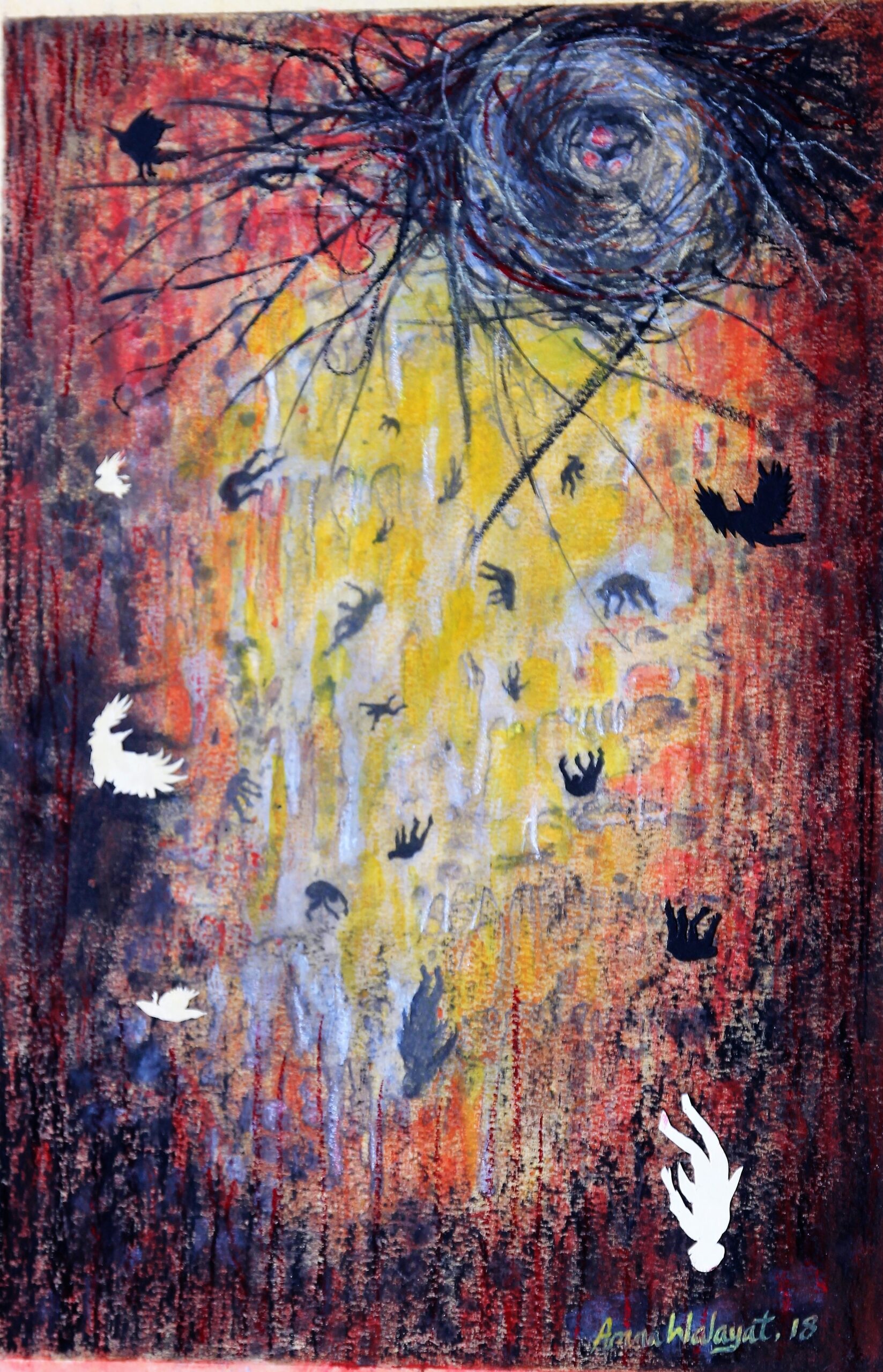 Fall
Artist: Amna Walayat
Medium: Mixed Media
I became interested in Colonisation and Imperialism after my postgraduate thesis project with University College Cork, 2015. The hegemony of one culture that affected a colonized society did entirely change the shape and face of the whole world in terms of cultural values, demography and so on.
With the rise of imperialism, the trans-Atlantic slave trade was the largest long-distance forced movement of people in history which involved more than 12.5 million slaves.  Only about 10 million survived after such a dreadful journey.
The recent European immigrant crisis which involves more than one million immigrants fleeing war. They complete their deadly journey by using mostly overloaded, auto pilot rubber boats. A number of them died due to capsizing or are still missing. Black Lives Matters is a new aspect to my work.
Having an interest in history, particularly in migration (colonisation and imperialism), Dublin Arts and Human Rights Festival is well-integrated with my current art practice. I am sharing ideas which have captivated my mind for a long time and demanded representation. My artwork represents fragments from history which I interlink with contemporary contexts via symbolism to create new meaning or visual vocabulary.
Biography
I am a Cork-based Pakistani-born emerging visual artist. 
I hold an M.A. Art History in Modern and Contemporary Art History, Theory and Criticism 2016 and an M.A. Fine Arts University of the Punjab Pakistan (2002). I am a member of Sample-Studios, Art Nomads, Smashing Times and VAI.
I received the Cork County Council Creative Producer Residency and was invited to exhibit my new work in IMMA for a year by Sean Kissane 2021-2022, and recently exhibited in IMMA and Cork County Council's online shows 2021.
I've worked as Programme Organizer with the Pakistan National Council of the Arts; Curator with Alhamra Arts Council and PhD studio-based researcher with PURAF, Punjab Uni 2001-07, and recently established the Ireland-Pakistan Arts Exchange. 
I received the Arts Council Ireland's Next Generation Award 2021, Agility Award 2021, Visual Artist Bursary Award 2020, Professional Development Award 2020 and the Dilkusha Award 2020.