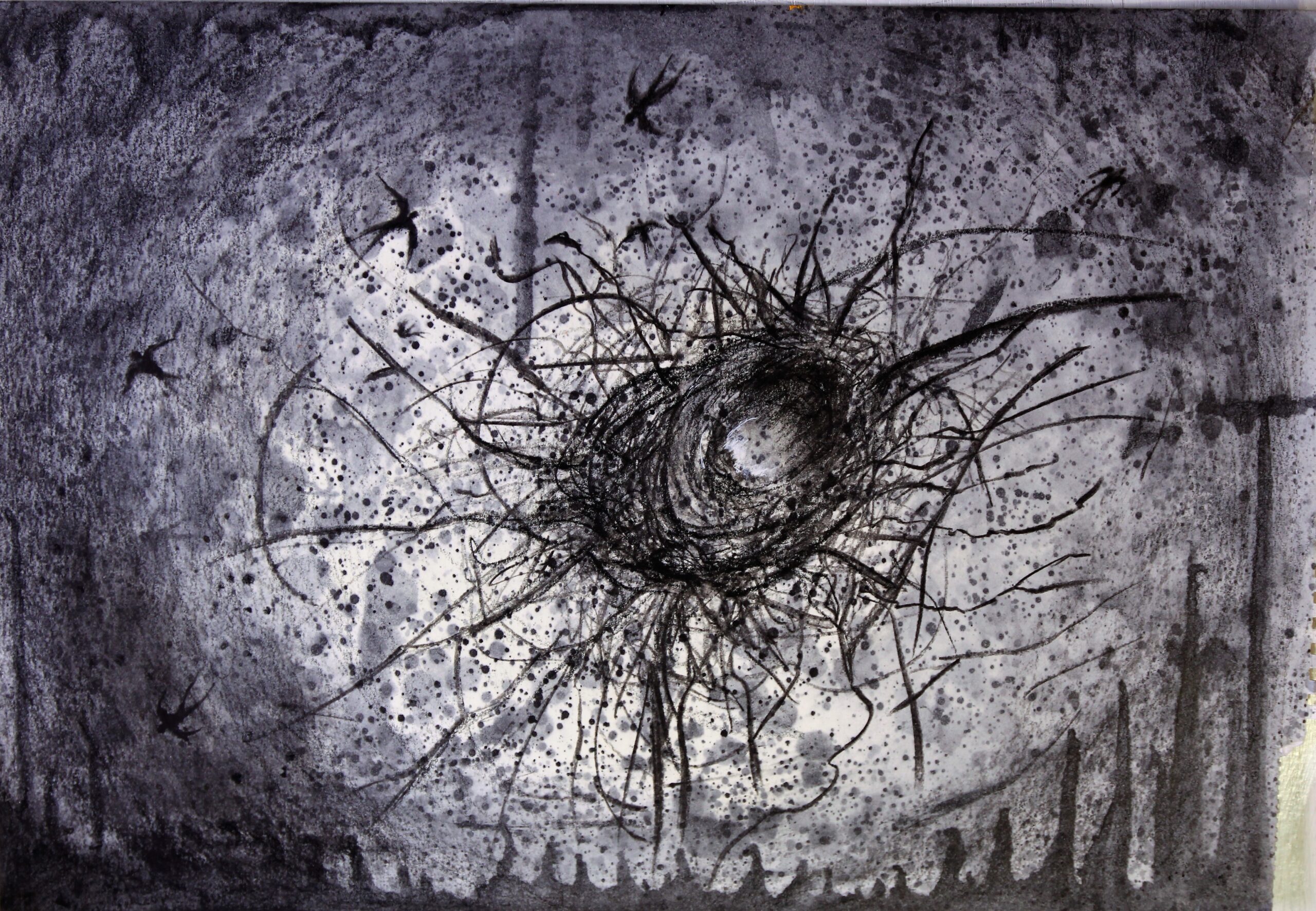 Nest
Artist: Amna Walayat
Medium: Mixed Media
Artist Statement
My work in general deals with socially conscious subjects and my experience of hybrid cultures. Through my work I am seen as an observer of society from a feminist perspective. The body of work for this show deals with violence against women in the name of shame, such as the exploitation of women in Irish 'Mother and Baby Homes' or the oppression of women throughout the South Asian region where I belong.
The lotus flower is a recurring symbol in my work and is taken from Buddhism where it represents 'modesty and purity'. The flower starts to grow in the water which is dark, dirty, and muddy but manages to surpass the water in order to become a perfect flower when it reaches the light. Many Hindu gods and Buddhas are depicted sitting or standing on a Lotus flower for the same reason. Here I have used the symbol to create a new meaning. The Lotus here represents 'the children of Sin', the children born out of wedlock and mistreated for this reason in Mother and babies' homes. In current contexts, the painting also deals with the Eighth Amendment on abortion rights in Ireland, and historically is a manifestation of the suffering of the mother and child  in the religious context of 'Pieta'.
Biography
Artist Biography\n Amna Walayat is a visual artist and holds an M.A. in Modern and Contemporary Art, History, Theory and Criticism from UCC, Cork, Ireland (2015). She also holds an M.A. Fine Arts degree from University of the Punjab, Lahore, Pakistan (2002).  \n She has worked as a Programme Organizer with the Pakistan National Council of the Arts; as a Curator with Alhamra Arts Council and as a PhD studio-based researcher with PURAF, University of the Punjab. Her interests lie in British India, colonialism, orientalism, migration, and gender with a current focus on feminism.  \n Amna Walayat resided in the UK and France before settling in Cork, Ireland where she is currently based. Aman works as an artist and curator with a keen interest in history, art history and contemporary art, particularly in the area of colonialism, orientalism, migration and gender while dealing with the subject of hegemony, exploitation, power, and control. \n She is a recipient of an Arts Council Ireland Visual Artist Bursary Award, 2020; the recipient of Curatorial Mentoring support under a Professional Development Award 2021 with the Glucksman Art Gallery, Cork and is the recipient of a  Dilkusha Award 2021.  Currently she is a member of Art Nomads, Smashing Times International Centre for the Arts and Equality, Dublin, Sample Studios Cork, Angelica Network, Visual Artists Ireland, Lavit Gallery Cork, and Cork Print Makers under the Dilkusha Award. \n Amna initiated the Ireland-Pakistan Arts Exchange (IPAE) to bring both art communities together through creating opportunities for networking and exchange. She has curated an e-exhibition, Re-Root with the Pakistani Artists Community in Ireland in collaboration with the Embassy of Pakistan, Dublin (August 2020) and organised Opportunities in Pakistan, a Visual Artists online Café in collaboration with VAI, December 2020.  \n Amna's shows include Maternal Gaze online, IMMA (2021); Transhumance, The Space Gallery, Dublin 7 (2020); a solo show in Cork Lifelong Learning Festival, Turners Cross Community Centre, Cork (2019, 2020); Girl Summit Ireland, Cork City Council Millennium Hall (2016) Cork, Ireland; Annual Exhibition, AAP, Lahore, Pakistan (2020, 2019, 2018, 2017, 2006, 2005, 2004, 2003 and 2002); Members Annual Exhibition, Lavit Gallery, Cork (2016, 2017, 2018); Group Show, Co-opera Art Gallery, Lahore, Pakistan (2005, 2016, 2017 ); A Vision of the Future, The Lahore Arts Council, Lahore (2006); Work in Progress Doctoral Program in Fine Arts, University of Punjab (2005);  Expression Art Extravaganza, Pearl Continental, Rawalpindi, Pakistan (2004); Exhibition of Painting & Calligraphy, Bahrain (2004); Spring Nomad Art Gallery, Islamabad (2004); GIK University, Toppi, NWFP (2003); SAARC Exhibition of Paintings, Convention Center, Islamabad (2003); National Exhibition of Landscape Painting, Islamabad & Peshawar (2003); National Exhibition of Sculptures & Ceramics, Lahore (2002) and a Graduate Group Show at Alhamra Art Gallery, Lahore (2002).