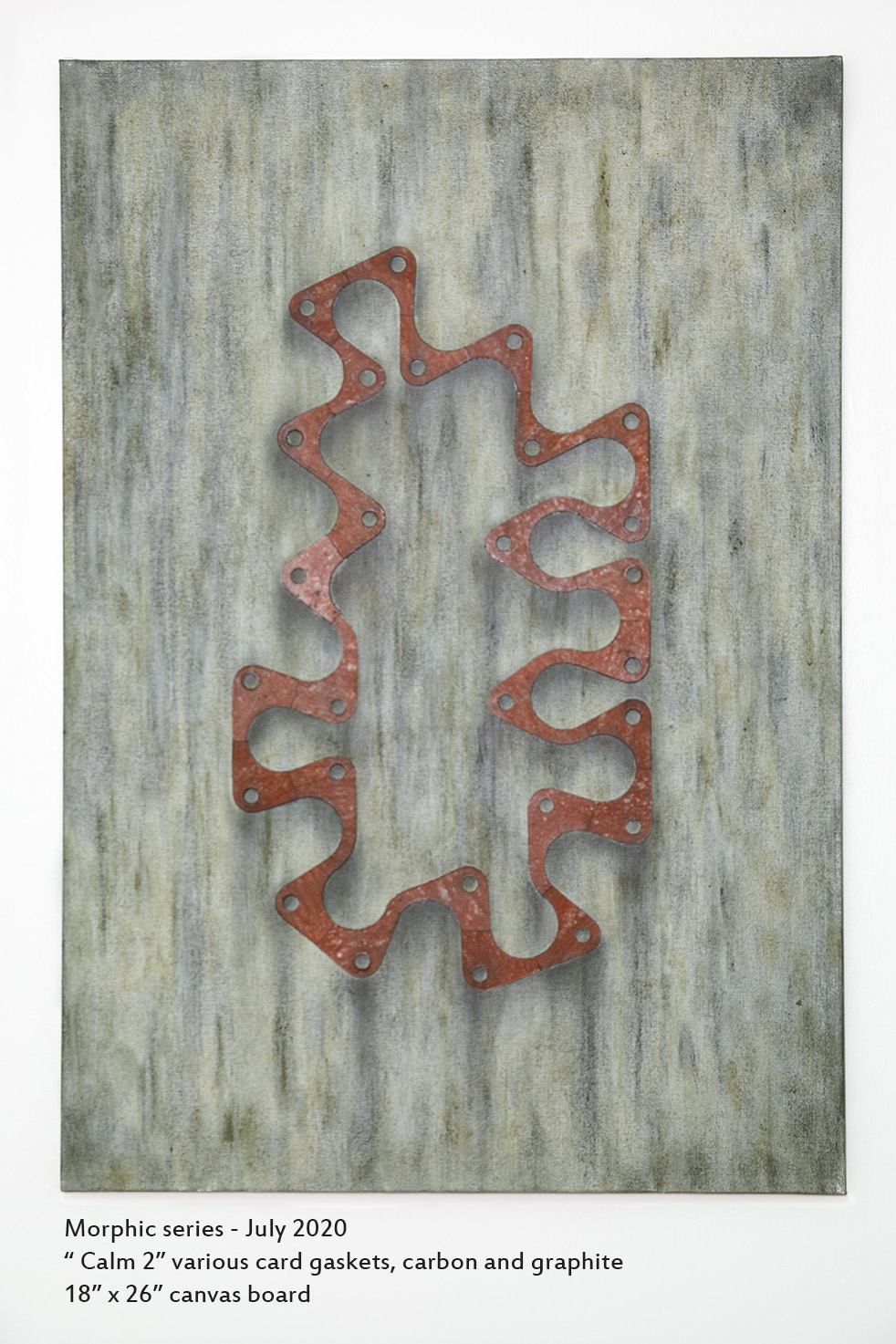 Calm 2 (Morphic Series, July 2020)
Artist: Antonio D'Souza
Medium: Sculpture
Antonio D'Souza – "Gasketist"
Antonio is an artist, designer and maker living in Skerries, Dublin. He has a mixed heritage of Goan, Kenyan and British. Having lived in London he obtained a BA Hons degree in Furniture and Product Related Design from Ravensbourne College in 1995. Antonio creates through repurposing gaskets, salvaged from motorcars and motorbikes. A gasket's original function is to act as a mechanical seal between two surfaces and can only be used once. Gasket shapes are of interest to him as one's eye is drawn around both their internal and external profiles. The series Biomorphic Gaskets – "Calm" derived from organic shapes and forms observed in the coastal environment. Antonio has exhibited locally and in Dublin and is also a founding member of an Irish based, culturally diverse arts collective, called Art Nomads.
www.antoniodsouza.com
Biography
Antonio was born in Nairobi, Kenya, grew up in North London and now lives in Skerries, North County Dublin. His grandparents originally traveled to East Africa in the early 1900s from the once Portuguese colony of Goa, in India.
He trained as a 3D designer (BA Hons degree in Furniture and Product Design, Ravensbourne, London 1995).
Since settling in Ireland in 2015 Antonio has been focusing his artistic attention on the visual arts. His work is an exploration and an expression of his multiple cultural and ethnic identities, combined with his need to manipulate materials and components that are often overlooked, hidden from sight or deemed useless. Currently he uses redundant parts from mechanical vehicle's to portray abstracts and geometric faces in a series of works entitled - "Gasket Heads".
As an educator, Antonio has extensive teaching experience in Art, Craft, Design and Technology faculties in Post Primary and Further Education institutions in Ireland, UK and Tanzania.