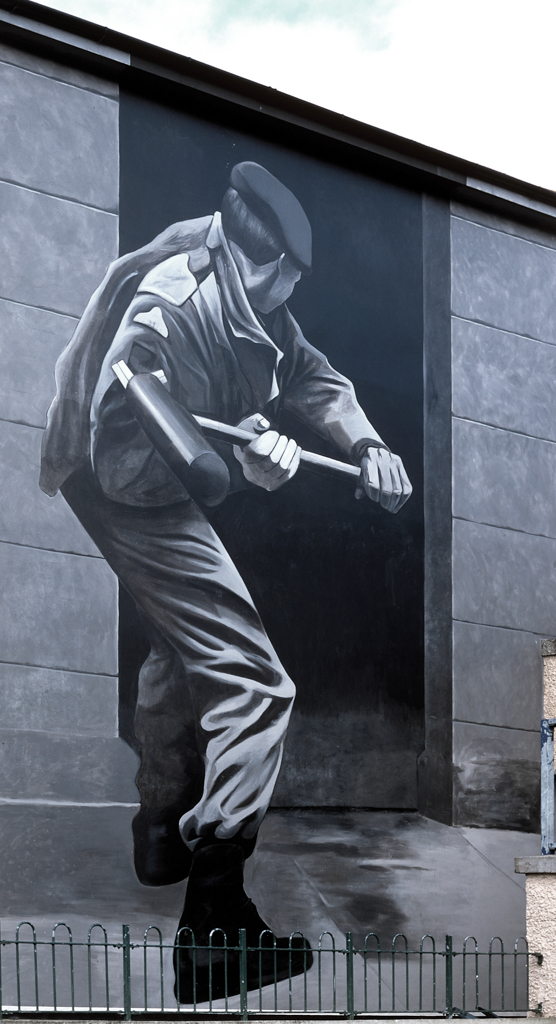 Mural Five Motorman 2001
Artist: Bogside Artists
Medium: Painting
Tom Kelly, Kevin Hasson and Tom's brother William are the three men who created all twelve of the murals that constitute The People's Gallery® in the Bogside area of Derry in the North of Ireland. They have been working on their murals project since 1993 when the group first formed. Their work represents the Bogside and its people's troubled history. It is their story, the struggle of a people seeking justice and basic democratic rights that fills its walls. The artists travel the world giving presentations of their work and creating other murals. These three men are universally known as The Bogside Artists® to whom the name is legally copyrighted.
The Petrol Bomber mural depicts some scenes from the 'Battle of the Bogside' which took place in the Bogside area of Derry in August 1969. The mural shows a young boy in a gas mask – which he used to try to protect himself from the CS gas used by the RUC – holding a petrol bomb. The mural was painted in 1994.
Biography
William Kelly (1948-2017) studied art in Belfast Art College in 1970 and went on to take an honours degree in painting at the National College of Art and Design, Dublin in 1977. He has had many one-man shows throughout Ireland. He wrote many articles on art and social history related to the Troubles. He lived for many years in Australia interspersed with periods working on the murals in the Bogside.
Kevin Hasson (b. 1958) has painted many murals in Northern Ireland and abroad, including Europe – he lived in Frankfurt for many years – and the United States. His experiences as a young member of The International Voluntary Service in Calcutta, India awakened him to the ubiquity and political and economic roots of social injustice.
Tom Kelly (b. 1959) has a longstanding track record of cross-community work in the Bogside. In the 1980's he organised art workshops for local youth at Derry's Orchard Gallery. He leads a small independent house church, Wellspring, that draws on early Celtic sources of Christianity, including St. Columba, the founder of the Iona Community.