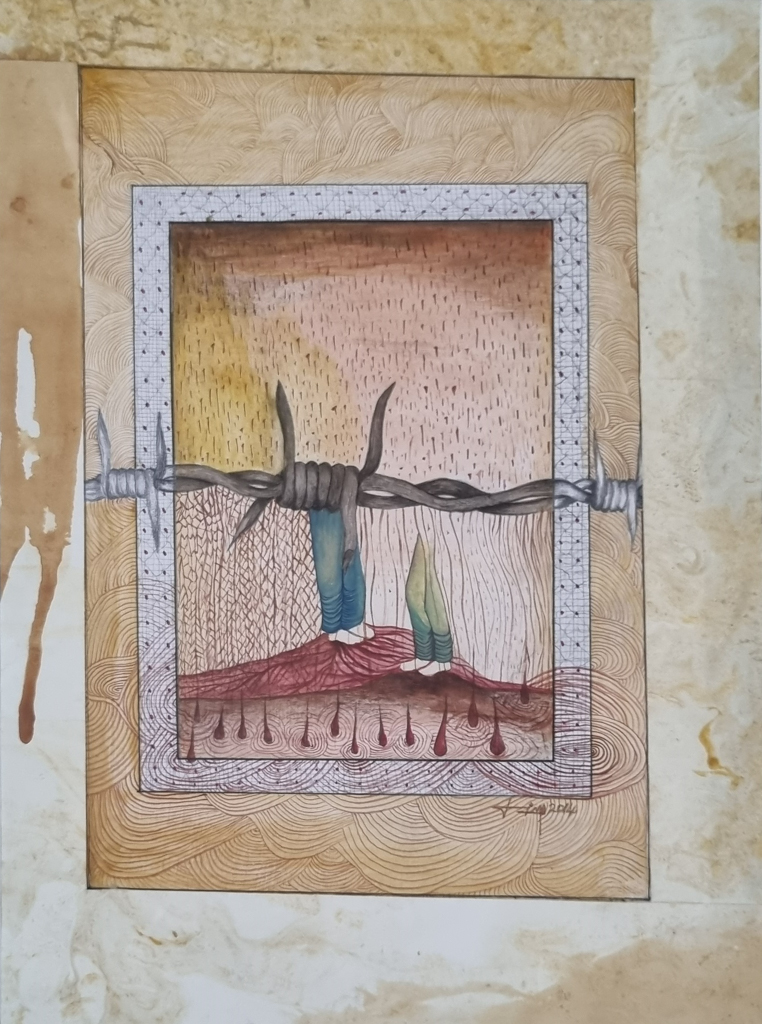 Hina Khan-Borders
Artist: Hina Khan
Medium: Painting
Borderless is a short video art piece, created as part of the State of the Art: Nation State as both Violator and Protector of Human Rights project. The piece is centred around two paintings by visual artist Hina Khan, who has used traditional Indo-Persian miniature painting techniques to create intense detail on a large scale. As hands move across the canvas, we follow their journey through the winding tendrils of paint, noticing colours from palest pink to blood red, sinister grey to choking black. One hand is joined by more, as the migration routes become clogged, people from different places, following different paths, but all with safety and sanctuary in mind. The journey ebbs and flows across this borderless canvas, never stopping.
Biography
Born in Pakistan in 1980, I completed my MFA with a major in Miniature Painting. I use a mixture of traditional and innovative techniques in Miniature painting. I portray social issues, immigration, humanitarian crises like prostitution, gender discrimination, gender restrictions, trauma, child abuse and murder in my work. I have chosen Miniature because of its intricacy and delicacy of brush work which lends itself to the unique identity of each subject. Most of my work is a mixture of traditional and contemporary miniature. My work is the constant search for the best way to interpret the ideas expressed by my own ideology through symbolism. Shifting my practice to installation, videos, and 3D, I am creating a dialogue through my art. My art is a reflection of inner connection, immigrants, and nomadic artists are part of this land - migration is deeply rooted in my blood. I belong to two cultures: one where I was born and the other is this culture, where I am trying to re-root myself. Sometimes situations are not in our control, but life always takes us on different voyages. This journey created a constant transition in my art and personality, and this experimentation allows me to evolve my art practice.
I have participated in a number of group shows in Pakistan from 2002 to 2011.
I came to Ireland in 2015 and participated in a number of exhibitions in Dublin, Co. Laois, Co. Mayo, and Co. Cork. I have been awarded several residencies with Fire Station Arts Center, Create Ireland, West Cork Art Center and Cow House Studio. I have displayed solo exhibitions at Ballina Art Centre, Mayo, and Stradbally Art House. My pieces are also in the permanent collection of Arts Council Ireland. I am the recipient of several Awards from Arts Council Ireland, Create Ireland, and different county councils. Currently, I am preparing a solo show which will be displayed in the LHQ Gallery in 2022.