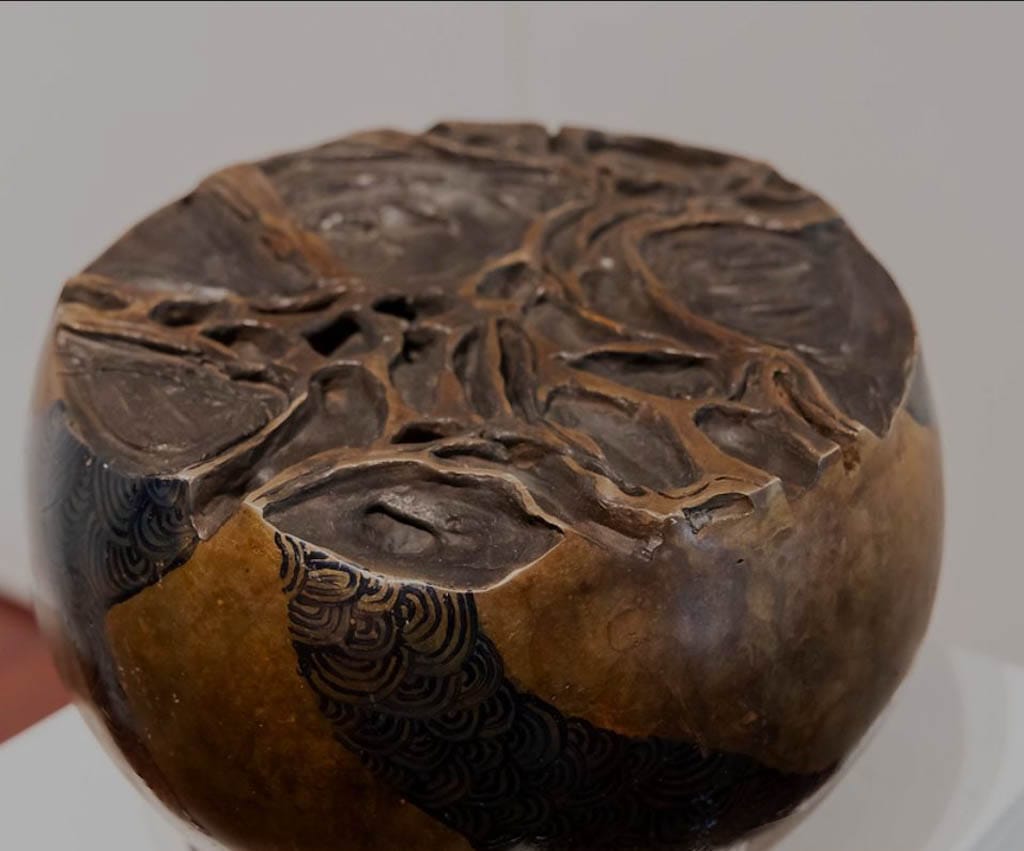 Untitled
Artist: Hina Khan
Medium: Mixed Media
Artist Statement: "Human perception can present things very sensitively and for me art is not just an activity, it is a passion. It is a medium that I used as an activist. I use it to describe my feelings, my pain. My work is a constant search for the best way to interpret the ideas that express my own ideologies through symbolism."
Serhadain, the Urdu word for boundaries, is a term and concept that drives Hina's art practice. She questions the boundaries of artform, in her case the art of miniature painting – in which she has a Master's Degree – and the political, social and cultural constructions of boundaries. In this work, abstracted forms of different scales are layered to form other worlds. The work unfolds and envelops the viewer, creating a space of equality and possibility. These works present landscape as something that can be subjective, ephemeral and organic, rather than borders and boundaries arbitrarily decided by those with power.
Biography
Artist Biography: Hina was born in born in Pakistan in 1980 and completed an MFA, majoring in Miniature Painting from Pakistan. Hina's work uses a mixture of traditional and innovative techniques in miniatures. She portrays social issues, immigration, humanitarian crises like prostitution, gender discrimination, gender restrictions, trauma, child abuse and killing in her work. Hina often uses miniature in her work as the intricacy and delicacy of the brush work has a unique identity. Hina's work began as a mixture of traditional and contemporary miniature and her practice has now expanded to include small and large-scale installation, videos and 3D. \n According to Hina 'My work is a constant search for the best way to interpret ideas and to express my own ideologies through symbolism. I am creating a dialogue through my art. My art is a reflection of inner connection, and how immigrants and nomadic artists are a part of this land. Migration is deeply rooted in my blood. I have carried two cultures, one from where I was born and the other is this culture where I am trying to re-root myself. Sometimes a situation is not in our control, but life always takes us on different voyages. This journey has built up a constant transition in my art, personality, and in terms of experimentation, enabling me to evolve my artistic practice.' \n Hina has participated in number of groups shows in Pakistan from 2002 to 2011. Hina came to Ireland in 2015 and participated in a number of exhibitions in Dublin, Laois, Mayo, and Cork. Hina was awarded several residencies with Fire Station Arts Center, Create Ireland, West Cork Art Center and Cow House Studio and has displayed solo exhibitions at Ballina Art Center, Mayo, and Stradbally Art house, Laois. \n Hina's art pieces are held in the permanent collection of The Arts Council of Ireland. She is the recipient of several awards from The Arts Council of Ireland, Create Ireland, and from different counties. She is the recipient of an R&D award from Create Ireland in collaboration with Tomasz Madajezak under the mentorship of Jesse Jones and is also collaborating with filmmaker David Bickley. Currently she is preparing artworks for State of the Art: The Nation State as both Violator and Protector of Human Rights presented by Smashing Times International Centre for the Arts and Equality, funded by The Arts Council and is working on a solo show which will be displayed in the LHQ gallery in 2022. Hina's art pieces are also in the permanent collection of the Arts Council of Ireland. Hina is currently working on a new solo exhibition.