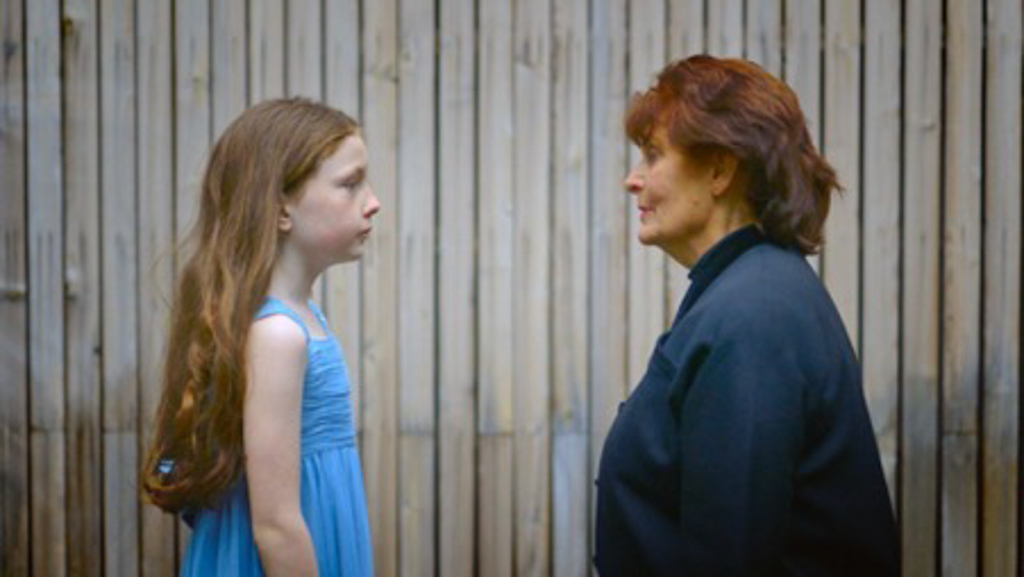 Mary Moynihan-I Speak
Artist: Mary Moynihan
Medium: Video
I Speak is a short scene on film inspired by the life-story of Dolores Ibárruri. Dolores Ibárruri, or La Pasionaria (1895-1989), from Spain, was a revolutionary leader, political activist, Communist and crusader against Fascism during the Spanish Civil War who created the famous cry 'They Shall Not Pass'.
I Speak Is taken from the film Tell Them Our Names which is an imagined re-creation of moments from the lives of powerful women during WWII recalling moments of bravery, sacrifice and love amidst the horror of war, as women stood up against Fascism and totalitarianism and refused to accept oppression.
I Speak – From Tell Them Our Names
Credits
Director: Mary Moynihan
Writes:: Paul Kennedy, Mary Moynihan, Fiona Bawn Thompson
Producers: Mary Moynihan and Freda Manweiler, Smashing Times
Cast: Fiona Bawn Thompson, Ella Moynihan Brady, Romana Testasecca, Margaret Toomey, Post-Production: High Wire Productions
Lighting: Ken O'Mahony, Matt Kirrane
Sound: Finny Byrne
Sound Mix: Keith Alexander
Editor: Mark Quinn
Camera Operator: Ken O'Mahony, Matt Kirrane
Additional Camera: Mike Manweiler Quinn
Graphic Design: EM Creative
Costume: Andrea Basquille, Freda Manweiler
Props: Andrea Basquille, Jessie Maguire
Set Design: Andrea Basquille, Mary Moynihan
Associate Partner: High Wire
Production Manager: Andrea Basquille
Production Assistant: Stephen Tadgh
Production Team: Andrea Basquille, Stephen Tadgh, Freda Manweiler, Billy Caughey, Féilim James
Production Trainee: Clementine Imperial-Legrand
Biography
Mary Moynihan (she/her), MA,  is an award-winning writer, director, theatre and film-maker, an interdisciplinary artist and Artistic Director of Smashing Times International Centre for the Arts and Equality.
Mary is Artistic Curator for the annual Dublin Arts and Human Rights festival implemented by Smashing Times and Front Line Defenders in partnership with organisations including Amnesty International, Fighting Words, NWCI, Irish Modern Dance Theatre and  Poetry Ireland. The aim of the festival is to showcase and highlight the extraordinary work of human rights defenders in Ireland and around the world, past and present, and the role of the arts and artists in promoting human rights today. 
Mary specialises in transformative arts practice, using interdisciplinary, socially-engaged arts practice to promote equality, human rights, gender equality, diversity and peace, developing cutting edge arts-based projects with a range of organisations in Ireland, Northern Ireland and across Europe. The work takes place at local, national and international levels, connecting citizens to the arts, human rights, climate justice,  gender equality and peace. 
Mary's work is underpinned by a rights-based approach and a commitment to artistic excellence and social engagement. Mary has a particular focus on using historical memory in her artistic practice as inspiration for the creation of original artworks across a range of mediums, remembering stories of ordinary yet powerful women and men from history and today who stood up for the rights of others.
As Artistic Director of Smashing Times, Mary was awarded the Business to Art Special Judges Daa Arts Award at Bord Gáis Energy Theatre and was awarded a GSK Ireland Impact Award, a Dublin Bus Community Spirit Award, and a National Lottery Good Cause Award. In April 2021, Acting for the Future - Creative Arts for Health and Well-being Hub, a project designed and led by Mary Moynihan,  won the prestigious #ArtsAgainstCovid award, from the Arts in Health International Foundation.  Company patrons of Smashing Times are First Lady Sabina Coyne Higgins, Senator Joan Freeman, founder of Pieta House, Ger Ryan, actor and Tim Pat Coogan, writer and historian. Founding patrons were writers Maeve Binchy and Brian Friel.