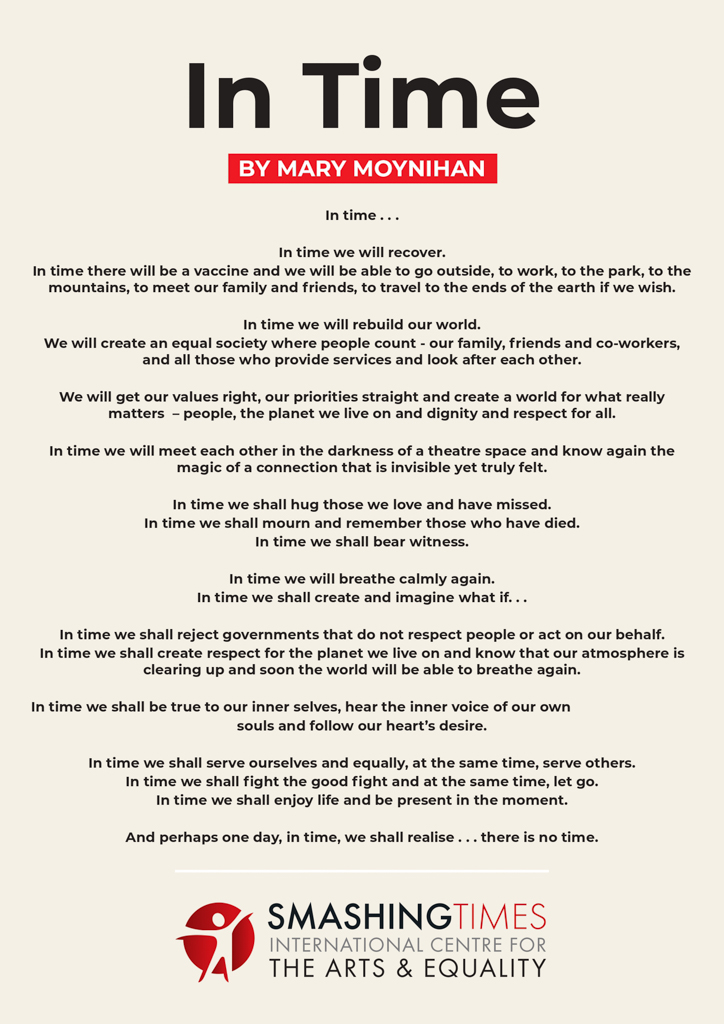 Mary Moynihan-In Time
Artist: Mary Moynihan
Medium: Video
My influences have been the people I love, nature as a way of being and a sense of mystery and a desire to stand up against injustices.   I am drawn in by historical memory, alternative narratives and what is hidden or unseen especially stories that live in liminal spaces and on the edge.
The arts are essential for imagining new visions for the future and now more than ever we need to come together to create the type of world we want to live in, to promote and protect democracy and human rights. It is important to remember that democracy is not a given and it can be taken away.  The arts provide a unique and valuable opportunity to raise awareness of human rights, gender equality and diversity and can bring people together to celebrate and promote human rights into the future.
Picture: Kwasie Boyce, actor, In Time by Mary Moynihan
'In Time' is a poem film written and created by artist Mary Moynihan. The artist says 'In Time is my personal response to the changing landscape of our world today in a time of pandemic and is my dream for the future'.  Mary wrote 'In Time' as a poem after experiencing a serious form of Covid-19. Shortly afterwards, the poem was transformed into a poem film, co-directed with Mark Quinn, performed by Carla Ryan and Kwasie Boyce (pictured above) with original music composed and performed by Lisa McLoughlin-Gnemmi. 'In Time' was presented as part of the Emotional Landscapes exhibition in the Dublin Arts and Human Rights Festival 2020.
'My work is often provoked by suffering and loss and I am drawn to the dark spaces – the darkness within darkness –  perhaps as a gateway to the heart of a mystery or what is unknown, and to shine a light and find ways forward and ways of letting go.'  – Mary Moynihan
Biography
Mary Moynihan (she/her), MA,  is an award-winning writer, director, theatre and film-maker, an interdisciplinary artist and Artistic Director of Smashing Times International Centre for the Arts and Equality.
Mary is Artistic Curator for the annual Dublin Arts and Human Rights festival implemented by Smashing Times and Front Line Defenders in partnership with organisations including Amnesty International, Fighting Words, NWCI, Irish Modern Dance Theatre and  Poetry Ireland. The aim of the festival is to showcase and highlight the extraordinary work of human rights defenders in Ireland and around the world, past and present, and the role of the arts and artists in promoting human rights today. 
Mary specialises in transformative arts practice, using interdisciplinary, socially-engaged arts practice to promote equality, human rights, gender equality, diversity and peace, developing cutting edge arts-based projects with a range of organisations in Ireland, Northern Ireland and across Europe. The work takes place at local, national and international levels, connecting citizens to the arts, human rights, climate justice,  gender equality and peace. 
Mary's work is underpinned by a rights-based approach and a commitment to artistic excellence and social engagement. Mary has a particular focus on using historical memory in her artistic practice as inspiration for the creation of original artworks across a range of mediums, remembering stories of ordinary yet powerful women and men from history and today who stood up for the rights of others.
As Artistic Director of Smashing Times, Mary was awarded the Business to Art Special Judges Daa Arts Award at Bord Gáis Energy Theatre and was awarded a GSK Ireland Impact Award, a Dublin Bus Community Spirit Award, and a National Lottery Good Cause Award. In April 2021, Acting for the Future - Creative Arts for Health and Well-being Hub, a project designed and led by Mary Moynihan,  won the prestigious #ArtsAgainstCovid award, from the Arts in Health International Foundation.  Company patrons of Smashing Times are First Lady Sabina Coyne Higgins, Senator Joan Freeman, founder of Pieta House, Ger Ryan, actor and Tim Pat Coogan, writer and historian. Founding patrons were writers Maeve Binchy and Brian Friel.