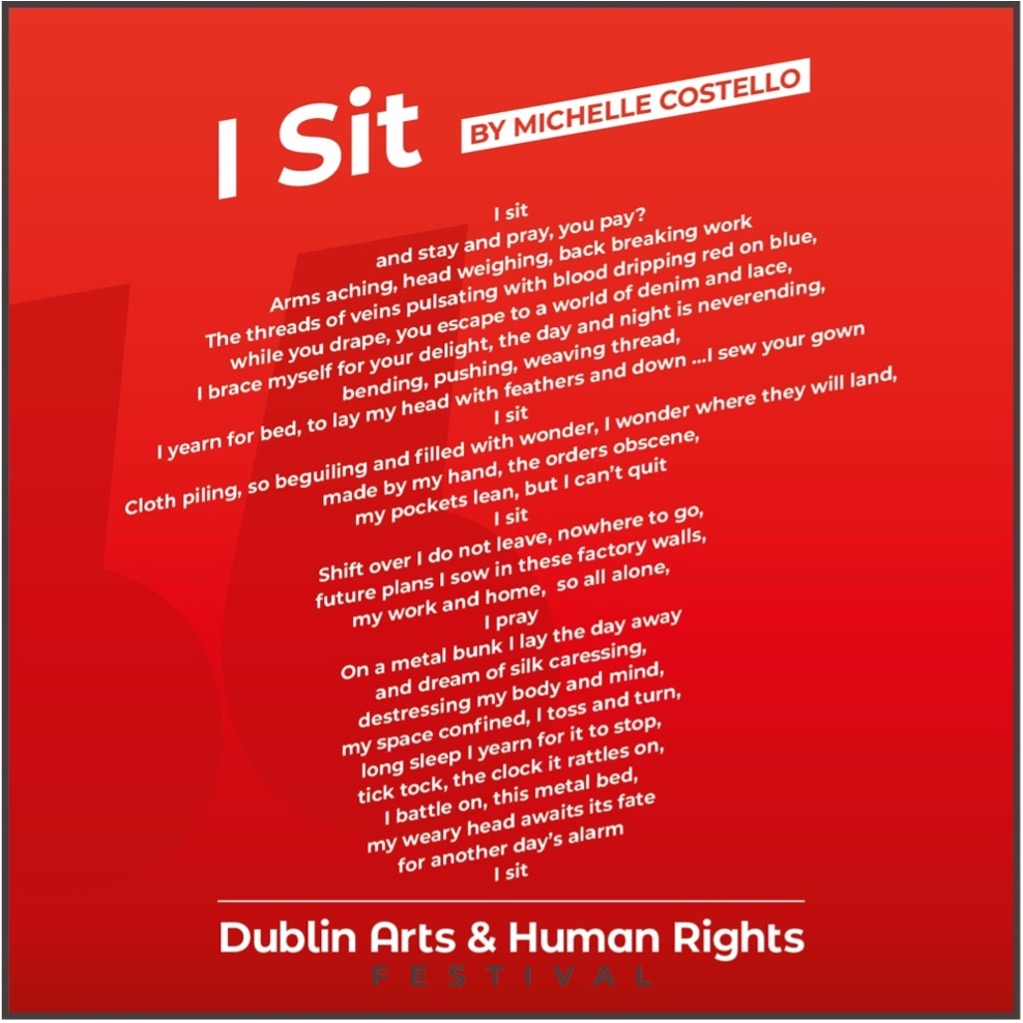 I Sit
Artist: Michelle Costello
Medium: Poetry
My love for clothes is rooted in the threads of DNA links with my mother. At 14 years of age, she left school and started working immediately in 'The Fifty Bob Tailors' and on to 'Best', where her small hands would line up and stitch pin-striped suits to perfection. Her innate sense of style influenced me and this fascination with clothing led to my curiosity and research into modern methods used in the fashion industry. Not much has changed apart from larger consumption of production and often inhuman working conditions.
'I Sit' is a response to all the young workers, just like my mother, who have been forced into laborious methods of production to feed the frenzied consumerist world.
Biography
Michelle Costello is an actor, drama teacher, puppeteer and artist.Trained in conventional acting through The Gaiety School as well as method acting, through Focus Theatre and the late great Deirdre O'Connell, Michelle has over 30 years of experience in television, film and theatre, such as; Game of Thrones, Vikings, Fair City, Killinaskully, Bull Island, The House of Bernarda Alba to name but a few. She also works in corporate events, teambuilding and role play and Master of Ceremonies. Michelle trained as a puppeteer through Conor Lambert of the late Lambert Puppet Theatre, and teaches drama to young children as a self-discovery and development activity.
Michelle holds a certificate in Art and Design (N.C.A.D.) 2012, an honours degree in Fine Art, Sculpture (N.C.A.D.) 2015 and has delved into issues such as: Observations on Unethical Textile Manufacturing, The Obsession and Impact of 'Looking' Through SocialMedia, including the Oversexualisation of Teenage Girls. She has worked with Dublin City Artsquad, creating art projects for children from the inner city, and also performed in the RTE Junior Panto as well as a residency at Farmleigh.
Michelle was also awarded a Postgraduate in 'Innovation, Entrepreneurship and Enterprise' (U.C.D.) in 2016 and went on to secure contracts as manager of a Horror Themed House, Marketing Manager for a Kayaking Company and Sole Performer on a Live Moving Theatre Bus.  Michelle has trained as a Radio Presenter, has been cast in a radio play, and performs voiceover comedy sketches for DiCtv.