As Smashing Times celebrates its 30th anniversary this year, we have decided to bring you a new segment to the Arts and Human Rights newsletter – a list of 30 things we love. Each month we will take on a different theme. This month we are celebrating artworks that promote equality, diversity and human rights for all!
Men of Destiny (1946)
Jack Butler Yeats is an Irish artist and considered to be the most important Irish painter of the 20th century. His scenes of daily life and Celtic mythology contributed to the surge of nationalism in the Irish arts after the Irish War of Independence (1919–21). Yeats initially painted in watercolour, but about 1906 he began painting regularly in oil. His early paintings were rather conservative in style. During the years of the Irish struggle for independence, Yeats began to acquire fame for his romantic and emotional, yet realistic, portrayals of urban and rural life in Ireland.
Reading the Employment Offers Colum (1972)
Mary Swanzy was an Irish landscape and genre artist. Noted for her eclectic style, she painted in many styles including cubism, futurism, fauvism, and orphism, she was one of Ireland's first abstract painters.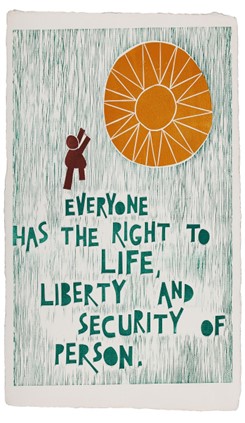 The Universal Declaration of Human Rights, (1978)
Otávio Roth was a Brazilian artist known for illustrating a number of children's books. He was an advocate for environmental awareness and sustainability. His woodcut depictions of the full 30 article Universal Declaration of Human Rights hang in the UN to this day.
Prayer Demonstration (1962)
Danny Lyon is an American photographer and filmmaker known for his journalistic interest in socioeconomic, counter-cultural, and civil rights issues. In 1962 photographer Danny Lyon captured three young African Americans protesting through prayer in front of a "whites-only" swimming pool and recreational facility in Cairo, Illinois. Their demonstration was part of a larger effort to integrate businesses and other spaces in the town. Lyon was involved in the movement and developed strong relationships with members of the Student Nonviolent Coordinating Committee (SNCC), a group of young people who were committed to full-time grassroots organization.
The Dinner Party (1979)
Judy Chicago, as an artist and educator was a pioneer of the Feminist Art movement. Chicago developed the Feminist Art Program at Cal State and CalArts where female students could collaborate and create without patriarchal oversight. From 1974 to 1979, Chicago created The Dinner Party, a Last Supper inspired installation piece honouring the often overlooked women of both history and legend.
Untitled: The Abortion Pastels (1998-1999)
Dame Maria Paula Figueiroa Rego is a Portuguese-British visual artist who is particularly known for her paintings and prints based on storybooks. Rego's style has evolved from abstract towards representational, and she has favoured pastels over oils for much of her career. Her work often reflects feminism, coloured by folk-themes from her native Portugal.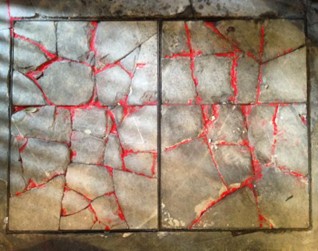 Red Sand Project (2014-present)
Molly Gochman is an interdisciplinary conceptual artist and activist whose work aims to bring together the collective experiences of many people for greater understanding. Molly is known for activating public spaces and creating participatory experiences through large and small scale installations. In 2014, she created Red Sand Project, an international activist artwork that raises awareness of the vulnerabilities that lead to exploitation. The project has engaged in action over 1.5 million people of diverse backgrounds — and it's continuing to grow daily.
Who's Afraid of Aunt Jemima? (1983)
Faith Ringgold is an American painter, writer, mixed media sculptor, and performance artist, best known for her narrative quilts. Faith Ringgold's artistic practice is extremely varied – from painting to quilts, from sculptures and performance art to children's books. Ringgold's use of craft techniques ignored the traditional distinction between fine art and craft, while demonstrating the importance of family, roots, and artistic collaboration.
Freedom Graffiti (2013)
Tammam Azzam was born in Damascus, Syria and worked as a successful painter and graphic designer, an experience that would inform his digital media work after relocating to Dubai with the start of the country's conflict. Following the start of the uprising in Syria, Azzam turned to digital media and graphic art to create visual composites of the conflict that resonated with international viewers. In early 2013, Azzam made worldwide headlines when his Freedom Graffiti print went viral on social media. Chronicling the current state of his homeland, Azzam delves into a cathartic exercise of reconstruction, storey by storey. Alongside these new paintings, he has produced a significant body of giclée prints and installations that depict the facets of cities through similar themes.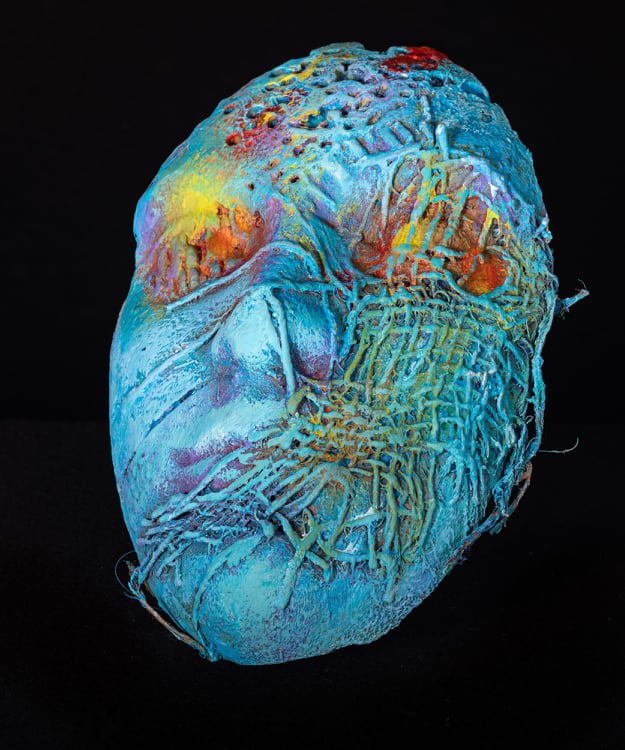 Mask (2021)
Noelle McAlinden is an artist from Northern Ireland. Noelle's work varies in size, scale, subject matter and treatment, from large-scale oil paintings to small mixed media pieces on canvas. The work is vibrant in colour and texture that appeal strongly to the eye with work consisting of an extraordinarily vivid panorama of colour, light and imagery, abstract and semi representational. The work to date has evolved from the figurative/narrative tradition. The choice of subject matter and treatment of it has evolved in a logical development from previous solo exhibitions, Waterways of the mind, Out of the Blue, Eve–olution, Precious Cargo and Emotional Landscape.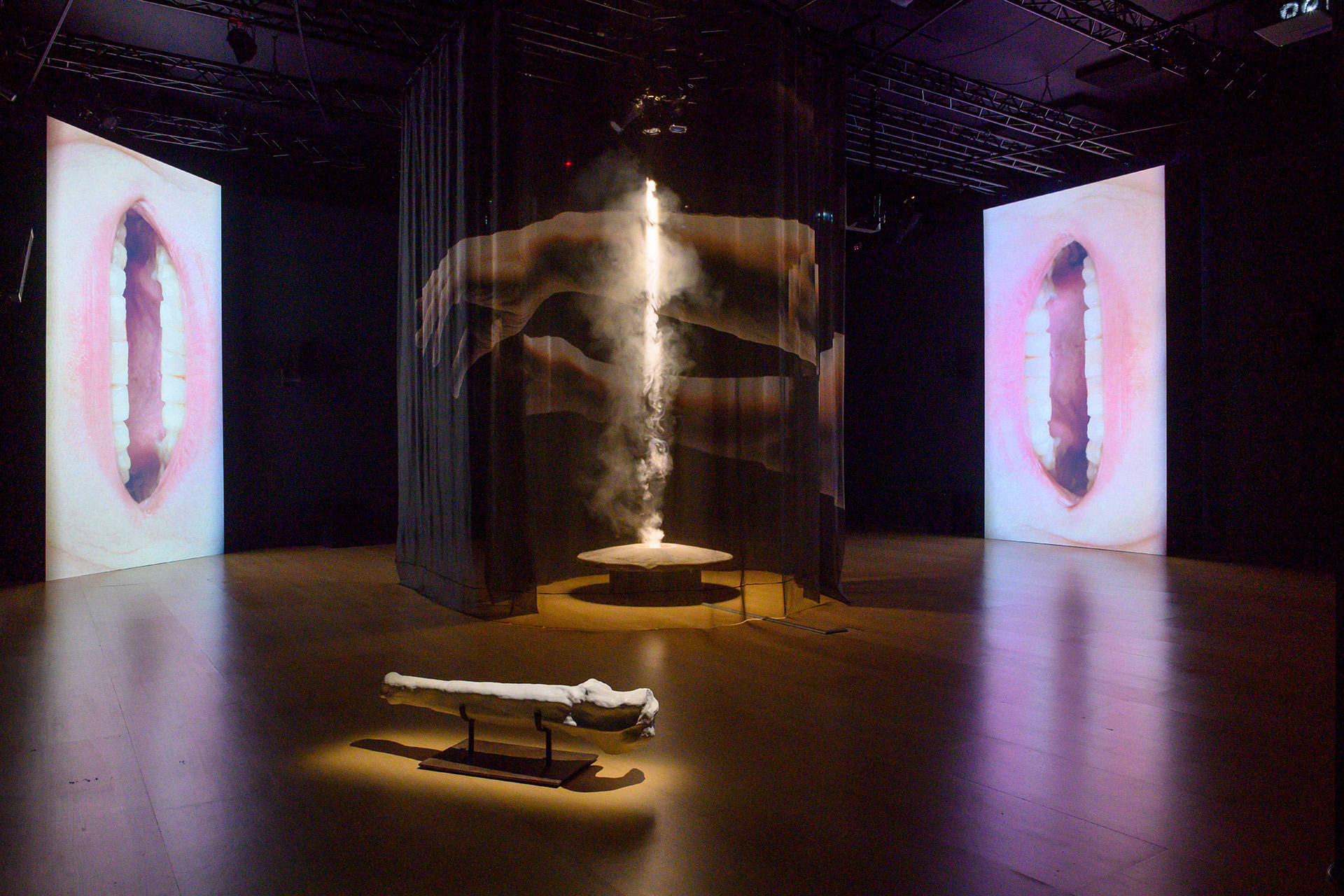 Tremble Tremble (2017)
Jesse Jones is an artist from Ireland. Tremble Tremble was originally produced in 2017 for the Irish Pavilion of the 57th Venice Biennale, and has subsequently undergone site-specific adaptations for galleries and institutions in Europe and Asia. The installation, technically and conceptually ambitious, appropriates the historical figure of the witch as a powerful symbol in modern Western history, and a carrier of poetic and political potentiality.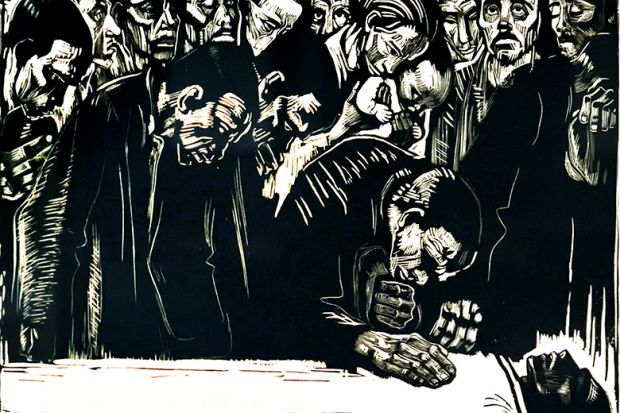 In Memoriam Karl Liebknecht (Gedenkblatt für Karl Liebknecht) 1920
Kathe Kollwitz created this image as a response to the brutal murder of Karl Liebknecht, a Communist leader who helped lead an armed revolt against the Socialist government in January 1919. He was assassinated by right-wing paramilitary units. Kollwitz's composition is based on traditional Christian lamentation scenes, thus placing Liebknecht in the role of martyr. The artist paid special attention to the dignity and pathos of Liebknecht's working-class followers, who had put their hope and faith in him.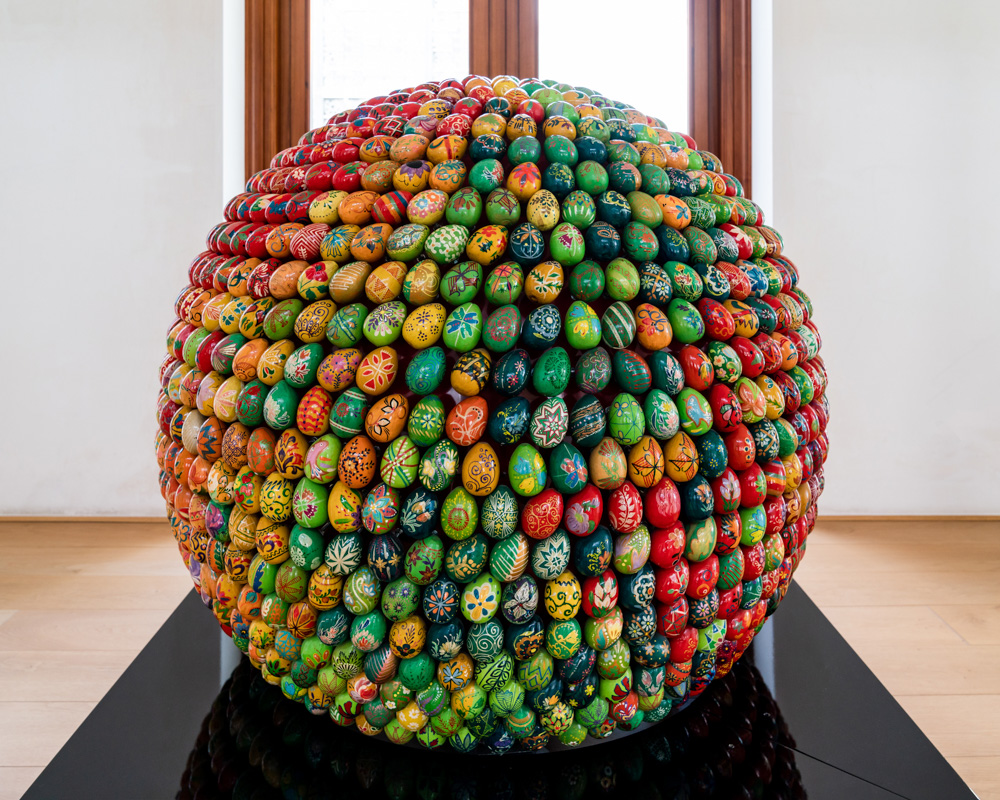 Sphere of Good and of Spiritual Renaissance
Oksana Mas is a Ukrainian contemporary artist and the organizer of "ArtTogether", a global interactive art project aimed at visualizing the new cultural code of the modern generation and uniting people at a time of political and social turmoil. Pysanka is the Ukranian custom of decorating eggs with traditional designs at Eastertime. Usually painted during lent by the women of the family as their children slept, the symbols, patterns and colour combinations were typically handed down from mother to daughter. The eggs were gifted to family members at Eastertime as a symbolic gift of life, whereby the symbols varied from region to region but always expressed wishes or protection and love. Here, Mas employs hand-painted wooden eggs into a contemporary spherical installation, suggestive of her desire to create a sculpture that embodies both tradition and modernity, thereby facilitating a dialogue between the older and the younger generation. The resulting work materializes as a symbol of the eternality of the sacred feminine.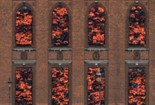 Soleil Levant (2017)
Ai Weiwei is a Chinese contemporary artist, documentarian, and activist. Ai grew up in the far northwest of China and as an activist, he has been openly critical of the Chinese Government's stance on democracy and human rights. Ai Weiwei emerged as a vital instigator in Chinese cultural development, an architect of Chinese modernism, and one of the nation's most vocal political commentators. Ai Weiwei's 'Soleil Levant' installation barricades the windows of Kunsthal Charlottenborg with more than 3500 salvaged life jackets collected from refugees arriving at the Greek Island of Lesbos. Focusing on the humanitarian crisis with this installation, Ai Weiwei hopes to bring focus to the refugee crisis currently taking place across Europe.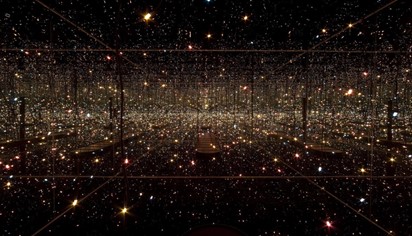 Fireflies on the Water (2002)
Yayoi Kusama is a Japanese contemporary artist who works primarily in sculpture and installation, but is also active in painting, performance, video art, fashion, poetry, fiction, and other arts. Her work is based in conceptual art and shows some attributes of feminism, minimalism, surrealism, Art Brut, pop art, and abstract expressionism, and is infused with autobiographical, psychological, and sexual content. She has been acknowledged as one of the most important living artists to come out of Japan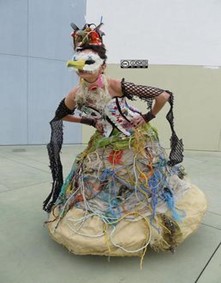 Trashion (2011-Present)
Marina DeBris is the name used by an Australian-based artist whose work focuses on reusing trash to raise awareness of ocean and beach pollution. DeBris uses trash washed up from the beach to create 'trashion' (trash fashion), 'fish tanks', decorative art and other works of art. She has also used beach trash to provide one perspective on what the earth might look like from space. As well as creating art from debris, DeBris also is a fund raiser for environmental organizations, and collaborates with non-profit organizations and schools to educate children about ocean pollution.
Artist Bio (2021)
Anna Daliza is a second generation immigrant and transgender woman and has often explored themes of identity in her work. In her public installation entitled 'Artist Bio,' her first work in visual form, she spoofs the institutional—as well as her personal—fixation on identity.
afro.died, T. (2011)
Iona Rozeal Brown is a contemporary American artist known for her colourful and complex cross cultural painting technique. She best known for her narrative canvases commenting on cultural, racial and sexual identity. A large part of her work touches on the differences between appropriation and appreciation.
Self Portrait – Shame Series #1 (2021)
Amna Walayat is a Cork-based Pakistani-born emerging visual artist whose works deal with socially conscious subject and experiences of hybrid culture. Her work shows the observer of the society from a feminist vernacular and her current body of work deals with violence against women in the name of shame.
Untitled (We Don't Need Another Hero) (1987)
Barbara Kruger is an American conceptual artist and collagist associated with the Pictures Generation. She is most known for her collage style that consists of black-and-white photographs, overlaid with declarative captions, stated in white-on-red Futura Bold Oblique or Helvetica Ultra Condensed text. The phrases in her works often include pronouns such as "you", "your", "I", "we", and "they", addressing cultural constructions of power, identity, consumerism, and sexuality. Kruger's artistic mediums include photography, sculpture, graphic design, architecture, as well as video and audio installations.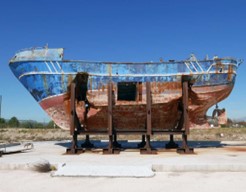 Barca Nostra (2019)
Christoph Büchel is known for his hyperrealistic, large-scale installations and conceptual projects. Tending toward the intensely political and provocative, his works challenge artistic and societal assumptions, often inviting the active participation of the viewer. Büchel's disturbing imagery includes oil tankers, bombs, remnants of an exploded excursion bus, claustrophobic chambers, and cramped tunnels.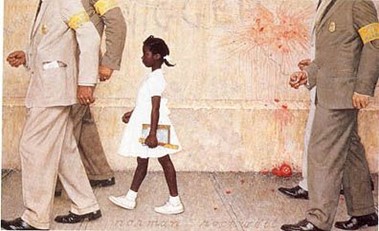 The Problem We All Live With (1964)
Norman Rockwell was an American painter and illustrator. His works have a broad popular appeal in the United States for their reflection of American culture. Rockwell is most famous for the cover illustrations of everyday life he created for The Saturday Evening Post magazine over nearly five decades. Among the best-known of Rockwell's works are the Willie Gillis series, Rosie the Riveter, The Problem We All Live With, Saying Grace, and the Four Freedoms series. Rockwell was a prolific artist, producing more than 4,000 original works in his lifetime. Most of his surviving works are in public collections. Rockwell was also commissioned to illustrate more than 40 books, including Tom Sawyer and Huckleberry Finn as well as painting the portraits for Presidents Eisenhower, Kennedy, Johnson, and Nixon, as well as those of foreign figures, including Gamal Abdel Nasser and Jawaharlal Nehru.
My God, Help Me to Survive This Deadly Love (1990)
Dmitri Vrubel is a Russian painter. He is best known for his East Side Gallery-painting My God, Help Me to Survive This Deadly Love, depicting the kissing communist leaders Leonid Brezhnev and Erich Honecker. The author of many paintings on social issues, is also actively involved in various socio-political art projects.
Cloud City (2012)
Tomás Saraceno is an Argentine contemporary artist whose projects, consisting of floating sculptures, international collaborations, and interactive installations, propose and dialogue with forms of inhabiting and sensing the environment that have been suppressed in the Capitalocene era. Best known for his large-scale installations and floating sculptures, Saraceno has dedicated much of his expansive artistic oeuvre to the exploration of environmental issues. In various of his works, the artist explores alternative sources of energy as a way to encourage people to live more sustainable lifestyles.
Trixie on the Cot (1979)
Nan Goldin is an American photographer and activist. Her work often explores LGBT subcultures, moments of intimacy, the HIV/AIDS crisis, and the opioid epidemic. She is known for her deeply personal and candid portraiture. Goldin's intimate images act as a visual autobiography documenting herself and those closest to her, especially in the LGBTQ community and the heroin-addicted subculture. 
Do Women Have To Be Naked To Get Into the Met. Museum? (1989)
Guerrilla Girls is an anonymous group of feminist, female artists devoted to fighting sexism and racism within the art world. The group formed in New York City in 1985 with the mission of bringing gender and racial inequality into focus within the greater arts community. The group employs culture jamming in the form of posters, books, billboards, and public appearances to expose discrimination and corruption. They also often use humour in their work to make their serious messages engaging. They are known for their "guerilla" tactics, hence their name, such as hanging up posters or staging surprise exhibitions. To remain anonymous, members don gorilla masks and use pseudonyms that refer to deceased female artists such as Frida Kahlo, Kathe Kollwitz, and Alice Neel. Identities are concealed because issues matter more than individual identities, "Mainly, we wanted the focus to be on the issues, not on our personalities or our own work."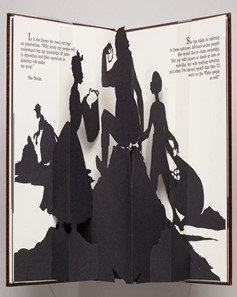 Freedom, A Fable (1997)
Kara Walker is an American contemporary painter, silhouettist, print-maker, installation artist, filmmaker, and professor who explores race, gender, sexuality, violence, and identity in her work. She is best known for her use of intricate cut-paper silhouettes, together with collage, drawing, painting, performance, film, video, shadow puppetry, light projection, and animation, to comment on power, race, and gender relations.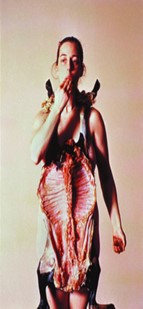 The Burden of Guilt (1997-1999)
Tania Bruguera is a politically motivated performance artist, who explores the relationship between art, activism, and social change in works that examine the social effects of political and economic power. By creating proposals and aesthetic models for others to use and adapt, she defines herself as an initiator rather than an author, and often collaborates with multiple institutions as well as many individuals so that the full realization of her artwork occurs when others adopt and perpetuate it.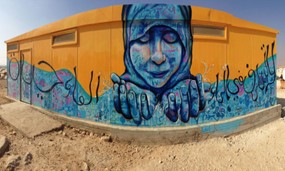 The Za'atari Project
Joel Artista is a muralist/ street artist and educator who creates large-scale works of art with the participation of young people and communities around the world. Bergner is the co-founder and co-director of the non-profit organization Artolution, which organizes community-based public art initiatives with those who have experienced armed conflict, trauma and social marginalization. He has led such projects with incarcerated teenagers, Syrian refugees, youth from slum areas, the mentally and physically disabled, young people with substance abuse issues, orphans and street children. From the streets of Brooklyn to Syrian refugee camps; the favelas of Brazil to rural Ugandan settlements, Joel has collaborated with youth, families and artists across 30 countries to create murals that reflect the resilience and stories of their communities.
Non-Violence (1984)
Carl Fredrik Reuterswärd was a Swedish painter and sculptor. He is one of Sweden's most internationally-famed artists and was a part of the dynamic modern art scene that evolved in the 1960s. He studied with Fernand Léger in Paris 1951 and was a professor of painting at The Academy of Fine Arts in Stockholm 1965–1969. In 1974 he was a guest professor at Minneapolis School of Art, Minneapolis, Minnesota. In 1986 he was awarded the Prince Eugen Medal for painting.
War is Over (1969)
Yoko Ono is a Japanese multimedia artist, singer, songwriter, and peace activist. Her work also encompasses performance art, which she performs in both English and Japanese, and filmmaking. Since emerging onto the international art scene in the early 1960s, Yoko Ono has made profound contributions to visual art, performance, filmmaking, and experimental music. Ono continues to perform with her avant-garde Plastic Ono Band, promote world peace through her ongoing WAR IS OVER! campaign, and create works that blur the boundaries between art, politics, and society. In recent years, she has embraced social media to communicate her artistic and activist messages to even broader audiences.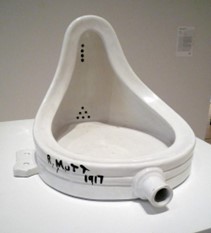 Fountain (1917, replica 1964)
Marcel Duchamp was a French-American painter, sculptor, chess player, and writer whose work is associated with Cubism, Dada, and conceptual art. Duchamp is commonly regarded, along with Pablo Picasso and Henri Matisse, as one of the three artists who helped to define the revolutionary developments in the plastic arts in the opening decades of the 20th century, responsible for significant developments in painting and sculpture. Duchamp has had an immense impact on twentieth-century and twenty first-century art, and he had a seminal influence on the development of conceptual art. By the time of World War I he had rejected the work of many of his fellow artists (such as Henri Matisse) as "retinal" art, intended only to please the eye. Instead, Duchamp wanted to use art to serve the mind.
The Two Fridas (1939)
Frida Kahlo was a Mexican painter known for her many portraits, self-portraits, and works inspired by the nature and artifacts of Mexico. Inspired by the country's popular culture, she employed a naïve folk art style to explore questions of identity, postcolonialism, gender, class, and race in Mexican society. Her paintings often had strong autobiographical elements and mixed realism with fantasy. In addition to belonging to the post-revolutionary Mexicayotl movement, which sought to define a Mexican identity, Kahlo has been described as a surrealist or magical realist. She is known for painting about her experience of chronic pain.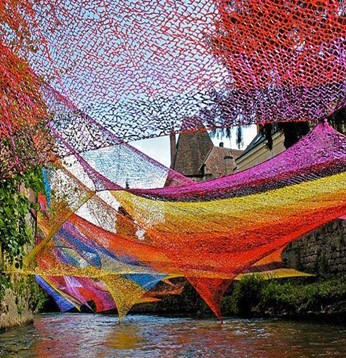 Sortilege (2010)
Edith Meusnier is a French textile and environmental artist. Through her art, Meusnier examines the notions of sustainability and vulnerability. Her textile installations are placed outdoors, in places such as castles' parks, the cloisters of monasteries, parks in front of museums.