An Afternoon with the Change-Maker Theatre in Palm Festival within a Festival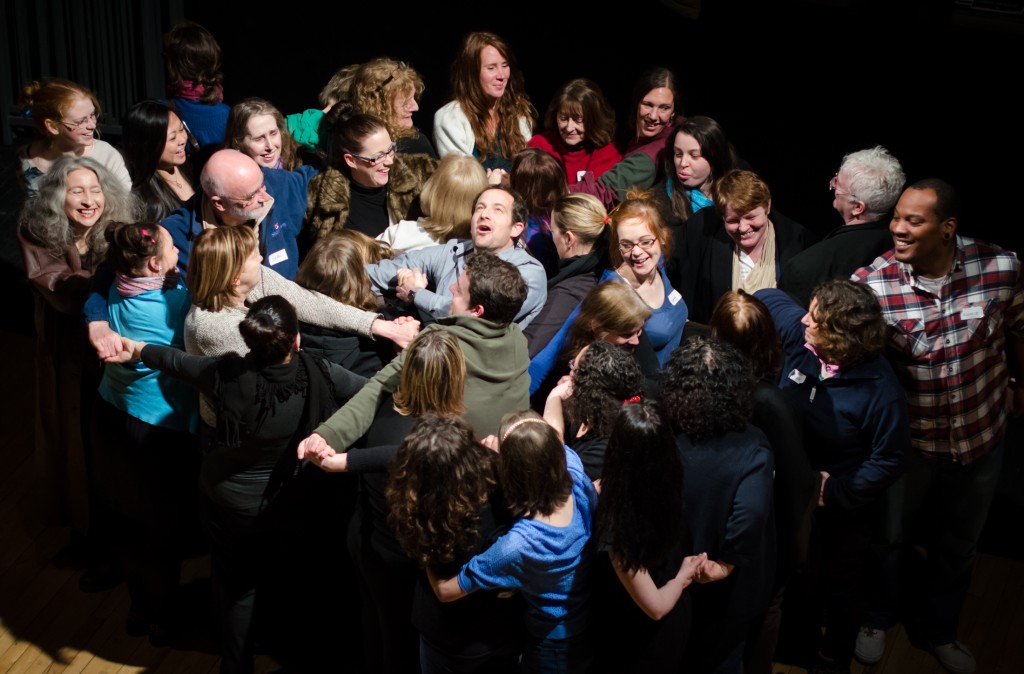 An Afternoon with the Change-Maker Theatre in Palm Festival within a Festival
Event Categories:
October 15
@
2:00 pm
–
5:30 pm
IST
A Change-Maker Theatre in Palm Festival within a Festival afternoon event featuring a talk, workshop and live performances hosted by Smashing Times International Centre for the Arts and Equality and presented by a range of creative arts organisations from the transnational European wide project Theatre in Palm
Book Your Place
Artists
Jean-Lorin Sterian, Homemade Culture, Artist
Johan Bandholtz, Ongoing Realities
Anna Näsström, Ongoing Realities
Anja Calas, Espronceda
Full Event Details
A Change-Maker Theatre in Palm Festival within a Festival
Featuring live performances, workshops and panel discussions from a range of creative arts organisations from across Europe
The Pumphouse, Dublin Port – Alexandra Terminal, Alexandra Rd, Dublin Port, Dublin 1
Afternoon: Art-based Talk, Workshop and Live Performances – 15 October 2023, 2-5pm
Evening: Live Performances and Post-Show Talk – 15 October 2023, 7-10pm
Smashing Times is delighted to welcome a range of innovative creative arts organisations from across Europe to Ireland for A Change-Maker Theatre in Palm Festival within a Festival featuring live performances, workshops and panel discussions. These events showcase the work of emerging and established artists and build international connections for artists working in theatre and in interdisciplinary arts practice, using the arts to support equality, human rights and diversity. The Change-Maker Theatre in Palm Festival within a Festival is held as part of the annual Dublin International Arts and Human Rights Festival running from the 13 to 22 October 2023 in Ireland. Events take place in two parts, the first is an afternoon event of art-based workshops, live performances and talks on Sunday 15 October 2023 from 2-5pm and the second is an evening event of live performances and talks taking place on Sunday 15 October from 7 to 10pm. This series of events is hosted by Smashing Times International Centre for the Arts and Equality and presented by a range of arts organisations from across Europe who are taking part in the Theatre in Palm Europe-wide transnational project.
Afternoon: Change-Maker Art-based Talk, Workshop and Live Performances
Pumphouse, Alexandra Road, Dublin Port, Dublin 1
Sunday 15 October, 2-5pm
Homemade Culture: Art Events in the Domestic Space – Public Arts Talk
A talk on the domestic space as arts space
Presented by Homemade Culture, Bucharest, Romania
[ e s c ] Live Performance
A multi-modal piece that investigates escapism as a notion and state of mind
Presented by Ongoing Realities, Stockholm, Sweden
Insert Visually Powerful Image: Here
A multi-disciplinary performance on the importance of human rights for all
Presented by Espronceda, Barcelona, Spain
Technology and Creative Creation Workshop
A workshop exploring the use of VR, motion capture and animation in creative projects
Presented by Ongoing Realities, Stockholm, Sweden
Homemade Culture: Art Events in the Domestic Space
A public talk on the domestic space as arts space
Presented by Homemade Culture, Bucharest, Romania
'Homemade Culture' is what is born from the interaction between art events and the domestic space; the multilayered connections between artists, hosts, and audience. Personal dwellings are used as exhibition or performative spaces by young curators who do not own galleries or artists who are not willing to align aesthetically and politically to the mainstream culture. Although neither financial, nor (intense) self-promotional purposes are pursued, they use their personal space in order to get noticed or just to share their art with a close circle of people who share the same values.
The domestic space has a decisive influence on the structure, frequency, type of audience and, of course, the content of the event. Homemade Culture activities are directly dependent on the drive, the aims, and the energy fluctuations of the hosts. Jean-Lorin Sterian became interested in this topic in December 2008, when he opened an apartment theatre in his own home. "In 2010, I started studying similar initiatives around the world. I set out to highlight and describe these manifestations in order to reveal the existence of a socio-cultural phenomenon not yet studied. Following on from ten years of research, I consider that art and theatre performances in domestic spaces operate as testing papers for the status of the society where they unfold, while they" do not solve" issues, as subcultures do, but they only point at issues."
[ e s c ]
A multi-modal piece that investigates escapism as a notion and state of mind
Presented by Ongoing Realities, Stockholm, Sweden
[ e s c ] is a multi-modal piece that investigates escapism as a notion and state of mind. It encompasses a live performance, animated choreographic works, a film and an exhibition with pictures that become moving images with the use of Augmented Reality. Algorithms and social media have stimulated the choreographic investigation and the piece takes the visitor on an escapist journey through different emotional states and expressions in an eclectic mix that makes you question who is looking at whom and at what. In the live performance digital animations, old tech and four dancers transform the space into an enigmatic place where past, present and future meet. As a point of departure [ e s c ] delves into the need for pause and imagination but also how technology and algorithms transform or change our escapist tendencies. Instead of focusing on what is good or bad, [e s c] explores both dystopian and utopian ideas linked to our need for escape from reality and what this does to the bodies on stage. The relationship of escapism to capitalism is explored as well as questions of whether escapism can be understood as a presence, an instigator of change or an escapist behaviour that counteracts social change.
Production: Ongoing Realities
Concept and choreography: Anna Näsström and Johan Bandholtz
Dancers: Anna Näsström and Johan Bandholtz (can be 2 or 4) (Anna Borrás, Matilda Bjärum)
Sound design: Rosanna Gunnarsson and Yared Tilahun Cederlund~
Lighting design: Angela X Ariza
Animations: dr_formalyst
Video artist: Tanne Willow
Photographer: Tanne Willow and Maya Eneh
AR Creator: Yuvia Maini
Poster and AI design: A EYE, Vytis Gruzdys & Rapolas Vosylius
Costume: Ongoing Realities
Scenography: Ongoing Realities
With the support of the City of Stockholm and The Swedish Arts Council as well as through residency with PlayLab Skövde, the University of Skövde, the Art Museum in Skövde, Site Incubator in Farsta and Danscenter Sthlm. Participation in Dublin is a part of Theater in Palm theatre movement by Intercult, Sweden.
Insert Visually Powerful Image: Here
Live performance excerpt
Presented by Espronceda, Barcelona, Spain
In a world in constant flux, where marginalized voices struggle for equality and justice, it is the duty of committed artists to utilize their creative skills to amplify silenced voices and challenge the status quo. Insert Visually powerful image: Here is an excerpt of a live performance from a multi-disciplinary project that aims to foster reflection, social transformation, and solidarity through the powerful mediums of poetry, theatre and dance.
Human Rights and Dignity: At the core of the excerpt from the live performance of Insert Visually powerful image: Here is the unwavering commitment to upholding human rights and dignity. The project sheds light on human rights violations and advocates for a society where fundamental rights are protected and cherished.
Technology and Creative Creation
A workshop exploring the use of VR, motion capture and animation in creative projects
Presented by Ongoing Realities, Stockholm, Sweden
Ongoing Realities will explore how technologies such as VR, Motion Capture and animation can be used in creative, artistic or interdisciplinary projects. With historical and "new" examples we reflect on possibilities and limitations of different technologies. We do practical testing of VR as a medium for experience and interpretation-tool. The participants get to formulate their own ideas with the technology as a co-player, with guidance and feedback from us on how to take things to the next step.
"Sparked many exciting thoughts and discussions. Feeling full of ideas on how I can integrate and explore XR technology in my artistry" – workshop participant.
Spectators in a Ghost City – Golden Triga award – Prague Quadrennial 2023
A talk on winning design of the Golden Triga award at Prague Quadrennial 2023
Presented by Theatre Organisation of Cyprus, Nicosia, Cypru
Speaker Marina Maleni, is the Curator of Cyprus' national participation in the world-renowned Prague Quadrennial editions since 2007. In 2023 Cyprus Theatre Organisation was bestowed with The Golden Triga, which is the highest honor in performance design.
According to the Jury of PQ23: "This elegant and many-layered exhibit demonstrates how scenography can interrogate and negotiate local themes of memory, absence and presence that resonate universally. It self-critically invites visitors to question their own position as viewers of real or reproduced sites of conflict and trauma. By looking at the past, present and possible futures of the site as seen through the narrow square openings of buildings, the exhibit provokes feelings of anguish while suggesting the RARE potential for hope."
The talk turns to the team's methodology and poses questions. The proposal/provocation unsettles the role of the artist and the viewer as it addresses issues of appropriation, spectacle, voyeurism and the role of art itself in the face of human trauma that expands beyond the ghost city of Famagusta and echoes other ghost spaces in the world.
Curator- initial concept: Marina Maleni
Artistic researcher and Installation designer: Melita Couta
Collaborating technical advisor: Harris Kafkarides
Art and Technology collaborator for Audio Visual: Giorgos Lazoglou
Video performance artists: Pascal Caron and Melita Couta
Graphic and web design: Philippos Vassiliades
Technical support in Prague: Doros Tsolakis
Technical support in Nicosia: THOC technical services
Theatre in Palm
Smashing Times International Centre for the Arts and Equality are one of twelve partner organisations involved in Theatre in Palm, a large scale European platform project funded by the Creative Europe programme 2021-2027. The Theatre in Palm platform brings together twelve partners from across Europe to collaborate and co-create as part of an international, intercultural platform supporting artists including emerging artists, to engage in international networking and to build theatre-based skills in transnational cooperation and co-creation.
The project supports artists including emerging artists to engage in international networking and to build theatre-based skills in transnational cooperation and co-creation. The project supports artistic career development and develops and values international practice and transnational co-creation and production opportunities for artists from across Europe.
The platform acts as an incubator for new voices from the page to the stage with a focus on professional development and a growth in European cooperation and the visibility and circulation of European emerging artists, working across borders and beyond. The project reaches out to over 3,500 artists and supports artists to develop skills in co-creation and production and is supported by Creative Europe, Sub-programme European Platforms for the promotion of emerging artists (CREA-CULT-2021- PLAT).
The project supports Irish artists to promote and develop good practice at a European and international level and will showcase the work of Irish artists directly with audiences of over 50,000 in Ireland, thus deepening public engagement in Ireland with the work of artists working on a European and international level. Theatre in Palm will support Irish artists in terms of skills development and the provision of resources and these aims are in line with and support the Arts Council's ten-year strategy (2016–25), Making Great Art Work: Leading the Development of the Arts in Ireland.
Special Thanks to: States of Independence, the Aisling Programme, Creative Europe, The Arts Council Open Call, The Arts Council Co-Funding Award for Creative Europe Co-operation projects 2022, Foras na Gaeilge, ACDC.
Platform Members
The platform members are Turku University of Applied Sciences, Finland (coordinator); Intercut Productions, Sweden; Fondazione E35 per la progettazine Internazionale, Italy; Smashing Times, Ireland, Lemongrass Communications, Spain; JAIT – International Theatre, Portugal; Stichting ZID, Netherlands; Cube, Greece; European Theatre and Film Institute, Belgium; THOC, Cyprus, Homemade Culture, Romania and Oecon Group, Bulgaria.
The objectives of the Theatre in Palm project are to:
Increase the visibility and the circulation of European emerging artists and works outside their own border
Increase access to and participation in cultural events and activities, as well as audience engagement and development
Support emerging artists and cultural performers to co-create, cooperate, and promote their work
The project aims to:
Support artists to 'cross borders', increasing the visibility and circulation of European artworks across borders and support them to build careers in the arts.
Support artists and cultural performers to co-create by creating a platform for international cooperation and promote their work across borders
Increase access to and participation in cultural events and activities for artists and audiences
Actions
Enable and manage activities and showcases for project outputs and dissemination, including an interactive map of opportunities
Manage an on-line repository of work for the project – conducted by Turku UAS
Create a European Quality Label for organisations supporting emerging artists
Agree on and implement branding, communications and dissemination and data management and website and social media
Administration, reporting and financial support provided by Turku UAS, as lead organisation
For more information on Theatre in Palm, visit the project webpage.
As part of the Theatre in Palm project, Smashing Times International Centre for the Arts and Equality are delighted to host a range of artist talks, workshops and performances presented live for the annual Dublin Arts and Human Rights festival. In addition artists and guests from all 11 partner countries taking part in the project will attend Dublin, Ireland to view the following events:
Ø Attend the Launch and opening of the Dublin International Arts and Human Rights Festival on Friday 13 October at 6pm
Ø Attend a Tour of the States of Independence Exhibition on Saturday 14 October at 6.30pm
Ø Attend a Live performance of States of Independence on Friday 13 October at 7pm
Ø Present live performances, artist talks and workshops on 15 October 2023 from 2-4.30pm
Ø Present live performances and post-show talks on 15 October 2023 from 7-10pm
Artist Biographies:
Born 1975 in Constanta/Romania, Jean-Lorin Sterian is a researcher, writer, artist and performer currently based in Bucharest and Romania. He holds a PhD in performance studies/sociology researching what he coined, "homemade" culture – art events held in apartments. In 2008 Jean-Lorin Sterian opened lorgean theatre, the first living-room theatre in Romania and since 2014 he has managed HomeFest, an arts festival held only in houses and flats. He published several fiction books and one anthropological research about the experience of turning his own home into a public space for art and theatre performances. Since 2009 he has been interested in performance and visual art. Since 2018 he has performed with his art musical project, pj.lo & the accidentals, releasing one EP, Sunam Ocupați and preparing the second one, There Is Nothing You Can Do from the Light Point of View.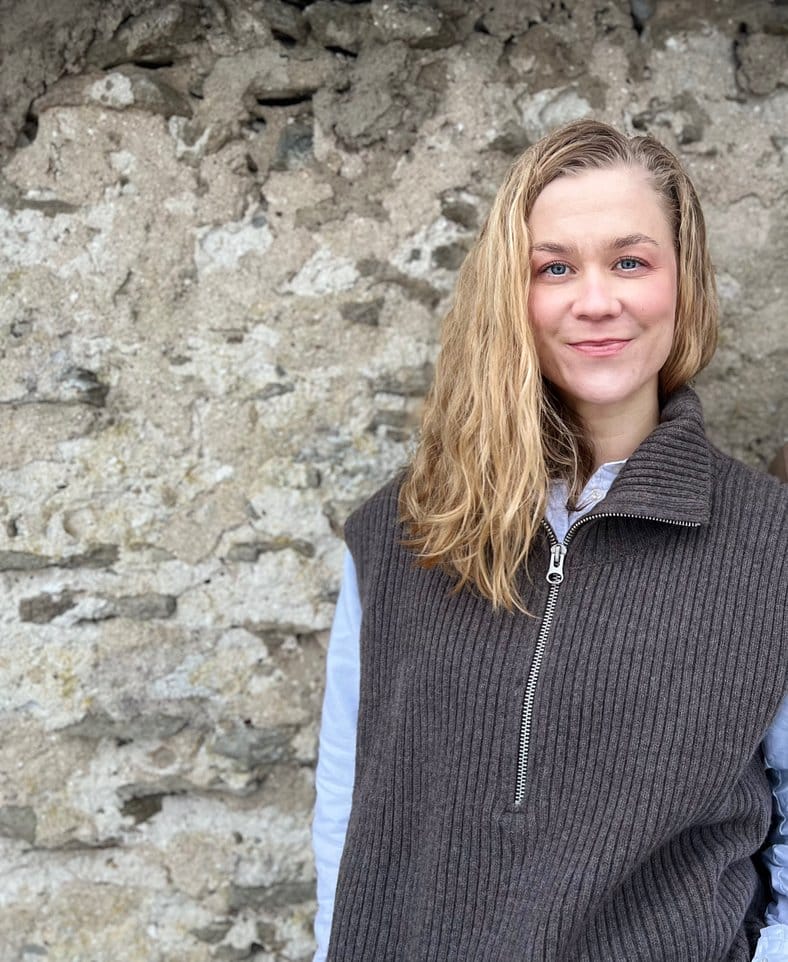 Anna Näsström is a Swedish freelancing dancer and choregrapher raised in Skåne, based in Stockholm. She was educated in contemporary dance and performance at The University of the Arts in Stockholm (SKH/DOCH) and has also studied in New York and worked around Europe as a freelancing artist for twelve years. She has a background in social, non-institutionalised dance forms, ballroom culture and a strong connection to club culture and "street dance" in different ways. Anna received "The Swedish Arts Grants Committee" working grant for 2022-2023.
Her recent engagements include producing and performing with Ongoing realities (OR), researching digital technologies, visual and sound-based, as choreographic tools. In her artistic process she explores bodily memory, shapes, practices and patterns existing un- or consciously in the body. This and politics of normativity is something that permeates her work and interest and she has also studied Social Anthropology and Political Science at The Stockholm University.
Annas first solo-piece "Boxwood" was developed in 2012 and part of 2013 "Dansbiennal" and toured Sweden with Dansens Hus. She has received the "Dance of the Year" award from Kingsize Magazine and has also worked in part pro bono projects in conveying space for training and community within ballroom, teaching and mentoring upcoming dancers and creating clubs and events. Anna has been active in various parts of the dance field and has a wide range of experience in the field such as choreography for artists, musicals or film, multimedia art exhibitions and tv productions.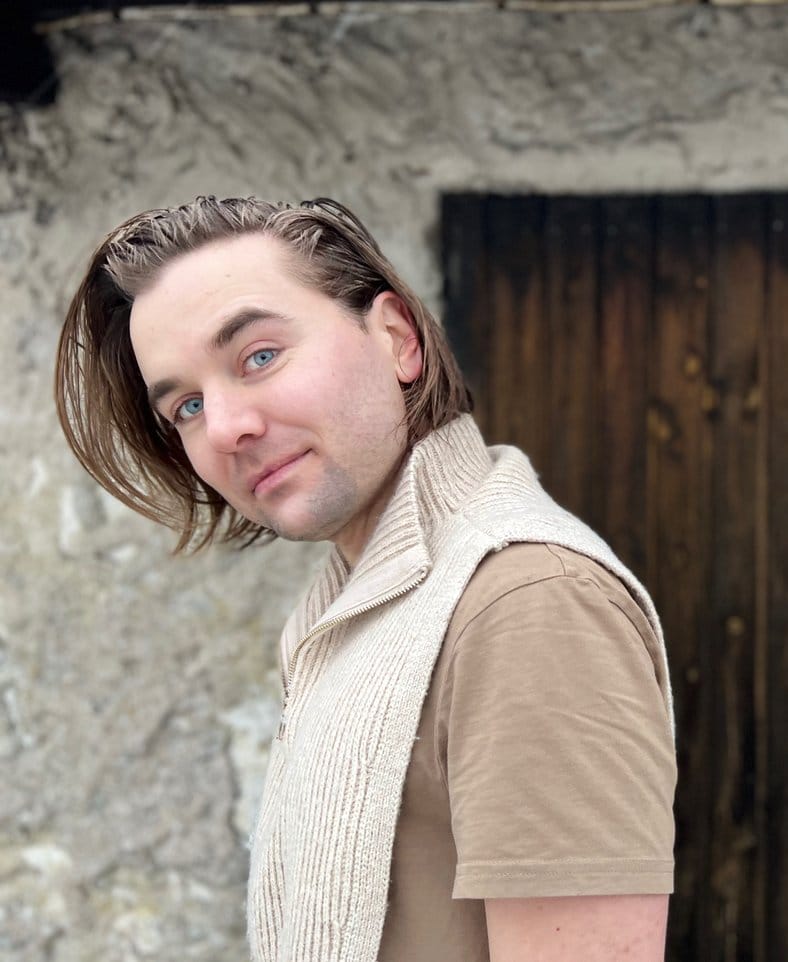 Johan is a dancer and choreographer from Stockholm and has a Bachelor of Fine Arts (B.F.A) in Dance and Performance from Stockholm University of the Arts (former DOCH). He also holds a Bachelor of Medical Science (B.Med.Sci) in Psychology from Karolinska Institute, and a Master of Arts (M.A) in Gender Studies with a Specialization in Gender Politics in Practice from Södertörn University.
Since 2019 he has been working with Ongoing Realities, an explorative choreographic project centered around technology such as Virtual Reality and Motion Capture. He has been the recipient of several art residencies including The Swedish National Touring Company (Riksteatern Väst) as well as with Rum för dans and Teater Halland to name a few. In 2013 he received the Carina Ari Scholarship for young dancers and spent two months in New York exploring and deepening his artistic interests in movement.
Johan has also worked with freelance projects and events at a publishing house and as a teacher and lecturer. As an example he held a lecture around gender mainstreaming at the Nobel Prize Museum in the fall of 2020.
Johan is interested in the intersection(s) of contemporary choreography, technology and neuropsychology. He is also interested in the psychology of creativity and finding strategies for creative collaborations in contemporary choreography.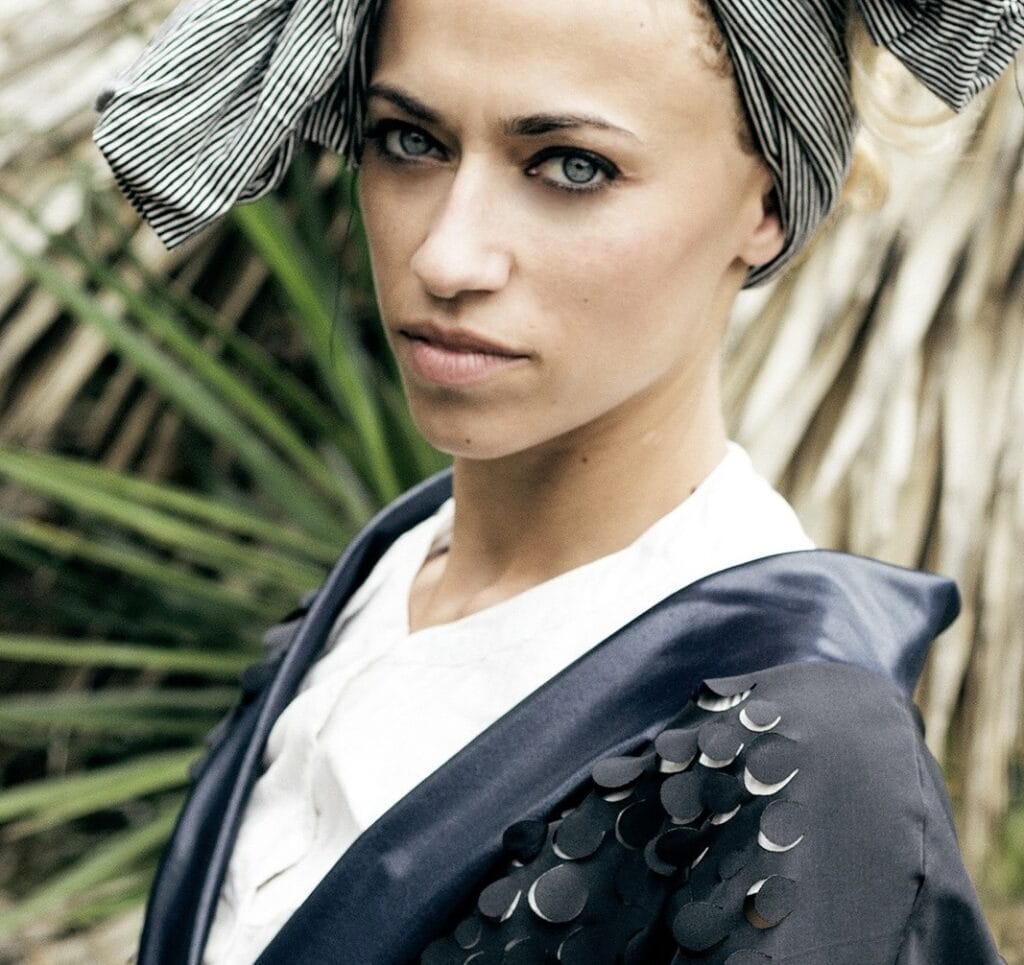 Anja Calas, living between Barcelona and Guimarães, is a Portuguese performer, actress, dancer, and visual artist whose work focuses on exploring social, philosophical, and artistic aspects. Her artistic journey includes studying theatre, dance, and art from a young age, and she has developed a unique approach to performance and visual art that delves into the interconnectivity and transversality of people, genders, and ages.
Anja's diverse and extensive professional experience in artistic direction, performance, and teaching demonstrates her expertise and passion for exploring various artistic mediums. Her commitment to continuous learning and creative exploration makes her a highly accomplished and versatile artist and educator. Anja's contributions to the arts and dedication to teaching further enrich the artistic community and inspire future generations of performers and creators.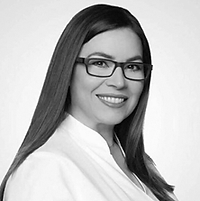 Born in Nicosia, Cyprus, Marina Maleni Kyriazi holds degrees in Theatre Studies, Acting and Sociology from the University of Texas at Austin and in Communication and Journalism from the Open University Cyprus. She as worked successfully as an actress, TV host and radio music producer for several years. As an actress she performed roles in THOC productions such as Masha in Chekhov's Three Sisters, Olivia in Shakespeare's Twelfth Night by Shakespeare, Shelby in Harling's Steel Magnolias.
Working since 2001 as Theatre Development Officer for the Cyprus Theatre Organisation, she is in charge of State theatre subsidies and policy forming, European collaborations, playwriting development, non-professional theatre, theatre education programs, has been PQ National Curator for exhibitions since 2007. She has worked extensively in the Committee for Theatre in Schools (THOC – Ministry of Education and Culture), the Study Committee for the creation of A Cultural Authority in Cyprus, the National Committee for Delphic Games, the development of state subsidy policy for theatres in Cyprus, and in developing bridges with artists and organizations abroad etc.
Host of CYBC TV talk show on culture which just completed its sixth season. She has been coordinating several very successful European culture programme collaborations for Cyprus.
With Artist Melita Couta, they received the highest honor, The Golden Triga with the Cyprus Theatre Organisation team in Prague Quadrennial of Performance Design and SpaceQ23.
Additional Information
Homemade Culture
Homemade Culture has been present in the Romanian cultural space since 2008, under the name lorgean theater, and since 2012 it has organised cultural events in domestic spaces in Romania and other countries in collaboration with the Graphis 122 Association. Between 2012-2014 we organized the Campaign Playing with the open house, and since 2014 we have managed HomeFest, the only cultural festival that takes place in houses and apartments in Romania. The purpose of the association is to create a platform that encourages the establishment of a close link between the artistic act and the audience, by initiating and developing cultural, artistic and educational projects, which take place mainly in the domestic space or in another informal setting. 
In 7 years of activity, the association has produced around 20 theatre performances (under the name lorgean theater), with which it has participated in national and international festivals, hosting more than 100 other titles. Homemade Culture has presented workshops, residencies, festivals, all of which were related to the domestic space.
Ongoing Realities
Ongoing realities (OR) consists of the artistic duo Anna Näsström and Johan Bandholtz and they investigate the relation and creative possibilities when merging dance and choreography with digital technologies such as Motion Capture, animation, Virtual Reality, Augmented Reality and artificial intelligence. They offer multiple and multi-sensory performance experiences for theatres as well as venues such as museums, industrial premises or public spaces. OR works with dancers and collaborators in animation, programming, sound design, creative technologists and video artists. Ongoing Realities continues to develop and change in the form of performances, projects and as a platform and are always curious about new meetings or collaborations.
Anna Näsström and Johan Bandholtz are both dancers and choreographers educated at Stockholm University of Arts and in their individual careers they have experience from a broad range of productions and artistic projects from several different genres in the sector for dance and choreography. In 2022 they won the award "Excellence In Performance" during Stockholm Fringe Festival for their piece "one". The have been granted support from The Swedish Arts Grants Committee, The Swedish Arts Council and the City of Stockholm and have been invited to several national residencies and created a site specific performance for the art museum in Skövde which premiered in 2021. Their work have also been shown at the Digital Innovation Festival at Kulturhuset Stadsteatern in Stockholm, during Tempo Documentary Film Festival (2022), at the Swedish Pavillion during Tanzmesse in Düsseldorf (2022), at the Gallery Den Fantastiska Platsen in Stockholm (2023) and have created a commissioned work for iM Konsthall and Northern Sustainable Futures (2023).
Espronceda
ESPRONCEDA – Institute of Art & Culture, powered by Lemongrass Communications S.L., was founded in 2013 to create an innovative platform for artistic and cultural research that could produce social impact and social change in society.
The project is a research and creation platform for contemporary and new media arts, science, education, and cultural dissemination. Its mission is to promote innovative and creative thinking through artistic research and innovation, with the aim of shaping our understanding of the world and enriching the quality of life with new insights toward a more sustainable and responsible transformation.
The organization promotes residency and artistic research programmes in the fields of new media art, science, and visual art, offering a multidisciplinary environment that stimulates dialogue between the art world, public institutions, and business.
Espronceda is open to the local and international community by offering various types of events and initiatives such as art exhibitions, workshops, conferences, and open calls aimed at analyzing important issues of our contemporary society.
The methodology is based on a multidisciplinary and interdisciplinary approach that encompasses the new advanced technologies, visual and performing arts and is aimed to create a new ecosocial imagination for society without distinction of race, gender, and background.
For us, artistic research and creativity can be engines of awareness and change, helping people to imagine new balanced, and sustainable futures.
Organisations Involved / Partner Organisation(s):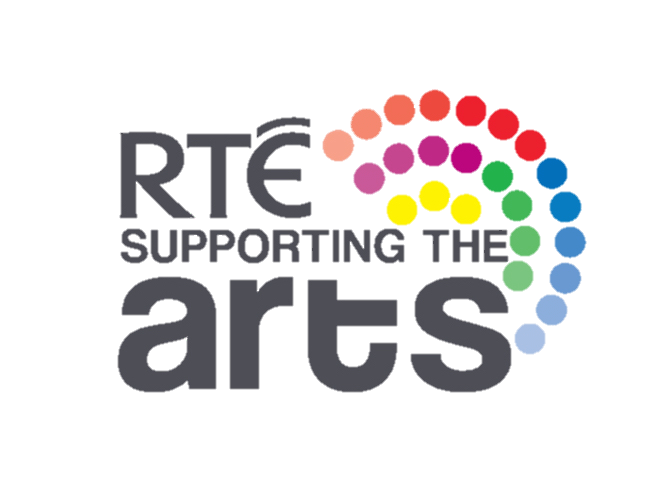 Venue Information: