HOUSE
HOUSE
Event Categories:
September 16
@
1:00 pm
–
September 17
@
4:00 pm
IST
00353 87 9887530
info@fidgetfeet.com
Ireland's leading Circus Company Fidget Feet Aerial Dance Theatre brings their Bingo? Circus! Extravaganza to Cashel as part of the Cashel Arts Festival this September and Ballyshannon in October
Book Your Place
Artists
Jym Daly – writer and composer
Chantal McCormick – producer, director and choreographer
Sara Granda – Aerialist
Gill Byrne – Elvis impersonator & aerialist
Polina Shapkina – Aerialist
Claire Carroll – Aerialist
Jean McGlynn – Biddy, the event organiser
Ashton Fenix – Engagement Officer
Jamie Carswell – Bingo Caller
Clara Kerr – Aerialist & Soar Up
Maire Morrison – Performer & Soar Up
Andrea Healy – Performer & Soar Up
Bethany Hayes – Aerialist & Soar Up
Fintan Sweeney – Production Manager
Gemma Trimble – Stage Manager
Keylor Rojas – Rigger
Mark Carry – Rigger
Jose Portillo – Rigger
Bryan Donaldson – Rigger
Full Event Details
A drive-in bingo and aerial dance show extravaganza.
Ireland's leading Circus Company Fidget Feet Aerial Dance Theatre brings their Bingo? Circus! Extravaganza to Cashel as part of the Cashel Arts Festival this September and Ballyshannon in October.
Drive-in, park up and play Bingo all while aerial dancers dance in the air 40 metres high with giant bingo balls and a feast of comedy unfolds below between Biddy and the new bingo caller, John O Dowd. Let's not forget the local Elvis impersonator!
House! brings a refreshing uplifting show that gets the audience out of their cars and dancing with our local community performers, the Fidget Feet Soar Up's, and to original music by Fidget Feet's own Jym Daly.
A fun and outrageous outdoor bingo spectacle show, suitable for everyone from 6 to 96!
If you don't have a car, don't worry! Bring blankets, camp chairs and a picnic and settle in for an amusing and laughter-filled show with your family and friends.
Cashel – Saturday 16th September 1pm & 4pm Sunday 17th September 1pm & 4pm
As part of the Cashel Arts Festival
Location: Tesco Car Park Cashel, Cork Road
Tickets: €20 per car | pedestrian access €5 pp
Ballyshannon – Saturday 7th October 1.30pm & 4.30pm | Sunday 8th October 1pm & 4pm
Location: Market Yard, Ballyshannon
Tickets: €40 per car | €10 per person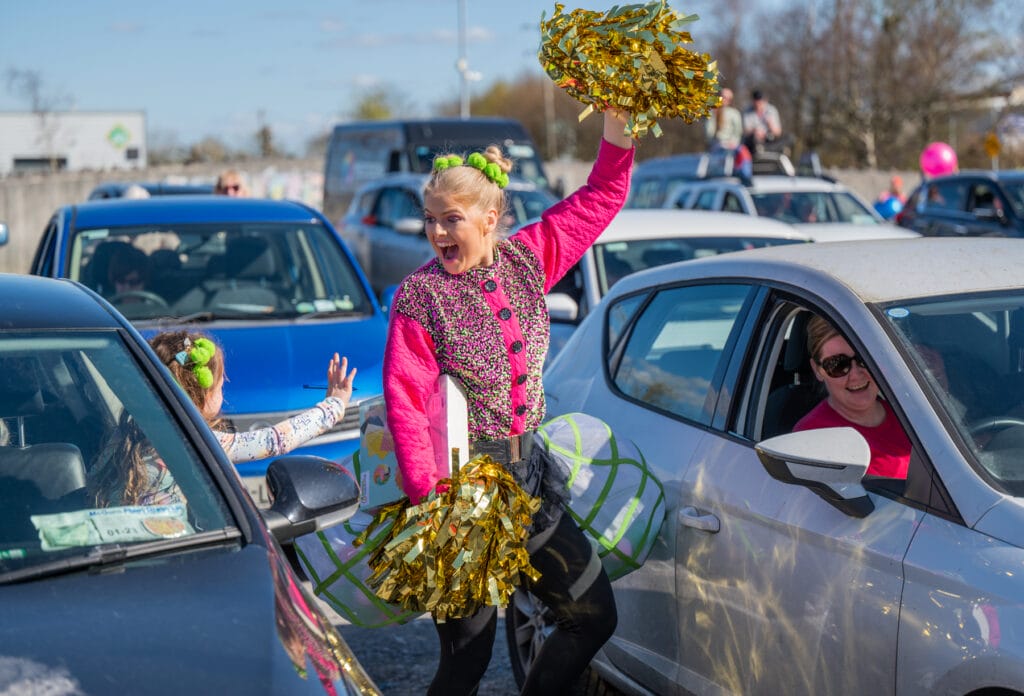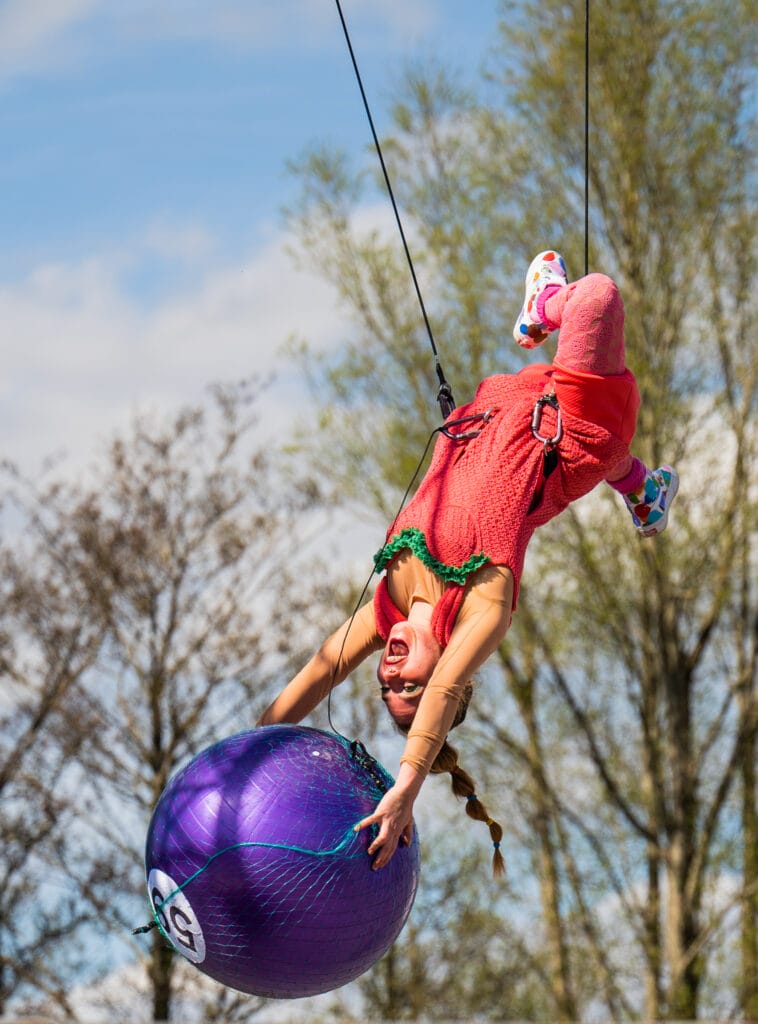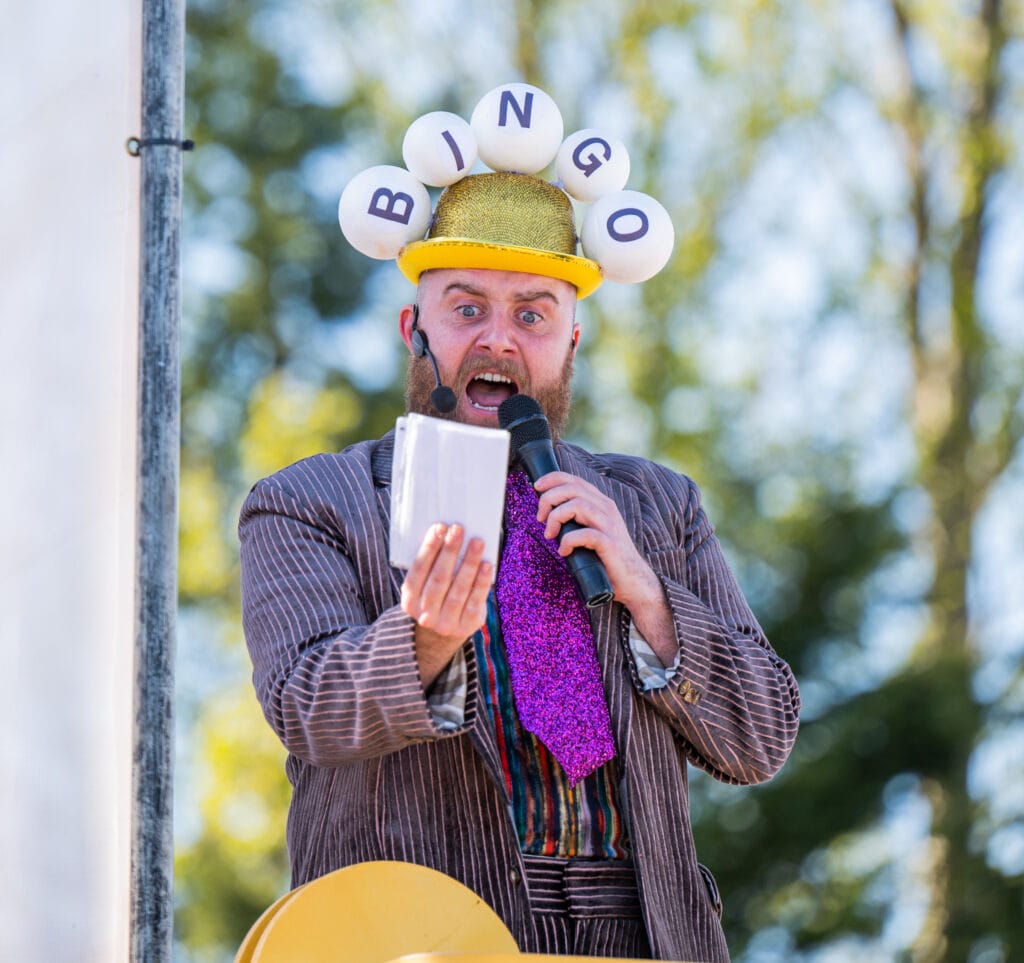 Speaker Biographies: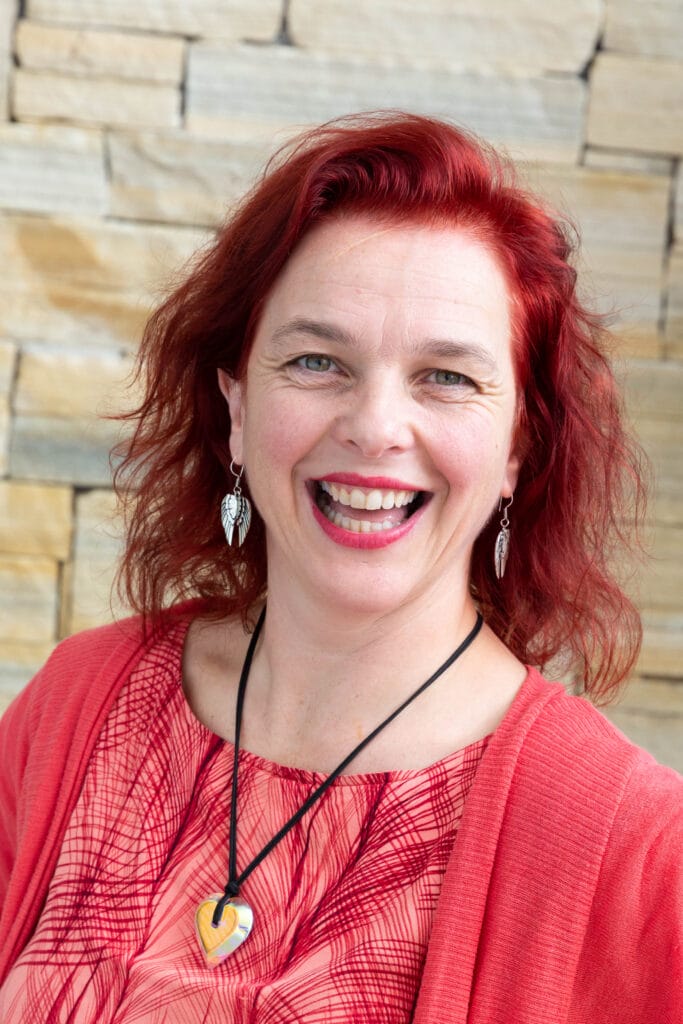 Chantal McCormick trained as a dancer and choreographer at the London School of Contemporary Dance. After graduation, she became interested in aerial circus and trained at Circus Space, London. Chantal toured with established dance and circus companies in the UK from 1999-2008. Fidget Feet was founded in 2004 by Chantal (Donegal) and her husband Jym Daly (Cork). Chantal has directed, choreographed, and performed shows with Fidget Feet including; Wired and Free, Fairies Tail, Remember Her, Madam Silk, Raw, Hang On, Catch Me, Fire Birds and Elves and the Shoemaker, House!, A Handful of Dreams and most recently When the Moon Spun Round. Chantal is also the Festival Director of the Irish Aerial Dance Fest.
Beginning at the Crawford Municipal (Cork Art School). In London, Jym attracted the attention of London's avant-garde scene by playing kitchen sinks along with Chinese violins in nightclubs like the Camden Palace etc. Never feeling any one art form to be fully satisfactory, Jym later found himself involved in the development of a new sound which combined spiritual music from around the world with the emerging world of dance beats. Loop Guru toured the world for many years leaving a rich legacy of albums. During that time Jym also created videos for the band and created a cartoon which ran in a national music magazine. His eclectic artistic past has now culminated in Fidget Feet Aerial Dance Theatre, co-founded with his wife Chantal McCormick, where music, film, dance, acting and swinging boats off cranes co-exist peacefully in one expression.
Sara Granda is a performance artist from Malaga, Spain and has been based in Ireland since 2017. She has a degree in Drama from Escuela Superior de Arte Dramático de Málaga with a specialisation in physical theatre. Sara was part of the El Espeto Feliz Company and performed with them for several years. She is now the head teacher at the Irish Aerial Creation Centre and also an associate artist at Fidget Feet Aerial Dance Theatre. She was recently seen on tour in "A Handful of Dreams" at the Hat-fair Festival in Winchester and also "House!" A new Fidget Feet aerial theatre show.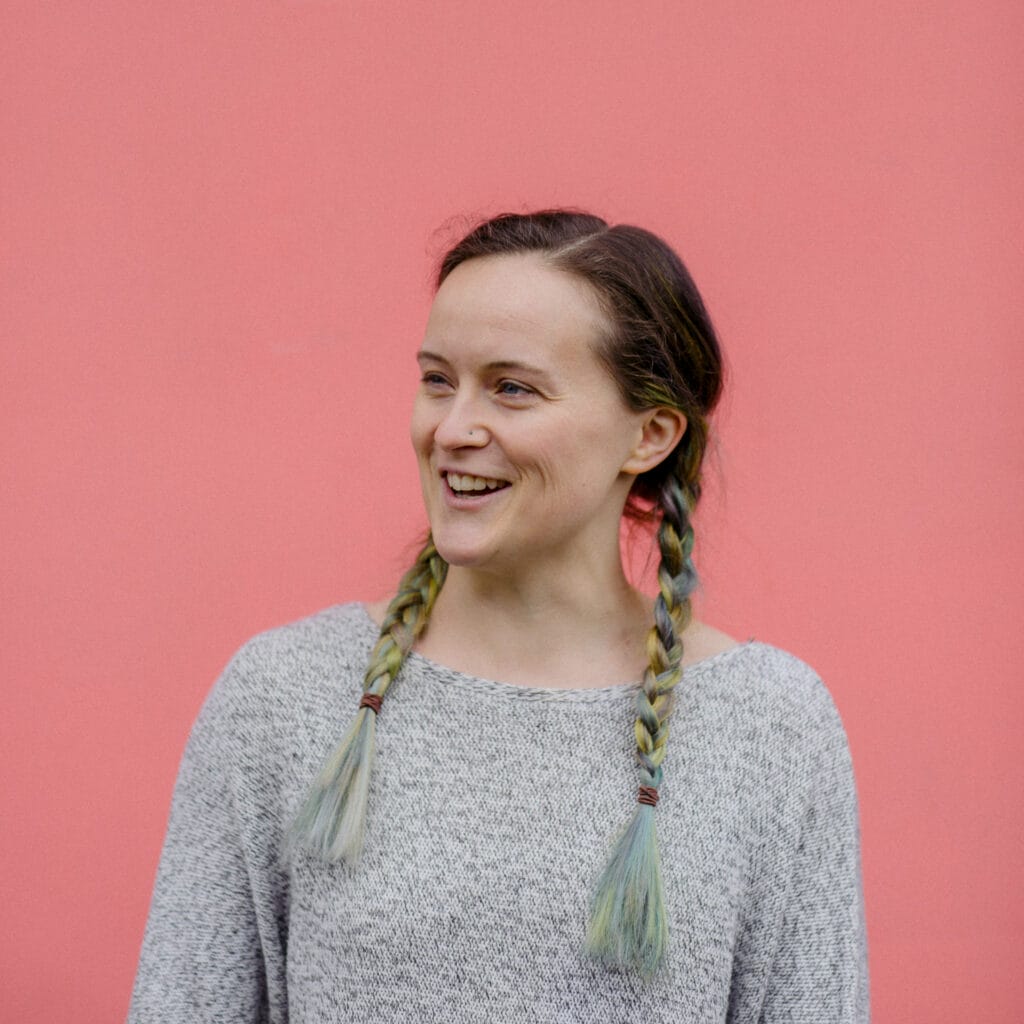 Ashton is a multidisciplinary queer and neurodivergent artist, and the Community Engagement Officer for the House! 2023 tour. They accidentally fell in love with trapeze and now work across movement, theatre and circus. Twelve countries and several questionable costume choices later, Ashton creates performance pieces which explore authentic communication and connection; they are currently developing techniques which combine text with physical expression.
Clara is a dance artist from Co. Down who trained at the Liverpool Institute of Performing Arts, achieving a 1st class BA (Hons) in Dance in 2019. She has a background in festival Irish dance and contemporary dance and has worked professionally throughout the UK and Ireland since graduating. Recent choreography work includes "The Line of Life", a contemporary dance and interactive projection design piece commissioned by Maiden Voyage Dance for the Belfast Children's Festival 2023. Clara has also performed extensively, including a west end and national tour with "Fairytale of New York" and as an ensemble member in Northern Ireland Opera's "La Traviata"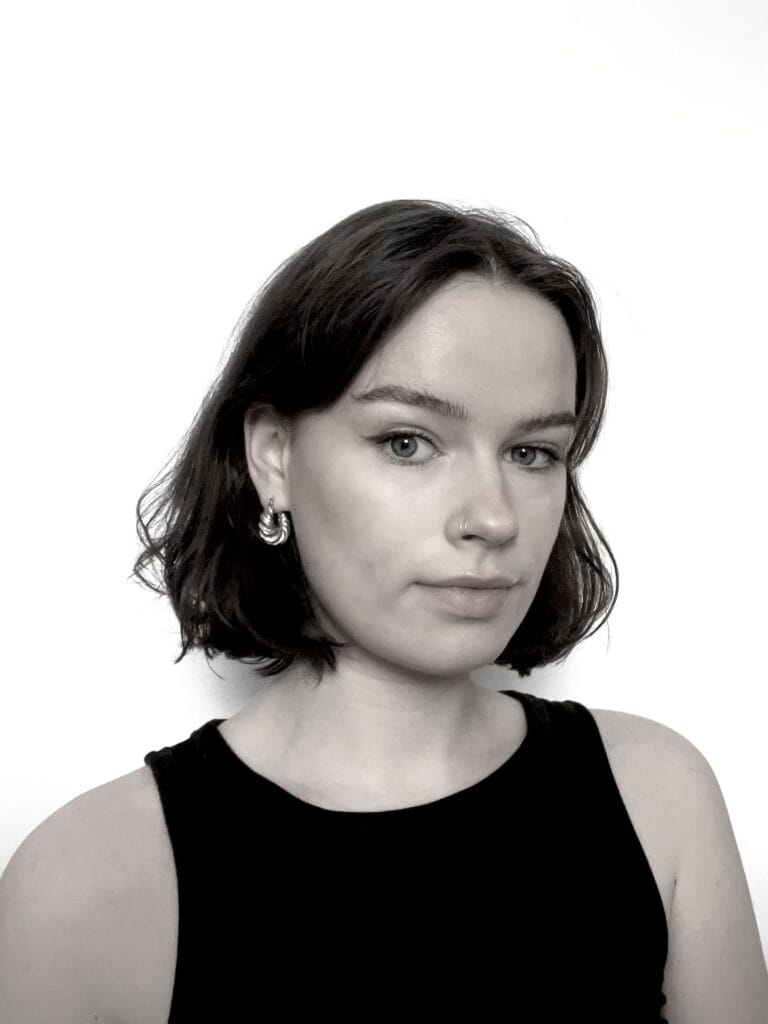 Maire is a contemporary dancer from Derry, Northern Ireland who is imminently finishing her BA in Professional Dance at Dance City (Newcastle, Uk). Her primary focus is contemporary dance however her diverse background of training involves ballet, jazz, acrobatics and others. Throughout her degree and outside work, she has worked with companies and choreographers such as Voxed Dance Theatre, Michael Spencer Philips and Lizzie Klotz.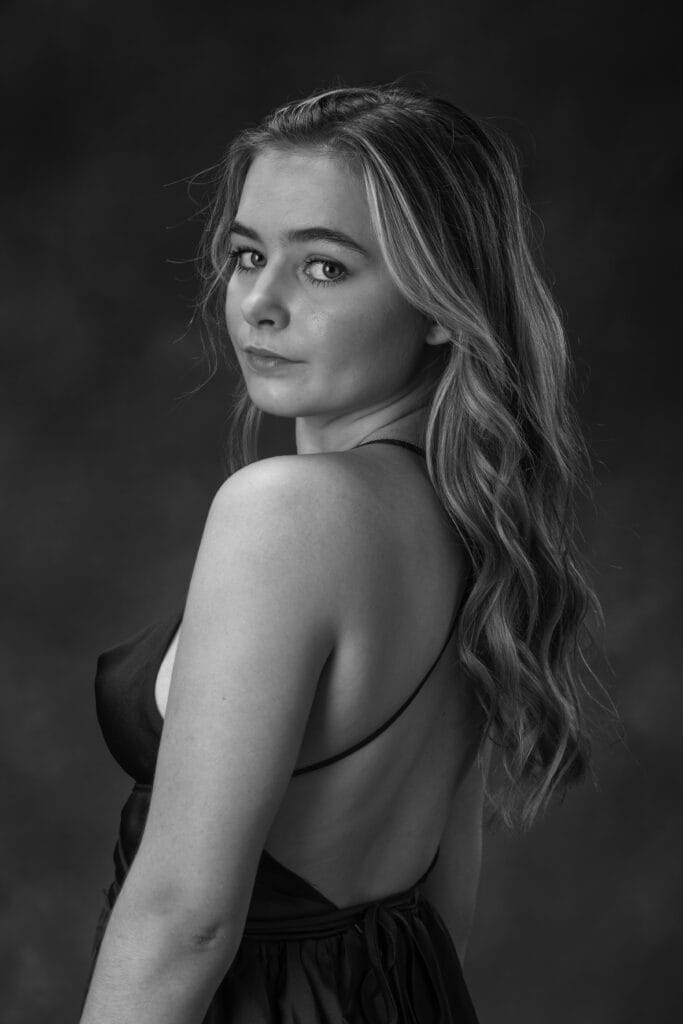 Bethany is a dancer from Co. Laois who is currently in her last year of the BA in Irish dance at the Irish World Academy, University of Limerick. She started dancing at a young age with Fluxus Dance, a contemporary dance company, run by Cathy O' Kennedy. She then started Irish dance at age nine with the Farrell Caffrey School of Irish dance. She was introduced to aerial dance during her first year of college and spent time as an intern during her college placement with the Irish Aerial Creation Centre. Since then, Bethany has continued to train and perform Irish dance, aerial dance and contemporary dance.
Fintan Sweeney is the current production manager with Fidget Feet. Going for a big career change from the Tech world in 2018 he started working in theatre on lights, Sound, Production and Stage Management while in the background working on his own ideas.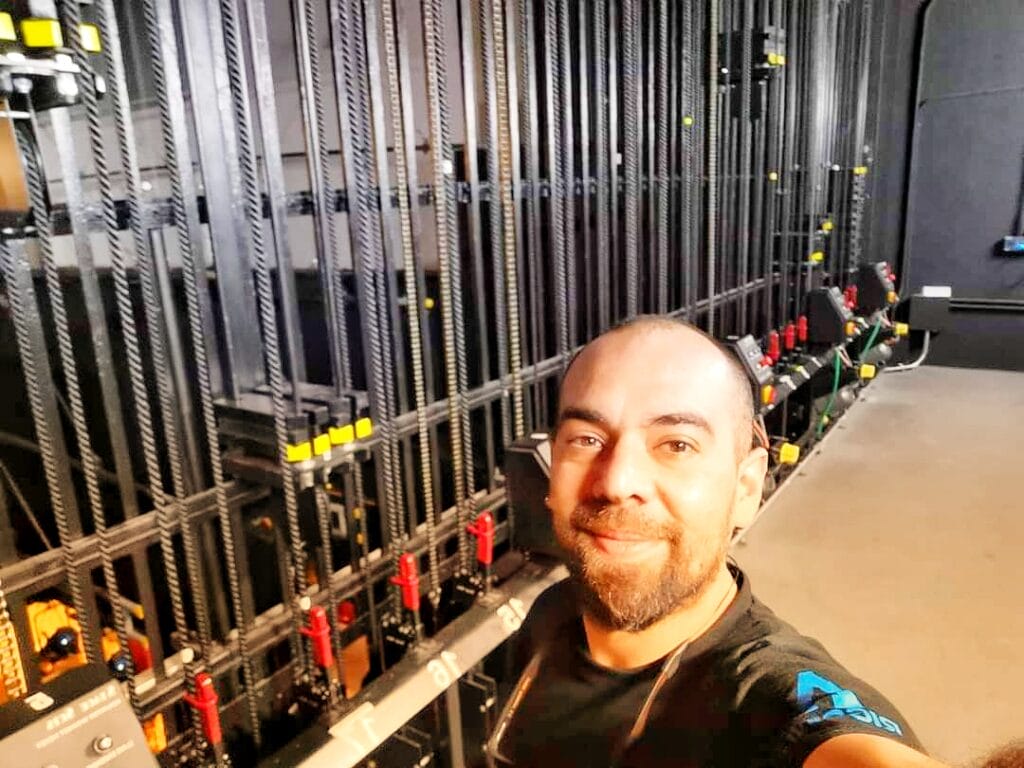 Born in Costa Rica at the age of 38, he is one of the most experienced riggers in the world of flight effects and acrobatics in Central America.
He is a lover of the vertical world, trainer of high performance professionals for years. He began his professional adventure in Scouting at the age of 14 where he became involved in the world of ropes and knots, competent person for fall protection, rope access technician SPRAT N3 and IRATA N1. Trained to access safely in arborism technique and flood rescue, ancient and modern rope splicer. Volunteer collaborator of emergency departments such as firefighters and Red Cross.
He teaches specialized workshops in person and also shares knowledge on his social networks of the vertical world based on his experience.
Fidget Feet
Since 1998, Fidget Feet have created, established and nurtured the aerial dance sector in Ireland, and created international connections and collaborations. Over 35 shows have been created and toured in this time, ranging from indoor, outdoor, crane, and vertical dance performances around iconic Irish landmarks, shows for young audiences, community development regionally, professional development through establishing Ireland's first aerial dance festival and training center. These performances and opportunities take place throughout the country to make the art form accessible to all. We have achieved this through hard work, successful partnerships with venues, educational institutes, festivals and funding bodies such as Creative Europe, and the Arts and Cultural Capital Scheme 2016.
In 2010, with An Grianán Theatre and the Donegal County Council, Fidget Feet founded the Irish Aerial Dance Fest – one of the largest aerial festivals in Europe. Run annually the Irish Aerial Dance Fest hosts more than 100 classes over two weeks, and is attended by participants from all over the world. Fidget Feet are artists in residence at the prestigious Irish World Academy of Music and Dance. In 2013 Fidget Feet were awarded an Arthur Guinness Project award for the Irish Aerial Creation Centre, a new home for aerial in Ireland, which opened in Limerick in 2015.
Organisations Involved / Partner Organisation(s):
Venue Information: