Unapologetic: Our founding, launch, and the importance of centralising minority voices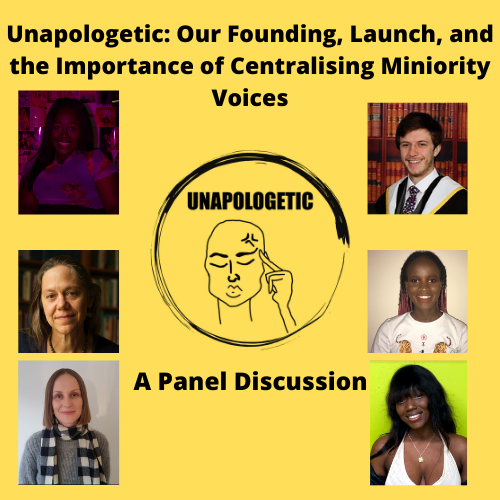 Unapologetic: Our founding, launch, and the importance of centralising minority voices
Event Categories:
October 21, 2021
@
8:00 pm
–
9:00 pm
IST
A panel discussing the launch of Unapologetic and the importance of centralising minority voices. Hosted by Unapologetic.
Book Your Place
Speakers
Gareth Brinn – co-founder and co-editor in chief
Sandrine Ndahiro – co-founder and co-editor in chief
Margaret Harper – co-founder and co-editor in chief
Mary Conlon – member of the editorial board
Aisha Bolaji- member of the editorial board
Ashley Chadamoyo Makombe – member of the editorial board
Full Event Details
A panel discussion with the team of Unapologetic. Unapologetic is a new magazine that seeks to bring together artists, academics, creatives, and activists to build a comprehensive view of the social issues in Irish society. This panel is a conversation between the founders of the magazine and some members of the team that have decided to join the magazine. The panel will discuss the magazine's founding, launch, and the importance of centralising minority voices when discussing social issues in Ireland.
Speaker Biographies: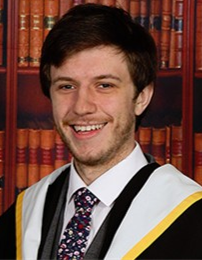 Gareth Brinn
Gareth Brinn is an MA in Technical Communication and E-Learning Student at the University of Limerick. Gareth also has a BA in Joint Honours (English and Sociology). Gareth has been an active member of the University's community having volunteered with the Communities Committee and been a student leader. Gareth also believes in writing as a form of activism having published work for Unsilencing Black Voices and Douglass Week. Gareth is also a panellist for Gorm Media which produces a bi-weekly YouTube series that dissects the social issues facing Ireland today.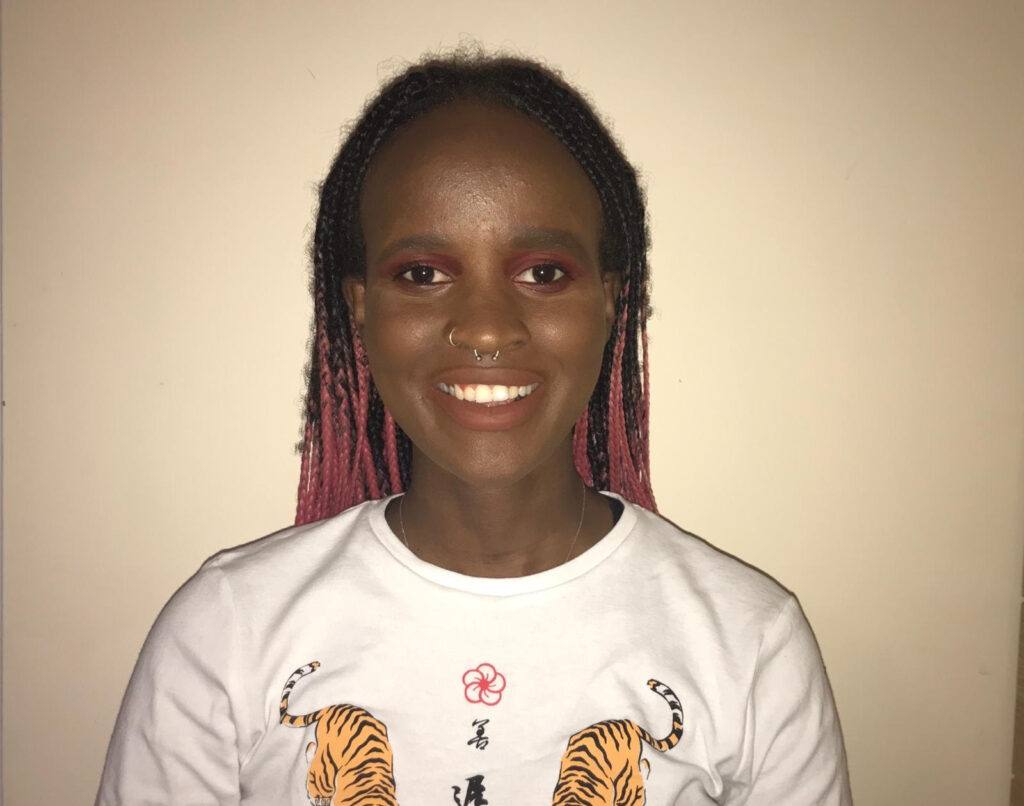 Sandrine Ndahiro
Sandrine Uwase Ndahiro is an English Ph.D. student in the University of Limerick. Sandrine's research centres on third generation African writers, such as Afrofuturists, who have emerged during the era of late liberalism and who have introduced multiple and nuanced perspectives for reflecting on African lives and aspirations. She recently co-produced a documentary entitled Unsilencing Black Voices which details personal stories and accounts by members of the black community in Ireland. Sandrine's work now highlights the lived experiences of the Black and Irish community with her recent publication of her essay 'Irishness does not mean whiteness'.
Professor Margaret Harper
Margaret Mills Harper is Glucksman Professor of Contemporary Writing in English at the University of Limerick. She specialises in twentieth- and twenty-first–century Irish and American (US) literature in English, especially poetry, with particular attention to gender/race/class. One abiding focus is on the occult life and work of W. B. Yeats. She is the author or editor of seven books and numerous essays.
Mary Conlon
Mary Conlon is the founder and Artistic Director of Ormston House, a cultural resource centre in Limerick city, where she has curated or produced seventy exhibitions and projects, working with over three hundred artists – aged 8 to 82 – from thirty countries. She was the inaugural International Curator-in-Residence at the Aarhus Billedkunstcenter in Denmark, and the Artistic Director of Memory of Water, the Creative Europe project in six international cities. In 2019, she was nominated to the Arts Council's peer panel, and in 2020, she was elected by the Public Participation Network to the local government's Strategic Policy Committee for Community, Leisure and Culture. Also in 2020, she was selected for the Helsinki International Curators Programme by Frame Finland and HIAP, and for the Cultural Leadership Programme by Trans Europe Halles.
Ashley Chadamoyo Makombe
Ashley is a writer, producer and Co-Founder of The GALPAL Collective, an arts and multimedia collective created to highlight and celebrate the work of marginalised and diverse young creatives in Ireland. Ashley has always been interested in arts, having studied both musical theatre and acting in her youth, and during that time she has also worked with Tallaght Community Arts, Eurobug Lithuania and Ireland, Tallaght Young Filmmakers, Rua Red Youth Arts Council and NOISE Flicks film festival and HER International Film Festival. She is currently in her 2nd year of Journalism Studies at the Technological University Dublin, Irelands largest media training centre.
Aisha Bolaji
Aisha is co-founder and head of the visual arts team of the GALPAL Collective, an arts and media collective dedicated to the creation, celebration and curation of works by queer folk, people of colour and women. She is currently studying Film and TV Production at the National Film School. As a director and producer Aisha has experience in short films (narrative and experimental), documentary and music videos. Aisha's films are inspired by unapologetic femininity, heritage and pop culture. Her latest short film 'Olori ti Ku' screened at the Dublin International Film Festival.
She has varying experiences in film as head of jury of the BAFTA recognised Her International Film Festival, committee member of CHROMA International Film Festival, panelist at the Dublin International Film Festival, and more.
Organisations and Funders