Banksy is an anonymous England-based street artist, vandal, political activist, and film director, active since the 1990s. His satirical street art and subversive epigrams combine dark humour with graffiti executed in a distinctive stencilling technique. His works of political and social commentary have been featured on streets, walls, and bridges of cities throughout the world. Banksy's work grew out of the Bristol underground scene, which involved collaborations between artists and musicians. Banksy says that he was inspired by 3D, a graffiti artist who later became a founding member of the English musical group Massive Attack (The Daily Telegraph).
Banksy displays his art on publicly visible surfaces such as walls and self-built physical prop pieces. Banksy no longer sells photographs or reproductions of his street graffiti, but his public 'installations' are regularly resold, often even by removing the wall they were painted on. A small number of Banksy's works are officially, non-publicly, sold through Pest Control. Banksy's documentary film Exit Through the Gift Shop (2010) made its debut at the 2010 Sundance Film Festival. In January 2011, he was nominated for the Academy Award for Best Documentary for the film, and in 2014, he was awarded Person of the Year at the 2014 Webby Awards.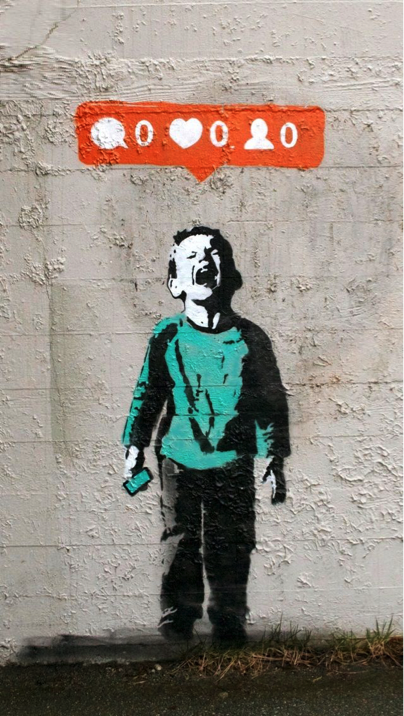 Banksy artwork
Banksy once characterised graffiti as a form of underclass 'revenge', or guerilla warfare that allows an individual to snatch away power, territory and glory from a bigger and better equipped enemy. Banksy sees a social class component to this struggle, remarking 'If you don't own a train company then you go and paint on one instead.' Banksy's work has also shown a desire to mock centralised power, hoping that their work will show the public that although power does exist and works against you, that power is not terribly efficient and it can and should be deceived.
Banksy's works have dealt with various political and social themes, including anti-war, anti-consumerism, anti-fascism, anti-imperialism, anti-authoritarianism, anarchism, nihilism, and existentialism. Additionally, the components of the human condition that his works commonly critique are greed, poverty, hypocrisy, boredom, despair, absurdity, and alienation. Although Banksy's works usually rely on visual imagery and iconography to put forward their message, Banksy has made several politically related comments in their various books. In summarising his list of 'people who should be shot', he listed 'fascist thugs, religious fundamentalists, (and) people who write lists telling you who should be shot while facetiously describing his political nature'. Banksy declared that 'Sometimes I feel so sick at the state of the world, I can't even finish my second apple pie.'
During the 2017 United Kingdom general election, Banksy offered voters a free print if they cast a ballot against the Conservative candidates standing in the Bristol North West, Bristol West, North Somerset, Thornbury, Kingswood and Filton constituencies. According to a note posted on Banksy's website, an emailed photo of a completed ballot paper showing it marked for a candidate other than the Conservative candidate would result in the voter being mailed a limited edition piece of Banksy art. On 5 June 2017 the Avon and Somerset Constabulary announced it had opened an investigation into Banksy for the suspected corrupt practice of bribery, and the following day Banksy withdrew the offer, stating, 'I have been warned by the Electoral Commission that the free print offer will invalidate the election result. So I regret to announce that this ill-conceived and legally dubious promotion has now been cancelled' (Independent).
Sources used:
https://www.telegraph.co.uk/culture/art/3672135/Banksy-off-the-wall.html
https://www.independent.co.uk/arts-entertainment/art/news/banksy-general-election-print-giveaway-tory-party-police-investigation-artist-theresa-may-a7774801.html