It was tough being in prison, '97, '98, '99
Being away from the family
Being alone
Never mind facing other prisoners
I had a breakdown

Extract from The Trial
The Trial – Visual Art Installation. Created by Sinead McCann exploring healthcare and human rights in the Irish criminal justice system
Dates and Time: 26 September – 3 November 2019, 9.45-17.45
Venue: Dublin Castle
Artists: Visual Artist Sinead McCann leads the project working in collaboration with UCD historians Catherine Cox and Fiachra Byrne and with ex-prisoners from The Bridge Project in Francis Street, Dublin. Featuring actors Tommy O'Neill and Neilí Conroy on screen.
Category: Visual Art Installation
Tickets: Open to the public
DETAILS OF EVENT
The Trial is a compelling multi-screen visual art installation on healthcare and human rights in the Irish criminal justice system. This unique national touring exhibition can be seen at Dublin Castle from the 26 September – 3 November 2019.
Directed and produced by visual artist Sinead McCann, The Trial is a collaborative artwork made with five men from the Bridge Project Dublin 8, who have lived prison experience, and draws on historical research by UCD historians Catherine Cox and Fiachra Byrne. The Trial is a four-screen video installation with a running time of 22 minutes. Three characters – Tommy, Charlie, Neilí – tell real stories of those who were held and worked in Irish penal institutions in the nineteenth and twentieth centuries. It focuses on experiences of solitary confinement, separation from family when in prison, mental and physical wellbeing in prison and childhood experiences of detention in St Patrick's Institution, Dublin.
The development of The Trial involved the design of a creative process that enabled five men from the Bridge Project to engage with UCD academic research on healthcare in prison, past and present. The script was developed through a series of creative workshops that centred on carefully selected historic research including case studies of John Burns and John Burke, imprisoned in the 1880s, and the men's own experience of health in prison. John Burns' and John Burke's stories resonated strongly with the Bridge Project men and these accounts formed the basis of mini scripts. Using role play, actors Tommy O'Neill and Neilí Conroy performed these mini scripts in a series of 'theatrical enquiries' led by the Bridge Project men over several workshops. Their engagement with the historic research sparked discussions on the relationship, and differences, between the historic cases and their own experience. During the process, the men authored monologues about their own experience of healthcare in Irish prison in the late twentieth century and their responses to the historic research.
In the installation, these monologues are presented alongside the historic examples, together presenting experiences of healthcare in prison over time.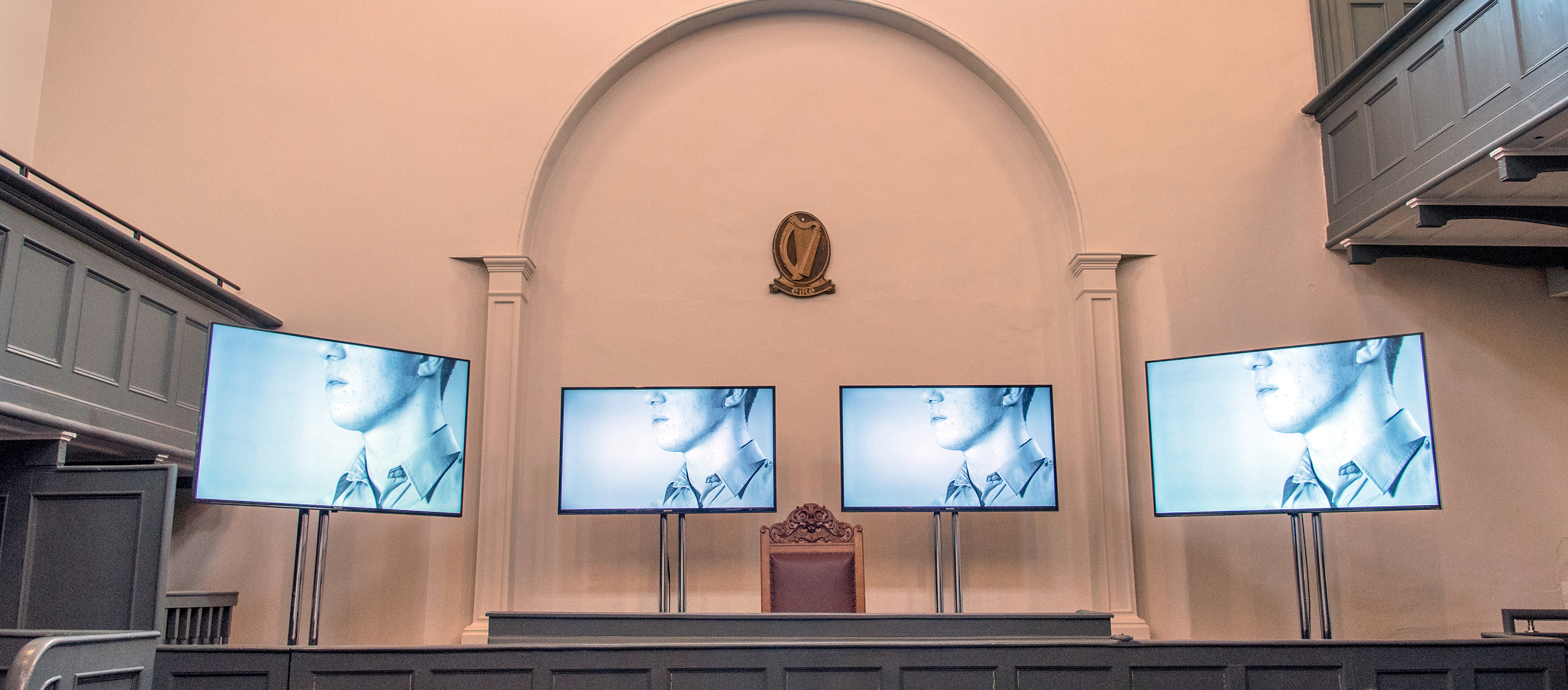 Prisoner John Burns committed to Nenagh prison on the 2nd September 1884 at 4 o'clock pm for assaulting police.
His manner and appearance seemed strange from the time of his committal.
Heard the breaking of glass.
Found him trying to take out one of the windows in his cell.
Extract from The Trial
The script also incorporates responses from professionals working in the Irish criminal justice field. These include representatives from the Irish Prison Service, a prison chaplain, an addiction counsellor, two ex-governors, and a representative from the Irish Penal Reform Trust.
Prison is an entirely inappropriate environment for the detention of people with serious mental health issues.
Extract from The Trial