Smashing Times were delighted to have been present at Áras an Uachtaráin for the Bloomsday Garden Party, 16 June 2019. The company was joined by a range of individuals and organisations from the arts sector in Ireland, particularly the film business. Music, poetry, readings, and speeches were enjoyed by all on the 115th anniversary of the day Leopold Bloom wandered the streets of Dublin in James Joyce's Ulysses.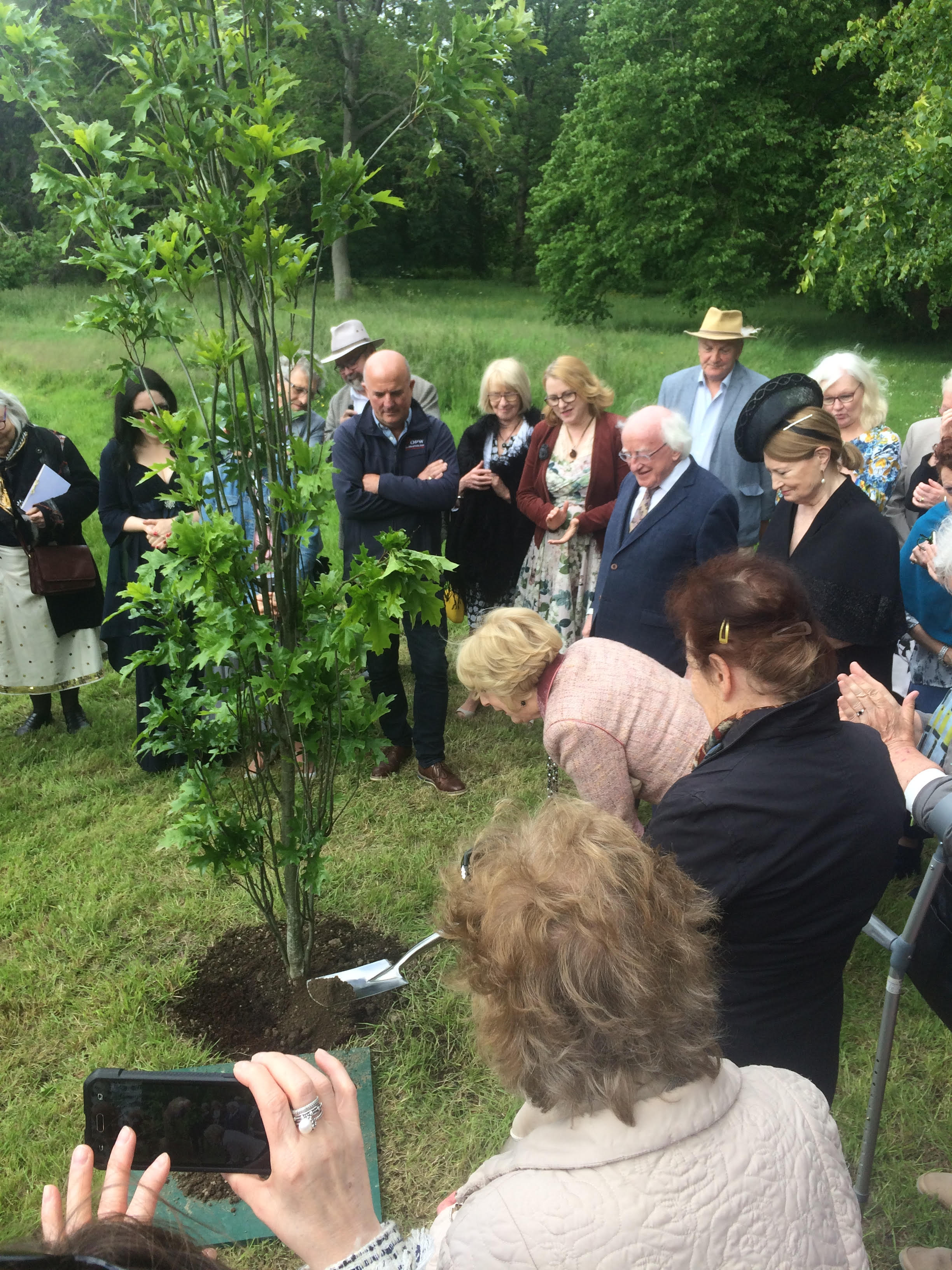 Image: Sabina Coyne-Higgins planting a tree in honour of Deirdre O'Connell
The highlight of the occasion occurred early on, as Smashing Times Patron Sabina Coyne-Higgins and President of Ireland Michael D Higgins planted a tree in honour of Deirdre O'Connell. Deirdre, whose birthday coincides with Bloomsday, was born in the South Bronx to Irish immigrants, and moved to Ireland in her twenties. Here she set up the Stanislavski Studio, and later the Focus Theatre.
Deirdre revolutionised the way theatre is approached in Ireland. President of Ireland Michael D Higgins has said that we all owe her a debt of gratitude for having brought the acting techniques developed by the foremost theatre practitioner of the 20th century, Konstantin Stanislavski, to Ireland: 'The introduction of these techniques was the primary purpose of her coming to Ireland… The result was a unique and invaluable contribution to the creative arts'. He said that without the Focus Theatre, Irish people 'would have been deprived of access to some of the finest works that are important for an understanding of our humanity and the purpose of our human existence'. Deirdre O'Connell was, he said, 'the single greatest influence in Irish Theatre since the 60s'.
Deirdre followed her dream and has made a rare and unique contribution as an artist to countless individuals – including us at Smashing Times – and to the world she lived in. For this we thank her.
Read Smashing Times' Powerful Women in the Arts blog on Deirdre O'Connell here, written by Artistic Director Mary Moynihan, a former tutee of Deirdre's.