River of Thorns
River of Thorns
Image: Golden Bride by Linda Greene
October 20, 2021
@
1:00 pm
–
2:00 pm
IST
Live Theatre performance celebrating the life of Margaret Kearney Taylor followed by post-show panel discussion, created as part of State of the Art and Forgotten Voices. Presented for 5 performances only. Hosted by Smashing Times.
Book Your Place
Artists
Féilim James, writer
Eric Weitz, director
Áine O'Hara, set design
Michelle Costello, performer
Mary Moynihan, producer
Freda Manweiler, producer
Full Event Details:
River of Thorns is a new play, written by Féilim James, directed by Eric Weitz, performed by Michelle Costello, designed by Áine O Hara and produced by Mary Moynihan and Freda Manweiler.
River of Thorns tells the story of Margaret Kearney Taylor, an Irishwoman who escapes extreme poverty to mix with the elite of Spanish society, running the prestigious Embassy tearoom in Madrid. Yet when the Second World War strikes, and word spreads of Nazi death camps, Margaret is compelled to act, to risk it all for the sake of humanity despite living in a fascist state. Charting her journey from an austere English workhouse to the glamour of Spanish high life, to secret wartime saviour, this dramatic one-woman monologue is both riveting and moving, exploring what it means to be human in a time of massive injustice.
River of Thorns receives its world premiere at the Dublin Arts and Human Rights Festival, with five performances only taking place at the Chester Beatty hosted, Dublin Castle hosted by Smashing Times International Centre for the Arts and Equality in partnership IFESCOOP, Valencia, Spain; University of Hannover, Germany; and Akademia Humanistyczno-Ekonomiczna w Lodzi, Poland. Each performance of River of Thorns is followed by a post-show discussion with the artists involved.
River of Thorns is presented as part of the 'State of the Art: Nation State as Both Violator and Protector of Human Rights' project, funded by the Arts Council of Ireland and as part of the 'Forgotten Voices: Stories of Hope, Courage and Resilience from the Holocaust and WWII' project, funded by the Citizens, Equality, Rights and Values programme of the EU.
Remembrance
Each performance of River of Thorns is followed by a post-show discussion with the artists reflecting on creative processes and artistic creation.
Guest speakers will reflect on the launch of 'Remembrance', a digital book exploring forgotten stories from diverse communities – Jewish people, political activists, people with disabilities, Spanish refugees, German anti-Fascist resisters, and Polish citizens – who stood up against Fascism and a hatred of the other during WWII, highlighting a belief in humanity and a determination to fight for a future where all people would be treated equal. A key question is 'what does the EU mean to you' and how can we work together to promote a Europe united in diversity and shared values of democracy, equality, peace and well-being for all.
Who was Margaret Kearney Taylor?
Margaret Kearney Taylor was born in the United Kingdom to an Irish family. She lived in Paris and later moved to Madrid where she was involved in sheltering people who had fled France during WW2 including Jewish people. Margaret, or Margarita as everyone called her, ran an elegant tearoom called The Embassy on Madrid's Paseo de la Castellana for more than fifty years. What almost nobody knew was that she also helped orchestrate the escape of Allied servicemen and Jewish refugees fleeing Nazi terror during World War II.
Margarita displayed enormous courage. When she died in Madrid in 1982, no one knew – beyond a few other people still alive who were involved in the rescue operation – about the heroic role she played during the war. The RTÉ Radio One documentary Tearoom, Taylor, Saviour, Spy, tells her story and includes interviews with wartime friends who knew Margarita, as well as testimony from a Jewish survivor who was spirited through Madrid during the Second World War.
Margaret died on 2 December 1982 and is buried in the British cemetery in Madrid. She was a clever, brave and compassionate woman who played a key role in saving thousands of lives and her story deserves to be remembered – 'her greatest legacy was that she managed to use her position in Spanish society to help so many Allied service and Jewish refugees . . escape to freedom'[1].
The RTE Radio One documentary Tearoom, Taylor, Saviour, Spy, tells her story and includes interviews with wartime friends who knew Margarita, as well as testimony from a Jewish survivor who was spirited through Madrid during the Second World War.
http://www.rte.ie/radio1/doconone/2016/0624/797910-tearoom-taylor-soldier-spy/
---
[1] Tearoom, Taylor, Saviour, Spy, Radio Documentary produced by Richard Fitzpatrick and Tim Desmond, 2016
http://www.rte.ie/radio1/doconone/2016/0624/797910-tearoom-taylor-soldier-spy/
Artist Biographies:
Féilim James
Féilim James is an award-winning writer from Dublin, Ireland. In 2020, the Arts of Council of Ireland awarded Féilim a Literature Bursary Award to finish his debut novel, Flower of Ash, as well as a Professional Development Award. He received an Arts Bursary from Dublin City Arts Office in 2021 to finish his first poetry collection, I was a river, lost.
His work through Irish, under Féilim Ó Brádaigh, has won seven Oireachtas na Gaeilge literary awards. His short fiction and poetry, through English and Irish, have appeared in a number of journals, including The Fiction Pool, The Galway Review, Icarus, Comhar, A New Ulster, and the Trinity Journal of Literary Translation. Visit his website.
A short film Féilim wrote, titled The Big No, produced by Smashing Times, was shortlisted by the IndieX Film Festival, and his play At Summer's End has toured Ireland. At Summer's End is based on the life-story of Ettie Steinberg, an Irish woman who was murdered, along with her family, at Auschwitz.
Féilim says that 'My inspirations are many and wide-ranging. To the fore are James Joyce, Sylvia Plath, John Banville, Marilynne Robinson, Ted Hughes, TS Eliot, Seán Ó Ríordáin, and Radiohead'.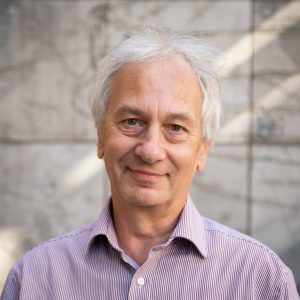 Eric Weitz
Eric Weitz is Associate Director of the Gaiety School of Acting and Adjunct Associate Professor of Drama and Theatre Studies at Trinity College Dublin; he has been involved with Smashing Times as director, dramaturg, lecturer and board member for almost twenty years.
Most recently Eric has co-edited the six-volume Bloomsbury Cultural History of Comedy while contributing a chapter on 'Laughter in the Modern Age'; other publications include Theatre & Laughter and The Cambridge Introduction to Comedy(2009), as well as two edited collections, For the Sake of Sanity: Doing things with humour in Irish society and The Power of Laughter: Comedy and Contemporary Irish Theatre. Eric co-edited and contributed to the Palgrave Handbook of Contemporary Irish Theatre & Performance, and edited the European Journal of Humour Research Special Issue on 'Humour and Social Media'. His articles and chapters include 'Failure as Success: On clowns and laughing bodies'; 'Online and Internet Humor'; 'Playing with the Rules: Thoughts on a Trickster Spirit and the Soul of Comedy'; and 'Who's Laughing Now?: Comic Currents for a New Irish Audience'.
This summer Eric was special guest interviewee for the Theatre Unwrapped Podcast, Episode 4: 'Laughing Matters', from the New Wolsey Theatre, Suffolk, UK; and he wrote and filmed a practice-based video series on comedy, to be released this autumn by the GSA. He currently serves on the editorial panel for 'Humor', the journal of the International Society for Humor Studies (ISHS). He is a longstanding board member for Collective Encounters, a socially engaged theatre company based in Liverpool, UK.
Eric organised and hosted the international conference for ISHS at Trinity College Dublin in 2016, which was attended by 180 delegates from forty different countries, representing a wide range of disciplinary orientations. As part of the conference activities, he conceived and produced an event in the Samuel Beckett Theatre, titled, Laughter in Our Bones, a promenade performance comprised of short comic texts chosen and performed by people from a range of cultures residing in Ireland, hosted by Little John Nee. This event can be seen in retrospect as a first step toward the Centre for Humour and Social Engagement.
Áine O'Hara
Áine O'Hara is an award winning theatremaker creating exciting and vulnerable work for and about people who are often left out of traditional art and theatre spaces. Áine's work questions and exposes bureaucracies that oppress those who fall outside certain definitions of 'normal,' 'valuable', and 'productive. Áine is interested in intimate one on one performance and often makes work about being a queer, disabled & chronically ill person. O'Haras long term ambitions include demanding adequate access to theatre and the arts for disabled and marginalised communities through the creation of large scale, ambitious work as well as the continuation of community building projects like Chronic Chats, a creative and social group for chronically ill people run with the support of the A4 Sounds Studios Project award. O'Haras work has toured nationally and internationally, and she has shown work in the U.K, Sofia, Bulgaria In September 2020 she presented The Owl that lost the Cat, an interactive performance about loneliness and how to connect in a digital society at Survival Kit festival in Latvia. In 2019 GAA MAAD, an exploration of what it means to be a queer GAA fan and the difficulty in loving a sport and a community that quite often hates and abuses you was selected for the inaugural DUETS programme. DUETS is an initiative developed by Fishamble: The new play company, Dublin Fringe Festival and the Irish Theatre Institute. DUETS is an artist development scheme that supports theatre makers in the creation of their own tourable productions. GAA MAAD was written and performed by Aine O'Hara & Vickey Curtis at Bewleys Cafe Theatre for Dublin Fringe Festival 2019. GAA MAAD was awarded the Outburst Queer Fringe Award 2019. Áine has also worked in art departments for film and tv including 'Red Rock' currently on Virgin Media One and upcoming Irish feature film 'Broken Law' by Paddy Slattery. Recent achievements: Group show-A consideration of all bodies at The Lab, 2021, Axis Playground Award 2020, A4 Sounds Studios Project Award 2020, during which she created 'Chronic Chats' a social and creative group for the chronically ill. GAA MAAD (2019) – which was selected for the inaugural DUETS programme for Dublin Fringe Festival and went on to win the Outburst Queer Fringe Award.
Michelle Costello
Michelle Costello is an actor, drama teacher, puppeteer and artist and is finishing a collaboration writing a children's book. Trained in conventional acting through The Gaiety School as well as method acting, through Focus Theatre and the late great Deirdre O'Connell, Michelle has over 30 years of experience in television, film and theatre, such as; Game of Thrones, Vikings, Fair City, Killinaskully, Bull Island, The House of Bernarda Alba to name but a few. She also works in corporate events, teambuilding and role play and Master of Ceremonies. Michelle trained as a puppeteer through Conor Lambert of the late Lambert Puppet Theatre, and teaches drama to young children as a self-discovery and development activity. Michelle holds a certificate in Art and Design (N.C.A.D.) 2012, an honours degree in Fine Art, Sculpture (N.C.A.D.) 2015 and has delved into issues such as: Observations on Unethical Textile Manufacturing, The Obsession and Impact of 'Looking' Through Social Media, including the Oversexualisation of Teenage Girls. She has worked with Dublin City Artsquad, creating art projects for children from the inner city, and also performed in the RTE Junior Panto as well as a residency at Farmleigh. Michelle was also awarded a Postgraduate in 'Innovation, Entrepreneurship and Enterprise' (U.C.D.) in 2016 and went on to secure contracts as manager of a Horror Themed House, Marketing Manager for a Kayaking Company and Sole Performer on a Live Moving Theatre Bus. Michelle is at present training as a Radio Presenter, has been cast in a radio play, and performs voiceover comedy sketches for DiCtv.
Forgotten Voices
River of Thorns is one of a series of artworks created by Smashing Times remembering women's stories in history and is presented as part of a European wide project Forgotten Voices: Stories of Hope, Courage and Resilience from the Holocaust and WWII.
Forgotten Voices uses creative processes of theatre, film, online digital technologies and social media campaigns to remember forgotten stories of humanity, courage and resilience from the Holocaust and World War II, linking those stories to solidarity today and the key role the EU plays in promoting democracy, equality and peace for all. The project uses a diversity of forgotten or hidden stories exploring voices of resistance from ordinary people who stood up against fascism and a hatred of the other. Time and time again, acts of kindness, courage and resilience were carried out by ordinary people, both within the camps and in wider society struggling under totalitarian regimes, as people stood up against fascism to protect the rights of others. The project highlights how people from all backgrounds risked, and in some cases, sacrificed their lives for complete strangers, demonstrating a belief in humanity and a determination to fight for a future where all people would be treated equal.
State of the Art: The Nation State as both Violator and Protector of Human Rights
Events at Dublin Arts and Human Rights Festival
15 – 24 October 2021
State of the Art: The Nation State as both Violator and Protector of Human Rights is a year-long project curated by Smashing Times International Centre for the Arts and Equality with a range of artists and partners, funded by The Arts Council of Ireland.
The State of the Art project brings together fourteen diverse artists through six collaborative artist exchanges and ongoing artistic engagement. Artists come together over one year, January to December 2021, to explore, share and engage in creative arts practice for human rights and to create a showcase of new work to be presented to a public audience. The artists include visual artists, theatre and film makers, dance artists, poets, writers, multi-disciplinary artists, musicians and singer-songwriters. Artists share, support and inspire each other in creative arts practice for human rights, equality and diversity –promoting experiential professional development and creativity.
The artists have engaged in research on national and international best practice examples of arts and human rights from across Europe linked to sociological and anthropological standpoints and a study of 'art as activism' from the personal to the political. Through the collaborative exchanges, artists have
engaged in a variety of activities as well as giving presentations on their own work, on work that inspires them, and meeting with representatives of a variety of human rights organisations and government officials, including Front Line Defenders, the Irish Council for Civil Liberties (ICCL), the Irish Network Against Racism (INAR), former Lord Mayor of Dublin Hazel Chu and Cllr Carly Bailey.
The artists are:
Mary Moynihan, writer, director, theatre and film maker, Artistic Director of Smashing Times International Centre for the Arts and Equality
Pamela McQueen, dramaturg
Carla Ryan, actor, singer-songwriter
Noelle McAlinden, Visual Artist, Creative Advisor, Mental Health Campaigner, Curator and Cultural Broker
Áine O'Hara, visual artist, theatre maker
Geraldine McAlinden, writer, actor, director
Hina Khan, visual artist
Michael McCabe, actor, director, drama facilitator
Féilim James, writer
Amna Walayat, visual artist
Michelle Costello, actor, visual artist
Sinead McCann, visual artist
John Scott, dancer, choreographer, Artistic Director of Irish Modern Dance Theatre
Ellen O'Mahony, singer-songwriter
Read the artists biogs here
Artistic Creation
As part of State of the Art, the artists have created a series of showcase artworks to be presented for the 2021 Dublin Arts and Human Rights festival both live – at the Chester Beatty and dlr Mill Theatre Dundrum – and virtually as part of a visual art exhibition and film installation screened via the new Smashing Times Virtual Art gallery. The artworks are inspired by the theme State of the Art: The Nation State as both Violator and Protector of Human Rights and by the UN Declaration of Human Rights,  intersecting with equality, human rights and diversity and created under the framework of 'Art as a Place of Performative Remembrance' and 'Art as Activism and Transformation'.
Access
For visitors with reduced mobility, the most suitable entrance is via the Ship St Gate of Dublin Castle, as it is the closest entrance to the Chester Beatty. If you are coming by car and you have a Disabled Person's Parking Permit or Card, you will be permitted access to the grounds of the Castle, via the Ship Street entrance. The nearest public car park is Christchurch Carpark.
The Chester Beatty is a wheelchair/buggy-friendly building, with wheelchairs available free of charge. An accessible restroom for visitors in a wheelchair is located on the ground floor and many of our exhibits are placed at a comparatively low height to facilitate viewing by those visitors who use wheelchairs.
The Chester Beatty offers dementia-friendly tours on a regular basis, the lecture theatre is fitted with a loop system and visitors with guide or service dogs are welcome.
Organisations and Funders:
Venue Information: