Sound On!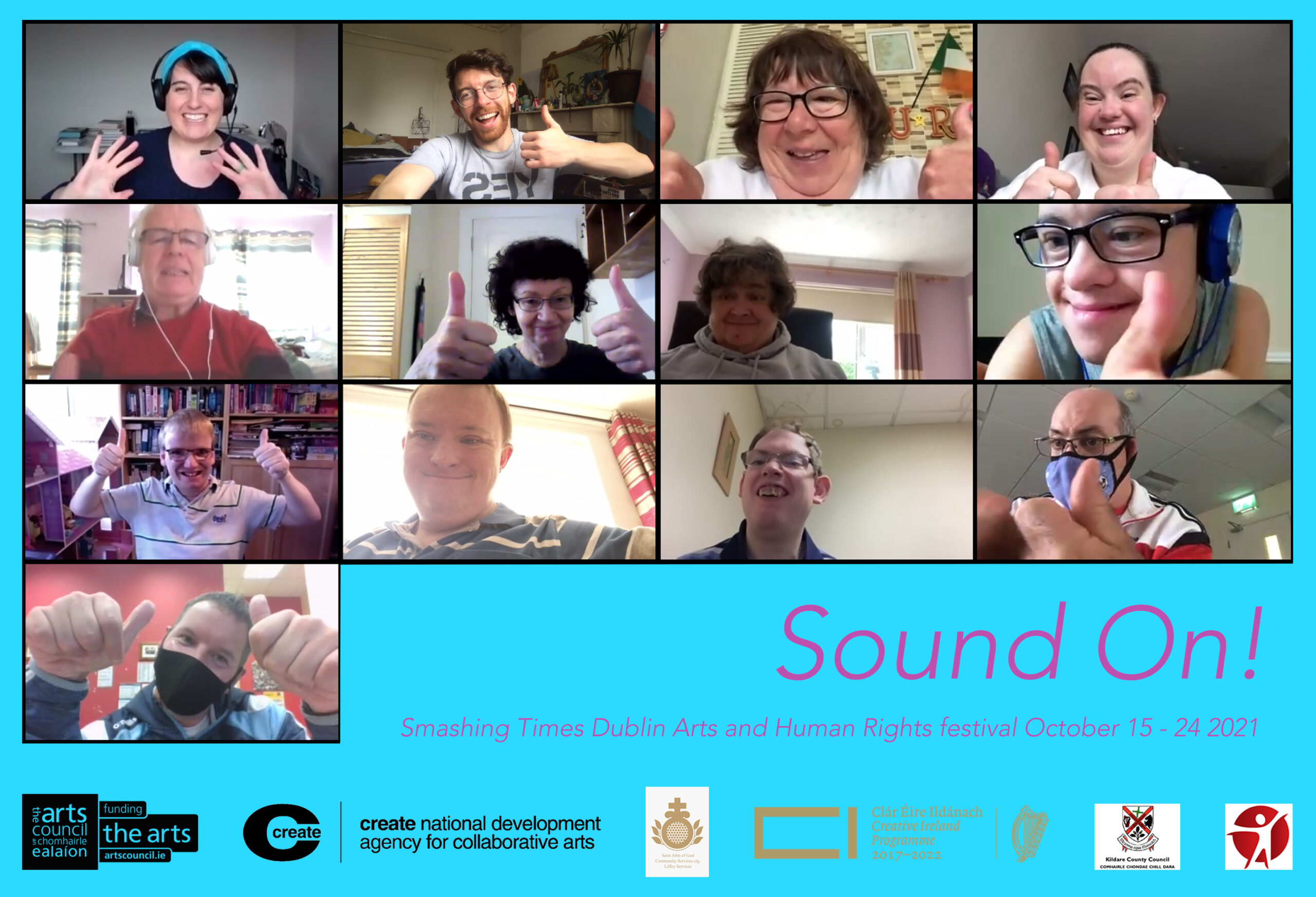 Sound On!
October 15, 2021
@
11:00 am
–
October 24, 2021
@
11:00 pm
IST
Sound On! is a creative sound art project presenting experiences of human rights and happiness for and by people with an intellectual disability. This exhibition runs for the duration of the festival, from 15 – 24 October. Hosted by Smashing Times.
Book Your Place
No Booking Necessary
Artists
Sinead McCann
AlanJames Burns
Sound On!
Full Event Details
Sound On!
3 audio tracks with different lengths, 2021
Sound On! is a creative sound art project presenting experiences of human rights and happiness for and by people with an intellectual disability. The artwork was developed over a six-month period through weekly on-line creative workshops. Everyone learnt new digital skills including how to record their voices and sounds using accessible sound recording and editing software.
Sound On! was facilitated and led by artists Sinead McCann and AlanJames Burns in collaboration with Aidan Winters, Conor Begley, David Carter, David Deane, Frances Quinn, Jonathan Smith, Keith Whelan, Laura Hickey, Niamh Fortune and Sean Winder who were supported to create fun and self-expressive sound artworks. Co–designers Niamh and Conor worked closely with the artists to design the delivery of the Sound On! project. This project was fully supported by Saint John of God Liffey Services support staff led by Assistive Technology facilitator Sarah Boland and Suzanne Cunningham through the Online Engage Programme. The music composition was created in collaboration with composer Conor O'Malley.
The initial ideas and creative processes for Sound On! were created through a creative research and development phase of the project facilitated and led by McCann and Burns in collaboration with Alex Kennedy, Chloe Larkin, David Carter, Eric Nolan, Jonathan Smith, Rachel Coss and supported by Saint John of God.
This project is funded by the Arts Council Artist in the Community Scheme, managed by Create and Kildare County Council Creative Ireland Community Grant.
Saint John of God Liffey Services
Saint John of God Liffey Services, formerly known as Menni Services and Kildare Services, was amalgamated in 2014, to form Liffey Services, a region within Saint John of God Community Services clg.
Liffey Services supports over 850 children and adults with intellectual disabilities providing a range of Respite, Residential, Day Services and Early Services. There are two schools, at Islandbridge and Saint Raphael's Celbridge, which cater for 165 children with intellectual disabilities.
Day Services locations across the region expand from Dublin South West to North. We provide Early Services in Cork Street and Cookstown. Residential services are predominantly community based across the region with a reducing number of residents living on campus in Islandbridge, Inchicore and Saint Raphael's Celbridge.
We provide a range of life-long learning, community engagement, supported employment, independent living skills teaching, sports, recreation, respite, residential and early services. Our mission is to identify, respond and support the needs of all individuals we support and to provide opportunities for each individual to reach their full potential. We have a highly skilled and diverse workforce delivering rights-based services. Building strong community partnerships is vital to ensure that we deliver a person-centered model of support.
What is Sound Art?
Sound art is an artistic discipline in which sound is utilised as a primary medium or material. Like many genres of contemporary art, sound art may be interdisciplinary in nature, or be used in hybrid forms.
Artist Biographies: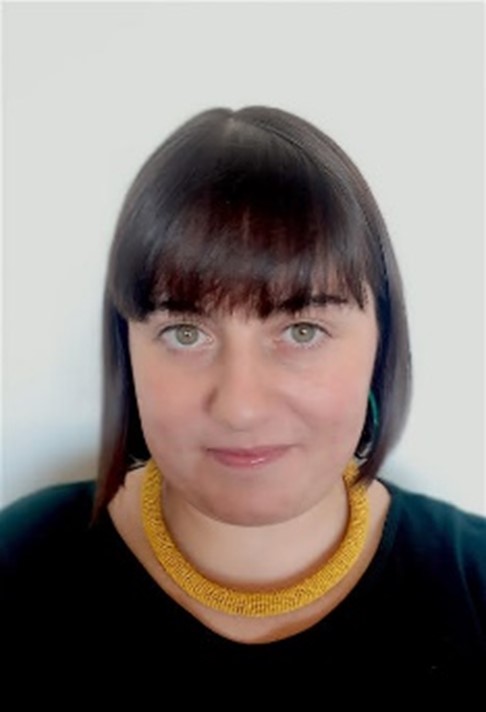 Sinead McCann
I am a Dublin based Artist working across the mediums of performance, video, installation and sculpture often in a context, site or community specific way. I often work collaboratively with arts and non-arts professionals to produce innovative and challenging artworks which add an artistic contribution to public debate on important social issues in modern life.
Recent works:
Sound On! (2021), a 3D creative sound project in collaboration with artist AlanJames Burns and Saint John of God Liffey Service exploring happiness and human rights. Funded by Artist in Community Realisation Award.
Small Talk (2021), a 45-minute radio documentary in collaboration with The Bridge Project Dublin 8 exploring access to employment for people with a criminal record. Funded by a research grant as part of the Engage the City programme with Dublin City Council Culture Company and Artist in Community Project Realisation Award.
The Trial (2018), is a four channel synced video and sound installation made in collaboration with the Bridge Project Dublin 8, and University College Dublin medical historians Associate Professor Catherine Cox and Dr Fiachra Byrne. Funded by a Participation Project Award Arts Council, Community Award Dublin City Council, with further funding from University College Dublin and Wellcome Trust UK. National tour in 2019.
Living Inside (2019), a photographic exhibition of the work of Irish photo journalist Derek Speirs, Kilmainham Jail, co curated with historian Dr Oisin Wall. Funded by the Wellcome Trust UK, and University College Dublin.
Health Inside (2018), a public art intervention on large scale billboards and bus shelters in Dublin 7 near Mountjoy prison, in collaboration with UCD historians Dr Oisin Wall and Associate Professor Catherine Cox. Funded by Open Call Award.
I studied for my degree in Fine Art TU Dublin (00-04), and Masters of Fine Art (05-08) and Practice Based PhD Fine Art Sculpture (2009-2015) at the National College of Art and Design Dublin. I have worked part time (since 2009) in Technological University Dublin coordinating socially engaged curriculum-based projects between community organisations, staff and students across disciplines. I served on the board of directors of Common Ground 2013-2014.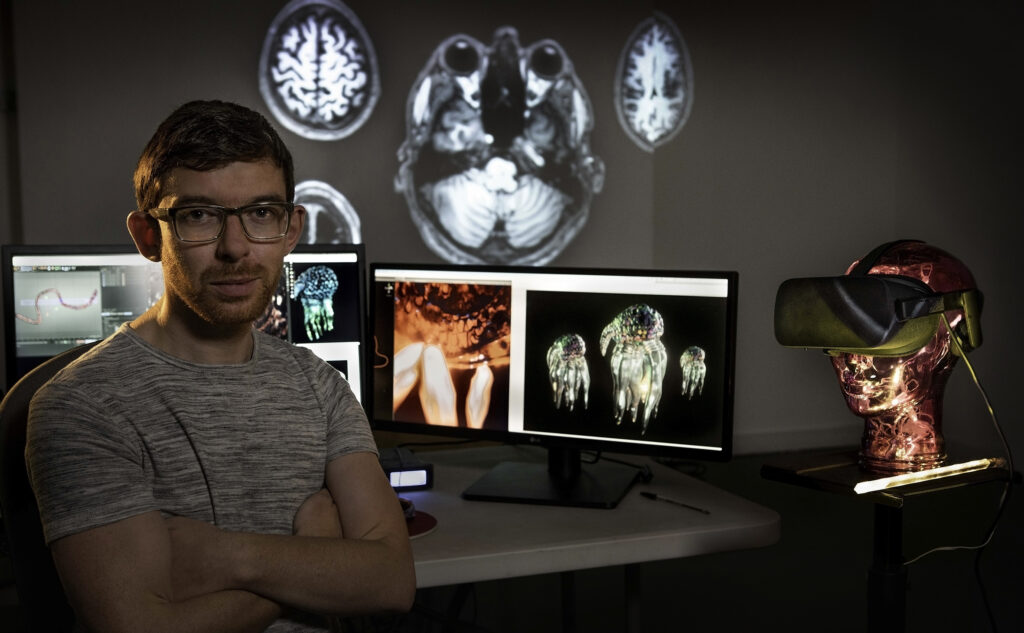 AlanJames Burns
AlanJames Burns is a Dublin-based artist producing immersive sensory environments and event with mixed-reality technologies in site-specific locations reflecting on the inner psychological space by giving voices and consciousness to structures and systems. Burns works highly collaborative with other artists, writers, composers and technicians.
Recent projects include:
'Open Mind, Closed System' an interactive audio-visual artwork using a brain computer interface with generative imagery and audio, commissioned by Carlow Arts Festival 2021. An ambitious expansion of this work; 'Augmented Body, Altered Mind' has been commissioned by Carlow Arts Festival for their 2022 programme core funded by Arts Council Of Ireland Commissions Award and Arts and Disability Ireland Project Award.
'Silicon Synapse', a Virtual Reality experience conceived for the Carnegie Library in Swords, Fingal; redeveloped for JRC Milan, Italy and Bozar, Brussels, 2019; core funded by Arts Council of Ireland and jointly commissioned by Fingal Arts & European Commission.
'Entirely hollow aside from the dark', a sound installation produced inside caves commissioned by Fingal Arts 2016 and redeveloped for an Irish tour 2017 core funded by Arts Council of Ireland, North/South Co-Operation Fund & Creative Ireland. The first international presentation of this work took place at Creswell Cave, England, Aug 2019
Recent residencies include; Rapid Residency with Science Gallery Dublin, 2020; Research Residency with Hermes Artes Visuais, São Paulo, 2021; The Space Programme with the Performance Corporation at Tyrone Guthrie Centre 2019; Resonance Residency, JRC Milan, Italy and Seville, Spain, 2018-2020.
Organisations and Funders