Neus Català Pallejà (6 October 1915 – 13 April 2019) born in Els Guiamets (Tarragona) in Catalonia, Spain and was active in the United Socialist Party of Catalonia during the Spanish Civil War. Català was the only living Spanish survivor of the Nazi concentration camp Ravensbrück and was a fierce opponent of General Franco's fascist regime in Spain.
When she was young, Català asked her parents why her brother was studying to become a teacher and she could not study. She received the response that only one of the children could study and the man will be the chosen one. Nevertheless, she did not abandon her ambition to become a nurse. As Català began to become involved in the Unified Socialist Youth, she moved to Barcelona to study nursing. Aiming to work in a hospital, she ended up taking care of an infant colony. At the age of 23, after the Republican defeat in 1939, she crossed the Pyrenees with 182 children who she later helped to repatriate, or facilitated their adoption in Europe.
After settling in France and marrying, Català and her husband Albert Roger collaborated closely with the Resistance during the German occupation of France. In 1943, aware that they had been exposed, the couple were preparing to flee when Nazi officers burst into their home and arrested them. Català was eventually imprisoned in Ravensbrück German concentration camp for women, seeing many women die, and later in a camp in Holleischen, Czechoslovakia. She and other women were forced to work in an arms factory, and she and her colleagues tried to sabotage production. The ordeal ended with the liberation of the camp by Allied forces in 1945, by which time Català was 'a bag of bones'. Her partner Albert was killed in another concentration camp. Català's recovery in the aftermath of the war was very difficult.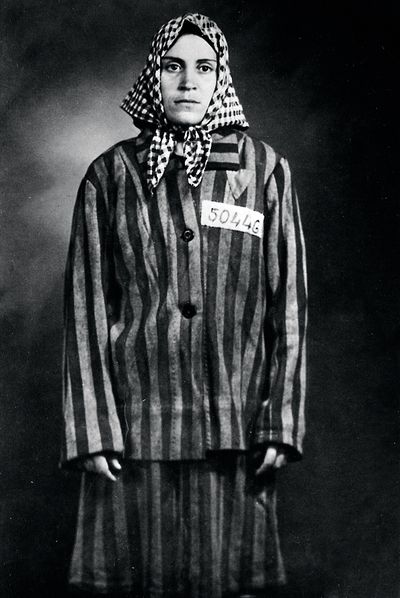 Neus Català Pallejà in Ravensbrück concentration camp during the war.
Over the years, however, Català rebuilt her life in France, and went on to marry again and have children. She resumed her work as a nurse and collaborated with the clandestine PCE and the French Communist Party. Many years after the war Català began to look for other survivors, collecting their testimonies and publishing their common history. She discovered many women who had suffered captivity, women who, after losing the war in Spain and despite being foreigners and refugees and barely able to speak French, decided to risk their lives again in their willingness to fight fascism as members of the French Resistance, as Català did. She also discovered many names of those who lost their lives in the Nazi death camps. In April 2019, she sadly passed away at the grand age of 103.
Català has received much recognition for her work and experiences, having been granted several awards by the Catalan Government. She continued her work in the Communist Party of Catalonia, a miracle in its own right, as she was over 100 years of age. Her message was that the atrocities that she witnessed should never be repeated (Women War and Peace Research and Resource Book).
To read a detailed account of the life of Neus Català Pallejà, go to page 36 of the Smashing Times Women War and Peace Research and Resource Book, available to access free of charge here.
Sources used: