ACDC 4 You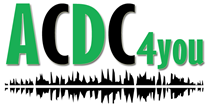 ACDC 4 You
Event Category:
October 18
@
10:00 am
–
5:00 pm
IST
Transnational Partner Exchange
Book Your Place
Sold Out
Full Event Details
"ACDC 4 You: Artistic Creativity Development Course for You" is a European transnational partnership project promoting the development of adults' creativity through using creative processes of participatory music and raising awareness of creativity as a crucial and the most coveted skill for the future economies across Europe and the globe. The project consolidates the competencies of adult educators and musicians for developing innovative resources introducing a new type of trainers prepared to teach adults' creativity.

The main aim of the project is to equip adult educators, musicians and other cultural workers – as individuals the most vulnerable to economic shocks, such as those created by the COVID-19 crisis – with the skills and knowledge necessary to become successful facilitators of music-based creativity trainings for adults and at the same time gain creative confidence and develop "creativity literacy" themselves.
ACDC is funded by Erasmus+.
The partners are:
Organisations Involved / Partner Organisation(s):

Venue Information: