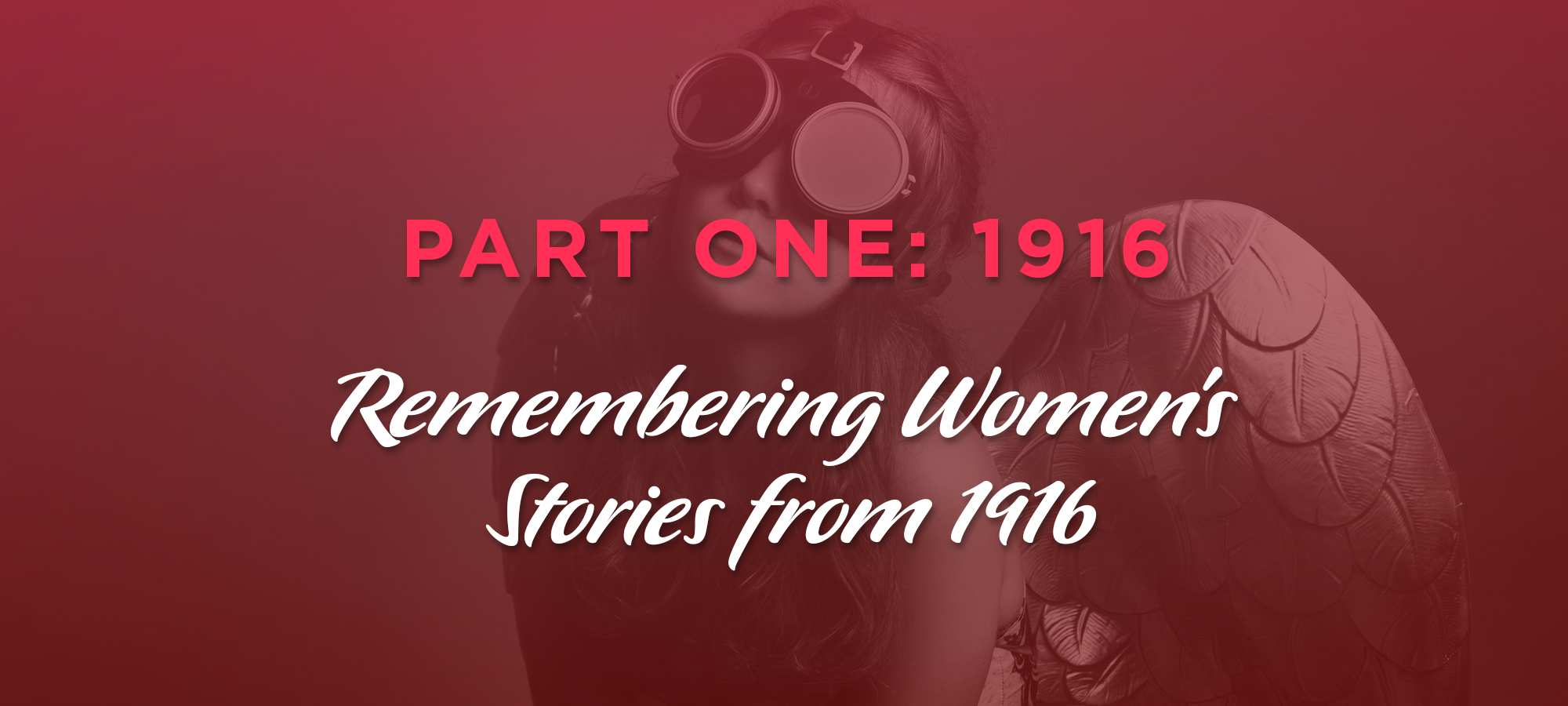 'My Artistic Vision for Ireland… upholding an equal regard and pre-emptive dignity of every living creature'

– Dr Eric Weitz, Adjunct Professor of Drama, School of Creative Arts, Trinity College Dublin
This section contains:


1916: An Overview
An Act for the Union of Great Britain and Ireland, which came into effect on 1 January 1801. The Irish Parliament was abolished. Administration based at Dublin Castle.
At Easter 1916, an armed rebellion lasted for seven days, fighting was mainly confined to Dublin, where outposts were set up at strategic points throughout the city. The purpose of the Rising was to formally declare the existence of an independent Irish Republic and, by achieving this, became the point of departure for all subsequent Irish history. The Rising started on Easter Monday, 24 April, 1916 when a group of nationalists staged a rebellion in Dublin against the rule of the British government in Ireland. The rebels took over several strategic buildings in Dublin and declared an Irish Republic. Over the course of a week, rebels fought with British soldiers, before being forced to surrender. Martial law was imposed and following the Rising sixteen men were executed including the seven members who had signed the Irish proclamation.
The proclamation of the Irish Republic was read aloud by Pádraig Pearse shortly after 12 noon on Easter Sunday 24 April, the first day of the Rising, outside the General Post Office (GPO) on Sackville Street (now O'Connell Street). The proclamation guaranteed 'the right of the Irish people to the ownership of Ireland and religious and civil liberty, equal rights and equal opportunities to all its citizens'. 

Immediately after the Rising, the following men were executed in Kilmainham Gaol: Padraic Pearse, Thomas Clarke and Thomas MacDonagh on 3 May 1916; Joseph Plunkett, Edward Daly, Michael O'Hanrahan and Willie Pearse on 4 May 1916; John McBride on 5 May 1916; Eamonn Ceannt, Michael Mallin, Sean Heuston & Con Colbert on 8 May 1916; & Sean MacDiarmada & James Connolly on 12 May 1916. Thomas Kent was executed on 9 May 11916 in Cork Detention Barracks & Sir Roger Casement was executed on 3 August 1916 in Pentonville Prison, London. Constance Markievicz was also sentenced to death as one of the leaders of the rebellion but her sentence was commuted to life imprisonment because she was a woman!
Over 1,600 men and women were involved in supporting the Rising. 590 men, women and children were killed during the Rising. 374 were civilians including 38 children aged 16 and under, 116 were British soldiers, 77 were insurgents and 23 were members of the Dublin police force.
At first the Irish public were not in favour of the rebellion. World War I was on-going and there were repeated calls for men from Ireland, which was a part of the United Kingdom, to join up and fight for Britain in the Great War. It is said that over 200,000 men and women from the North and South of Ireland joined up. However as the executions of the leaders continued, public opinion changed and support for Irish independence grew.
Women's Stories from 1916
Over 200 women took part in the 1916 insurrection in Ireland. Women were stationed in all the main garrisons during the Rising apart from Boland's Mills, which was under the command of Eamon De Valera who later become leader and President of Ireland, and who absolutely refused to have any women involved in the fighting. He would later admit that this was a decision he regretted, not because he had a change of heart but as he said, without the women some of his best men had to spend a lot of their time cooking!
Constance Markievicz (1868-1927) was one of over 200 women who took part in the 1916 insurrection in Ireland. Constance was an Irish politician, revolutionary nationalist, suffragette and socialist. She was born Constance Georgina Gore Booth and becomes the first woman elected to the British House of Commons and first female Cabinet Minister in Europe. When asked for advice for young women in 1909, Constance Markievicz urged them to get involved in politics and in social change and she said: 'Dress suitably in short skirts and sitting boots, leave your jewels and gold wands in the bank and buy a revolver.'
Women involved in the insurrection included Helena Molony, (1884-1967), a member of Inghinidhe na hÉireann and the Irish Citizen Army, stationed at City Hall Garrison during the Rising; Revolutionary feminist and maths teacher Margaret Skinnider (1893-1971) who fought in the College of Surgeons at St Stephen's Green; Dr Kathleen Lynn (1874-1955), a medical doctor, feminist and social activist and member of the Irish Citizen Army, stationed at City Hall; and Elizabeth O'Farrell (1884-1957), nurse and member of Cumann na mBan, who waved the 1916 Rising surrender flag and who was subsequently airbrushed out of the photograph where she stood alongside Padraig Pearse. Others were Madeleine ffrench-Mullen, Winifred Carney, Julia Grenan, Mary Perolz, Nellie Gifford, Brigid Foley and Margaretta Keogh, the latter a Volunteer who was shot dead outside the Dublin South Union.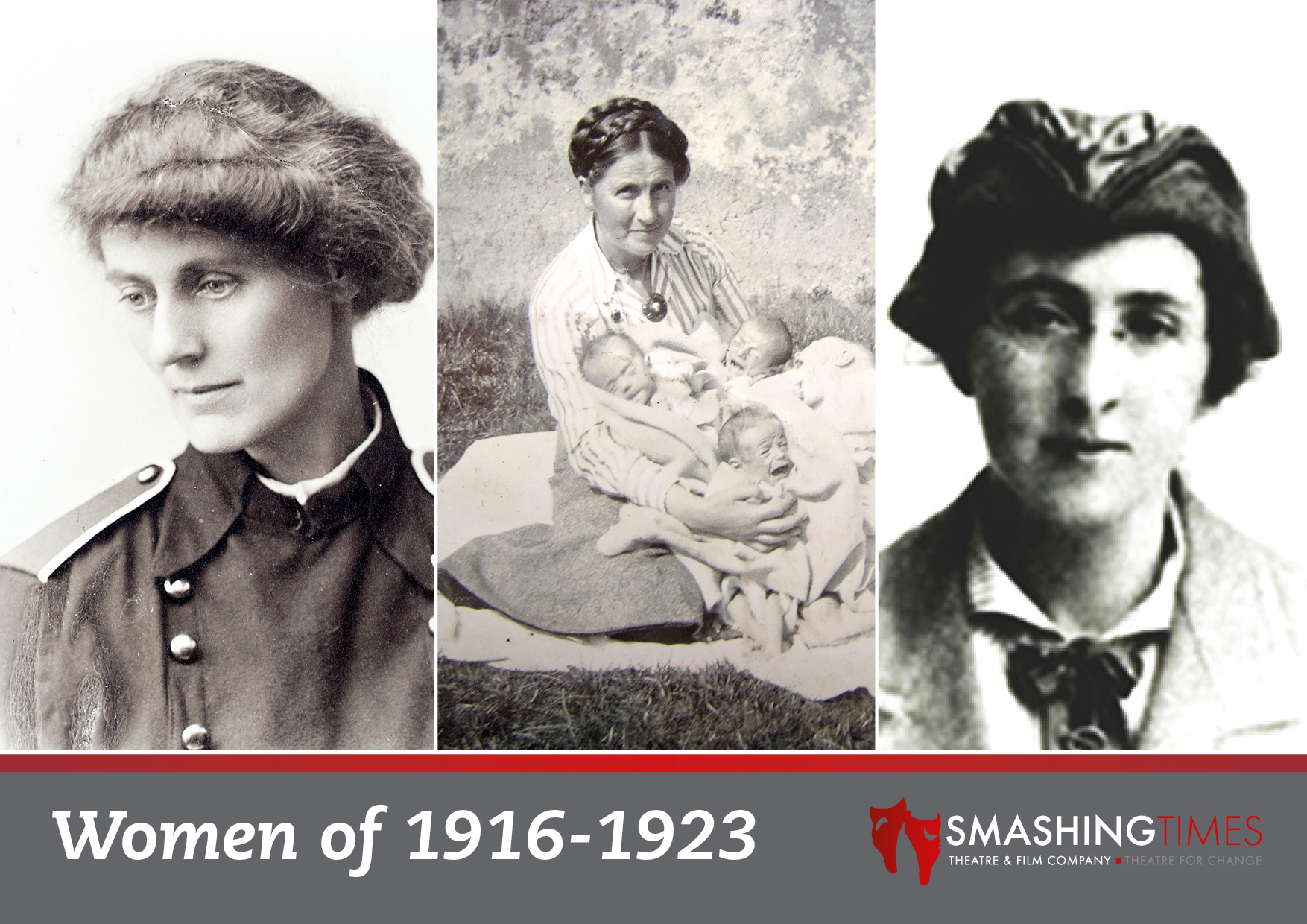 Many women were involved in the Easter Rising of 1916 yet their stories and experiences have been effectively airbrushed from historical accounts of the rising. According to Dr Shirley Graham ''In secondary schools today, Leaving Certificate students only learn about two women from the 1916 era: Countess Markievicz and the artist Evie Hone. There are many more who have been forgotten and whose contributions have been minimised, ignored or erased from our history books. Despite the fact that women make up 50% of our population, and that a number of feminist historians have been writing women back into history since the 1970s, the majority of the well-known personalities spoken about and revered as Irish heroes, revolutionaries and history makers are men.''
In more recent times the stories of these women have received a new audience through the work of women historians. Smashing Times are using their art form to make remarkable women in history visible and to ensure their contribution is valued and acknowledged as we remember the diverse roles played by women in Irish history and the incredible impact they had on events at the time.
The following seven women's stories have been researched: (click on each to view)
Constance Markievicz (1868-1927). An Irish politician, revolutionary nationalist, suffragette and socialist.
Margaret Skinnider (1893-1971). A revolutionary feminist and maths teacher who came to Dublin from Scotland at the age of 23 to take part in the Easter Rising.
Helena Moloney (1884-1967). A member of Inghinidhe na hÉireann and the Irish Citizen Army who was stationed at City Hall Garrison during the Easter Rising of 1916.
Elizabeth O'Farrell(1884-1957). A member of Inghinidhe na hEireann in 1906 and Cumann na mBan in 1914 and assigned to the Irish Citizen Army and stationed in the GPO during the Easter Rising of 1916.
Máire Nic Shiubhlaigh (1883-1958). A founding member of the Abbey Theatre, Dublin and its first leading actor and a member of Cumann na mBan at Jacob's biscuit factory in the Easter Rising of 1916.
Grace Evelyn Gifford (1888-1955). An illustrator and caricaturist and wife of Joseph Mary Plunkett, a writer and poet and the youngest signatory to the Irish proclamation.
Dr Kathleen Lynn (1874-1955). A feminist, suffragist, Republican and socialist. She trained as a doctor and became Chief Medical Officer for the Irish Citizen Army, the only organisation to have men and women fight equally side by side in the 1916 Easter Rising.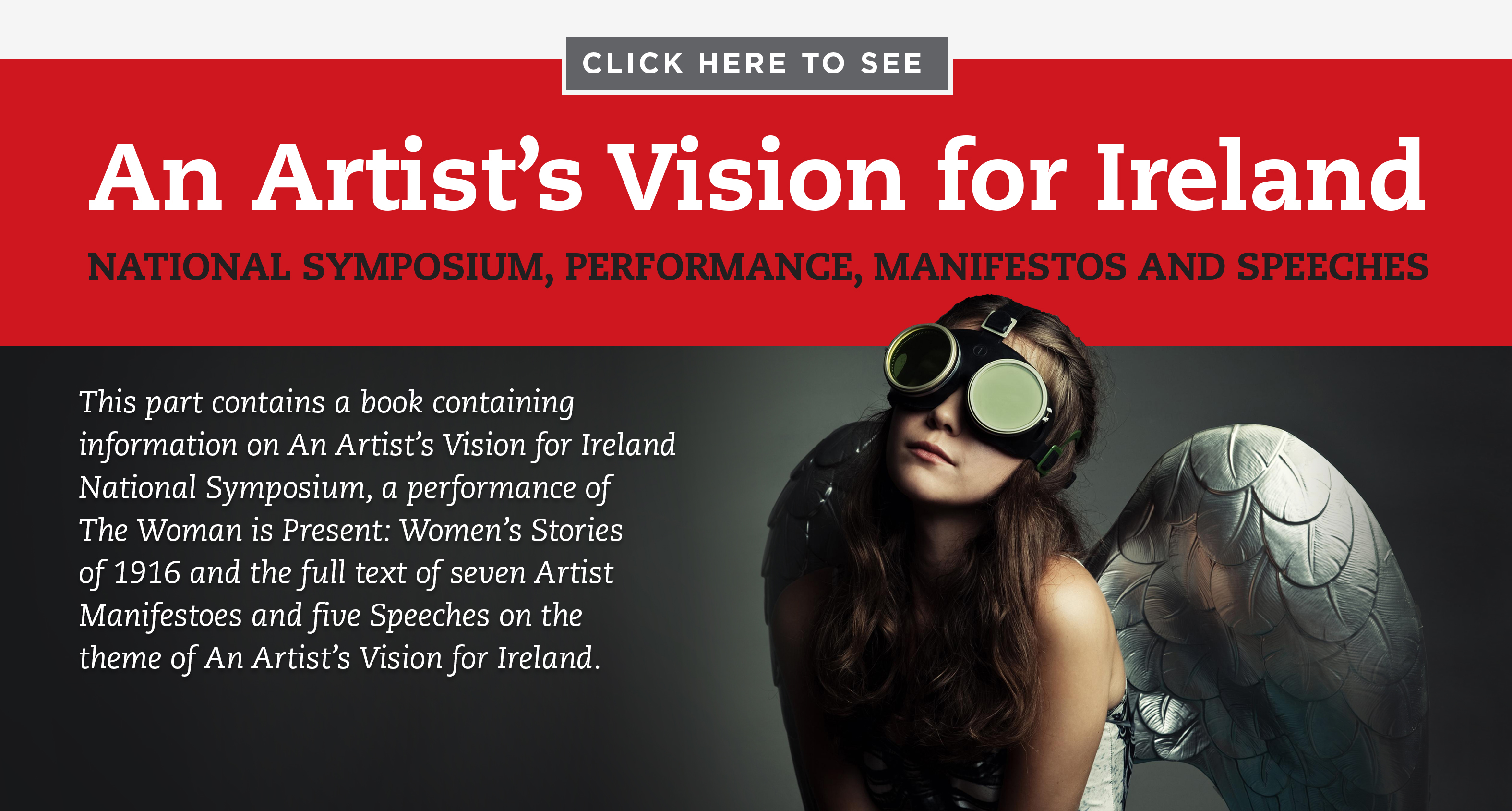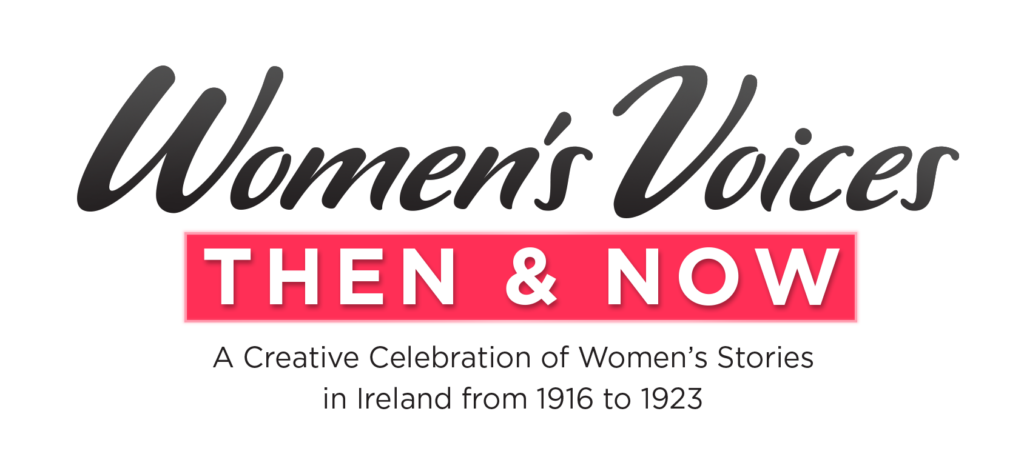 WOMEN'S VOICES HOME | PART I | PART II | PART III | PART IV | BIOS | ARTISTS