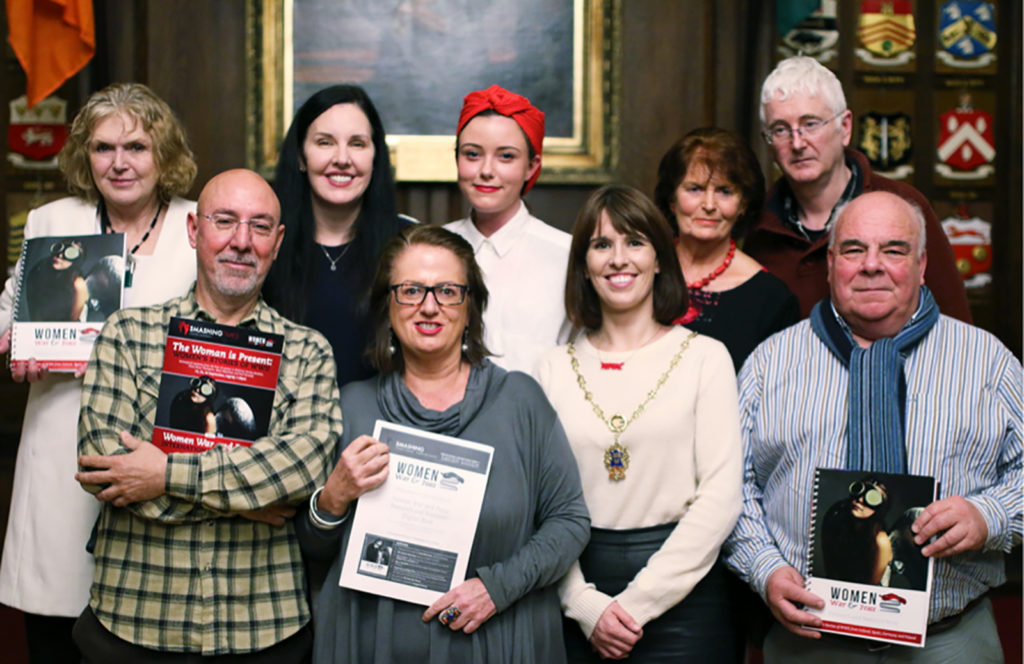 Artist Biographies
Mary Moynihan MA
Role: Lead Curator and Artist
Mary Moynihan, MA, is a writer, theatre and film-maker, and Artistic Director of Smashing Times International Centre for the Arts and Human Rights incorporating Smashing Times Theatre and Film Company and Smashing Times Youth Arts Ensemble. Mary is a Theatre Lecturer at TU Dublin Conservatoire.
As Artistic Director of Smashing Times, Mary specialises in using the arts to promote human rights, peace, gender equality and positive mental health, and develops cutting edge, arts-based programmes with a range of organisations at local, national and international levels. Award winning projects include Acting for the Future which uses theatre to promote positive mental health, run in partnership with the Samaritans and the highly successful European projects Women War and Peace and Women in an Equal Europe run with organisations from Spain, Germany, Poland, Croatia and Serbia. Mary has designed a series of drama workshop models to promote anti-racism, anti-sectarianism, human rights, gender equality, positive mental health and suicide prevention. The work of Smashing Times is underpinned by a rights-based approach and a commitment to artistic excellence and social engagement. Company patrons are First Lady Sabina Coyne Higgins, Senator Joan Freeman, founder of Pieta House, Ger Ryan, actor and Tim Pat Coogan, writer and historian.
As a playwright, Mary's work includes the highly acclaimed The Woman is Present: Women's Stories of WWII by Mary Moynihan, Deirdre Kinahan, Paul Kennedy and Fiona Bawn Thompson; In One Breath from the award-winning Testimonies (co-written with Paul Kennedy); Constance and Her Friends and Grace and Joe – selected by President Michael D. Higgins for performance at Áras an Uachtaráin for Culture Night 2016 – and May Our Faces Haunt You and Silent Screams.
Mary is the author of 'Loving the art in yourself' and 'Interview with Margaret Toomey' in Stanislavski in Ireland – Focus at 50 edited by Steve Burch and Brian McAvera, published by Carysfort Press, 2013. She wrote a chapter titled 'Death of a Mother' for Motherhood in Ireland, edited by Dr Patricia Kennedy, Department of Social Policy, UCD, Mercier Press, 2003. She co-authored a chapter titled 'Laughing Together: Community-based theatre's vital sense of humour' for Comedy in Contemporary Irish Theatre, edited by Dr Eric Weitz, University of Dublin, Trinity College, Carysfort Press, 2004.
As a theatre director, professional directing credits include the The Woman is Present: Women's Stories of WWII by Mary Moynihan, Fiona Bawn Thompson, Deirdre Kinahan and Paul Kennedy, on Irish and international tour (co-director Bairbre Ni Chaoimh); scenes from A Midsummer Night's Dream by William Shakespeare for the Abbey Theatre, Dublin; Uprising scripted by Tara McKevitt and devised by Smashing Times at Project Arts Centre Dublin and on national tour; Thou Shalt Not Kill by Paul Kennedy at Project Arts Centre Dublin and Lyric Theatre Belfast; Romeo and Juliet by William Shakespeare, Samuel Beckett Theatre; Macbeth by William Shakespeare, DIT Theatre; Orphans by Dennis Kelly, Focus Theatre; The Crucible by Arthur Miller, St. Dymphna's Oratory, Grangegorman; Shattering Glass and In One Breath (Testimonies) for Smashing Times at Project Arts Centre and Helix Theatre, Dublin; Olga from Picasso's Women by Brian McAvera for Focus Theatre; Orpheus Descending by Tennessee Williams, Mill Theatre Dundrum; Two Rooms by Lee Blessing for Focus Theatre; Talk To Me Like The Rain and Let Me Listen by Tennessee Williams, Focus Theatre; May Our Faces Haunt You (nationwide tour); A Chain of Hands (Royal Hibernian Academy, National Museum of Ireland and the Mansion House, Dublin); Medea (Smashing Times on nationwide tour); Yerma by Federico Garcia Lorca and Riders to the Sea by JM Synge, Samuel Beckett Theatre, Dublin. As an actor Mary has worked in theatre, television and film including RTE's Fair City, Federico Garcia Lorca's The House of Bernarda Alba at Focus Theatre and End of Term by Maeve Binchy on nationwide tour.
Film work includes Courageous Women inspired by women's stories from 1916 to 1923 in Ireland, the television documentary Stories from the Shadows, the short film Tell Them Our Names (selected for the London Eye International Film Festival and Kerry Film Festival) and the creative documentary Women in an Equal Europe. Mary has an honours MA in Film Production from DIT and an honours BA in Drama and Theatre Studies from the University of Dublin Trinity College. Mary originally trained at Focus Theatre under the direction of Deirdre O'Connell, her friend and mentor.
Mary's theatre and film work takes place in both professional and non-traditional theatre and film spaces and she is interested in intra-art collaborative practices. Her work is physical-based and focuses on primal, visceral and intuitive responses to vulnerability and conflict and an exploration of self and the other. She focuses on the interconnectedness of the body, voice and imagination and the use of creative physical and spiritual energies, revealing the inner life through physical and intuitive engagements.
Mary is a theatre and film maker and Artistic Director of Smashing Times Theatre and Film Company and a Theatre Lecturer for the Honours BA in Drama (Performance) at the DIT Conservatory of Music and Drama.
Niamh Clowry BA, MA
Role: Assistant Curator and Researcher
Niamh has been working with Smashing Times since 2018. She is the coordinator of the Acting for the Future: Theatre for Positive Mental Health Project, working with Refugees and funded through the HSE Social Inclusion Department. She is also the Researcher on the Erasmus+ funded European project Theatre for Positive Mental Health and Researcher and Assistant Curator on the Smashing Times Project Women's Voices Then and Now.
Her education includes a Bachelor of Arts in History, Politics and Social Studies, which included a semester of study abroad in New York and a work placement with the Joint Oireachtas Committee on European Affairs. She also holds a Master of Arts in Peace and Development Studies, both from the University of Limerick.
She has extensive experience in administration, communications and project management. Her research interests include Twentieth Century history, European Political Systems and International Human Rights. An accomplished Public Speaker she is currently Vice-President of Education at the Dublin Toastmasters Club, Ireland's oldest public speaking club.
EM Creative – Ed Moynihan
Role: Graphic and Web Design Artist
Edmund Moynihan is a graphic and web designer from Dublin, Ireland. He has over 12 years experience working as a designer on a variety of platforms and media for some of the biggest publishing houses in Ireland and is a founding member of EM Creative, a graphic and web design company based in Dublin. He has worked on many high-profile publications including HighBall Magazine, which was the official GAA magazine; Vodafone Business Connections – an official quarterly Vodafone magazine; Golf Digest Ireland, the biggest-selling golf title in the world; The Irish Motorsport Annual, which is Ireland's longest running annual; as well as several popular monthly shelf titles such as You & Your Money, The Investor Magazine, Maternity & Infant Magazine, Food & Wine Magazine, U Magazine and The Irish Garden to name a few. He is also a fully qualified website designer and has designed and created many websites for clients and maintains and updates several existing sites.
Freda Manweiler
Role: Producer
Freda has worked with Smashing Times Theatre and Film Company since 1999. She is highly skilled in management and project coordination and implementation. She has worked as producer on a range of Smashing Time projects throughout Ireland and Northern Ireland. She is Course Coordinator of the Smashing Times cross border and cross community Creative Training programmes which are accredited by the National University of Ireland / University College Dublin. She is coordinator of the highly successful Acting for the Future programme that uses drama and theatre to promote positive mental health and suicide prevention and is run in association with the Samaritans and the Irish Association of Suicidology in the Republic of Ireland and more recently in Northern Ireland. Education includes a Bachelor in Social Work BSc (2007) from the Open University and a Masters in Education (MEd) from the National University of Ireland/UCD.
As part of her work for Smashing Times she is responsible for all aspects of management and project development and is also involved in teaching practice. She has experience in planning, coordination, staff training, preparing, monitoring and tracking budgets (both large and small scale), managing partnership arrangements, monitoring publicity campaigns and conducting internal evaluations and liaison with external evaluators and funders.
She has extensive experience in team management through her work with Smashing Times as a manager and as a manager and Employment Assessment Coordinator for a Working Skills Centre in Toronto, Canada, a community-based, employment assessment, skills training and upgrading centre for immigrant women. She has extensive experience working with immigrant women including programme development and implementation, individual and group career counselling, as well as developing, expanding and delivering group workshops on topics such as accessing community resources and training programmes, human rights issues, labour laws, and participating in the political system. Many of the women Freda worked with experience trauma due to war, torture, political persecution and family violence and she was responsible for providing counselling around these and other settlement issues.
Mark Quinn
Role: Film Editor
Mark Quinn has twenty-nine years experience in the television industry having previously worked in radio production and presentation. He was a founder member of local radio stations before moving full-time into television. He has worked as a sound recordist, off-line editor, online editor and director. He founded High Wire in 1997 and is a full-time owner/operator.
Róisín McAtamney
Role: Theatre Actor and Facilitator
Róisín is an actor and facilitator based in Dublin. Originally from Cork, Róisín undertook a BA in Drama Performance from DIT's Conservatory of Music and Drama. Upon graduating from DIT Róisín worked in New York on off-Broadway show Ten Ways on a Gun. Other theatre credits include Antigone, Romeo and Juliet and Smashing Times' The Woman is Present: Women's Stories of 1916 and If You Could Read my Mind from the highly acclaimed Testimonies. Róisín has performed in the Smashing Times tour of The Woman is Present: Women's Stories of WWII, performing in Deirdre Kinahan's new piece Ode to Ettie Steinberg, which toured to Ireland, Northern Ireland and Germany.
Megan O'Malley
Role: Actor
Megan O'Malley has recently completed a 'Masters in Theatre Practice' student in University College Dublin. Previous to this she graduated from the Gaiety School of Acting's two-year full time course in 2015. While training she took on many roles, including: Runt in Disco Pigs, Ophelia in Hamlet, Kate in The Taming of the Shrew, and Mags in The Spinning Heart. Megan also played Melissa in The Full Moon Hotel by Philip Doherty. Since graduating she has played Queen Elizabeth in 'Gráinne', and has worked on several short films including 'Rising', 'The Nest', 'Lilith', among others. She also starred in Kerry Gold's latest TV commercial and We Cut Corners music video 'Of whatever' by Stoneface Films. Megan was awarded the Gaiety Theatre Bursary, 2014. More recently, Megan won the F.A.B. bursary award for Best Actress 16-21. Megan is also a passionate writer and was the first in the school's history to premier her own work 'MJ' for the GSA graduation industry showcase. She also worked alongside Paul Meade for her Manifesto piece 'The Mourning Seat'. From there, Megan worked with Paul Meade over 2016 in developing her idea for 'Home', and was thrilled to present it as part of Smock Alley's Scene and Heard festival for new work in 2017. Megan has since expanded 'Home' to a full length production and which premiered in The New Theatre in 2018.
Dr Eric Weitz
Role: Director
Professor Eric Weitz has published The Cambridge Introduction to Comedy, The Power of Laughter: Comedy and Contemporary Irish Theatre,a number of articles and essays, and contributions to reference works like the Oxford Encyclopedia for Theatre and Performance and the Encyclopedia of Humor Studies. He is Chair of the Board for Smashing Times Theatre and Film Company, and on the Board of Directors for Collective Encounters, a socially engaged theatre company based in Liverpool, England.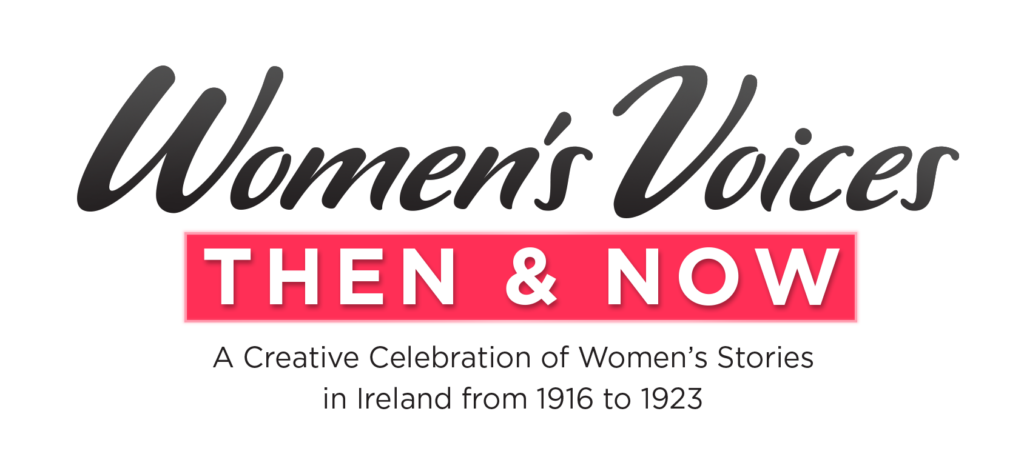 WOMEN'S VOICES HOME | PART I | PART II | PART III | PART IV | BIOS | ARTISTS