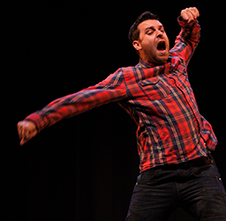 Television Documentary Charting the Work of Smashing Times as The Memory Project is Implemented
Stories from the Shadows is a 54-minute television documentary that charts the work of Smashing Times Theatre and Film Company as they carry out The Memory Project over the course of two years in Northern Ireland and border areas in the Republic of Ireland.
The film was directed by Mary Moynihan and Mark Quinn, produced by Freda Manweiler and Mary Moynihan of Smashing Times and Mark Quinn of High Wire, and edited by Oliver Fallon.
The Memory Project is an arts project using theatre and storytelling workshops, performances, and post-show panel discussions to promote peace building and reconciliation, and ways forward for a peaceful and shared future for all. This documentary follows the company as they collaborate with a range of communities in a compassionate, honest and fascinating exploration of the legacy of conflict arising from The Troubles, exploring what it means to 'break down walls that keep us from the unknown, ourselves and each other.'
The documentary showcases the voices and stories of those affected by the Troubles, as well as the experiences of artists, facilitators and directors from Smashing Times who engage with young people and adultsto explore a legacy of the conflict through creative processes and ways forward for a peaceful future for all. Themes include empowerment, transformation and the telling of untold stories, through engaging, provocative and emotional theatre.
Stories from the Shadows highlights the impact of the Troubles on the lives of ordinary people and explores how theatre can be used as a medium for enabling people to come together to express, share and listen to stories of conflict – 'everyday stories from all sides – listened to by all sides'. Drama games, exercises, and techniques such as Augusto Boal's Theatre of the Oppressed can be used to open up sensitive discussion on conflict and to provide a forum for ordinary people to explain their experiences and the effect it has had on their lives. By introducing performances such as Thou Shalt Not Kill into schools, young people have the opportunity to engage emotionally with themes from history, which ignites a sense of interest in learning from the past in order to create a better future together.
From 2012 to 2015 Smashing Times Theatre Company implemented The Memory Project in partnership with Corrymeela Community and High Wire Limited; in association with CAIN (Conflict Archive on the Internet) and the University of Ulster INCORE International Conflict Research Institute. The project is funded by the European Union's PEACE III Programme.