Constance and Her Friends 'At Home' in Dublin Castle on 8 March 2020, 1pm and 4pm. An invitation to a literary salon of ideas and imagination.
Smashing Times, in partnership with the Pop-Up Women in Politics and Public Life Exhibition Dublin Castle, and with the support of Dublin City Council, are delighted to invite you to join us for an 'At Home' with a difference as Constance de Markievicz and her friends are brought to life, using events that happened in and around the Dublin Castle complex. This 'female take over' in the impressive State Apartments of Dublin Castle is timely as we celebrate International Women's Day.
Climb the grand staircase and join us for a promenade performance with Constance de Markievicz and friends in Dublin Castle.  This walkabout performance, based on Constance and Her Friends by Mary Moynihan and new writing by Dr Sinéad McCoole,  takes you through the James Connolly room, the State Drawing Room, the Throne Room, the Portrait Gallery and the circular room (better known as the Gothic Room). Enjoy storytelling, poetry and song as you meet Constance and her friends and explore stories of women we celebrated during this the Decade of Centenaries.
The event is a colourful gathering to mark 8 March, International Women's Day as artists from Smashing Times work with artistic Director Mary Moynihan and Historian Dr Sinéad McCoole. '100 Years of Women in Politics and Public Life 1920-2020' is also on display in Dublin Castle's Coach House Gallery until 4 May 2020. Don't miss your chance to see it before its run ends.
All are welcome to come and enjoy performances with artists Margaret Toomey, Róisín McAtamney, Carla Ryan, Geraldine McAlinden and Lisa Mc Loughlin-Gnemmi.  We look forward to your company and welcome questions and discussions on the day.
Where: Dublin Castle State Apartments, Upper Courtyard
When: Sunday, 8 March, 1pm and 4pm
Bookings: Via Eventbrite here
The show is promenade (walk-about) style moving from room to room. All areas in the State Apartments are universally accessible, including the cafe and restrooms.
The work is based on Constance and Her Friends by Mary Moynihan and new writing by Dr Sinéad McCoole, as Constance Markievicz, Nora Connolly O'Brien, Helena Molony, Grace Gifford, Hanna Sheehy Skeffington, and Lily Mernin reflect on memories of the 1916 Rising, the Irish War of Independence and Civil War, their time in prison, and the suffrage movement.  We meet Constance in 1891 as she attends an 'At Home' with her cousin the Vicereine, the Countess of Zetland and we journey with  Constance as she talks about her involvement in 1916 and the War of Independence. Enjoy Grace Evelyn Gifford telling the story of her time with Joseph Mary Plunkett, one of the leaders executed after the 1916 Easter Rising and the youngest signatory to the Irish proclamation.
Come along to enjoy this exciting performance celebrating the lives of women in Irish history from 1916 to 1923, and women's voices today.
For further information please contact.
Tel: + 353 (0) 1 865 6613
Email: info@smashingtimes.ie
Follow us on Facebook and Twitter and Instagram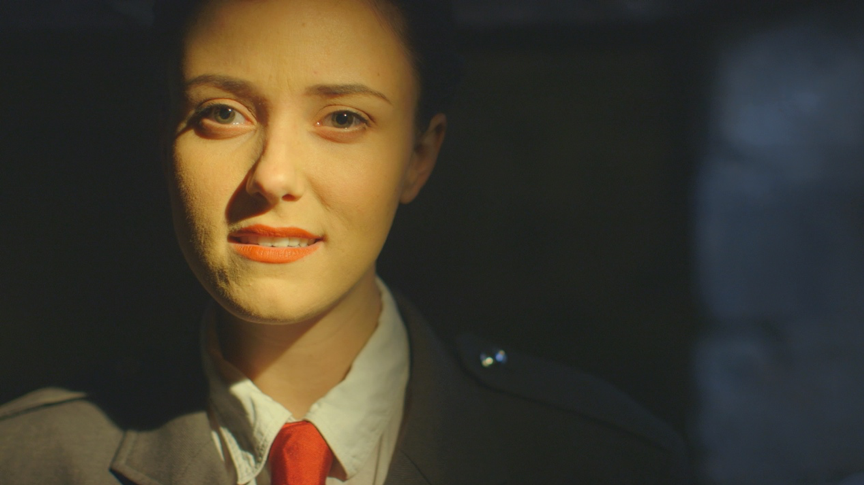 Róisín McAtamney in Constance and Her Friends by Mary Moynihan, Dublin Castle, International Women's Day, 8 March 2020, 1pm and 4pm
100 YEARS OF WOMEN IN POLITICS AND PUBLIC LIFE
10 February 2020 – 4 May 2020
Coach House Gallery, Dublin Castle Gardens
This Pop-Up Museum explores 100 years of women's participation in politics and public life in Ireland. The exhibition shines a spotlight on the stories of very familiar and less well-known women, who have contributed significantly to Irish political and public life over the past century – on the challenges they faced and the obstacles they overcame. It is told with films, interviews, interactives, objects and information panels, and looks at the individual lives of women elected to the Oireachtas over the period 1918 to 2016.
The exhibition is a wonderful opportunity to encourage people of all ages to reflect upon the journey that this country has taken, particularly over the past century. Highlighting all that has been achieved in the area of women's participation in political life over the period, the exhibition also aims to raise awareness of the considerable work remaining to be done, and will encourage discussion, debate and analysis as part of the ongoing exploration of our more recent history. The exhibition is an initiative of the Department of Culture, Heritage and the Gaeltacht as part of the Decade of Centenaries programme. It is hosted by the Office of Public Works at Dublin Castle and is curated by Dr Sinéad McCoole.
Smashing Times Decade of Centenaries Digital Art Exhibition Women's Voices Then and Now – A Creative Celebration of Women's Stories in Ireland from 1916 to 1923
How can you be an artist, and not reflect the times?
– Nina Simone
Smashing Times have set up a digital art exhibition celebrating the stories of powerful women in Ireland from 1916 to 1923. Our venue is cyberspace and our exhibition is titled Women's Voices Then and Now – A Creative Celebration of Women's Stories from 1916 to 1923.
This unique digital art exhibition is displayed on the web platform for the Smashing Times International Centre for the Arts and Equality dedicated to the promotion, protection, study and practice of the arts, human rights and gender equality. The centre operates as a world class arts space and digital hub for artists, communities and the general public across Ireland and internationally, providing a resource service and networking agency and an annual inter-disciplinary arts programme.
This exhibition takes inspiration from women's stories from the 1916 to 1923 period in Irish history, highlighting stories of change experienced by pioneering women in Ireland. We explore women's stories covering the Irish Rising of 1916, the 1918 Centenary Vote for Women, the Civil War, War of Independence and the founding years of the Irish free state. We also highlight the voices of artists and citizens as they reflect on the decade of centenaries taking place in Ireland. Further information is available here.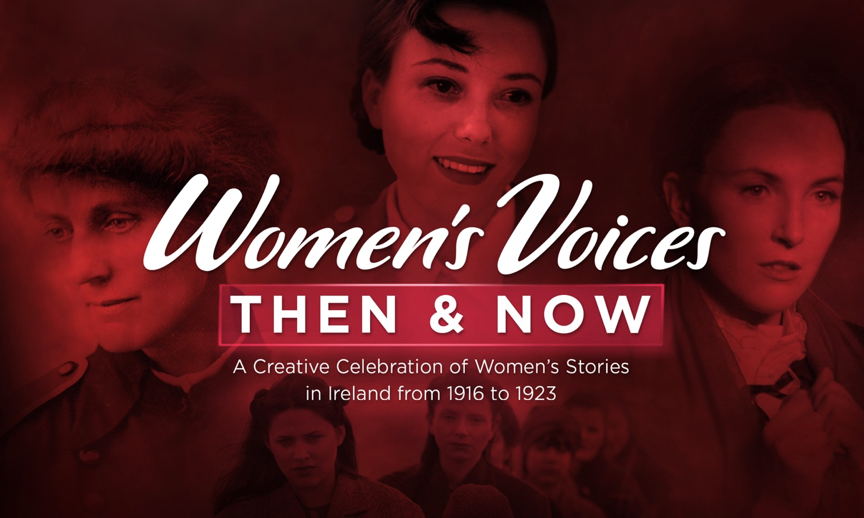 Artists and Creative Team
Mary Moynihan
Mary Moynihan MA is a writer, theatre, filmmaker, and Artistic Director of Smashing Times Theatre Company and a Theatre Lecturer for the Honours BA in Drama (Performance) at TU Dublin Conservatory of Music and Drama. Mary works regularly as a theatre and arts consultant and as a writer and director on professional arts and socially-engaged projects. As a playwright Mary's work includes In One Breath from the highly-acclaimed Testimonies (co-written with Paul Kennedy). As a theatre director, professional directing credits include scenes from A Midsummer Night's Dream by William Shakespeare for the Abbey Theatre, Dublin; Uprising scripted by Tara McKevitt, Project Arts Centre Dublin, Lyric Theatre, Belfast and on national tour; and Thou Shalt Not Kill by Paul Kennedy, Project Arts Centre Dublin and Lyric Theatre Belfast. Mary has an honours MA in Film Production from DIT and an honours BA in Drama and Theatre Studies from Trinity College, Dublin. Mary originally trained as an actor and director at Focus Theatre under the direction of Deirdre O'Connell. Mary's theatre work is physical-based and focuses on primal, visceral and intuitive responses to vulnerability and conflict and an exploration of self and the other.
Dr Sinéad McCoole
Sinéad McCoole has written extensively in the area of modern Irish History, with a focus on the role of women. Her books include Hazel, A Life of Lady Lavery, Guns and Chiffon, No Ordinary Women, Easter Widows and Mná, the 2016 Centenary publication. Her work has spanned domains of academic research and as a practitioner in the area of Irish culture, arts and history. As a Museum Director, Curator, and Author she has brought academic research to life for the public through the selection and presentation of documents, artefacts and costumes.
Curator of exhibitions both in Ireland and the US, she has worked for museum designers, book publishers, multi-media companies, national cultural institutions as well as in the public and civil service. She was Curatorial and Historical Advisor to the Ireland 2016 Centenary Programme. She has contributed to wider deliberations on commemoration during the Decade of Centenaries, as a member since its inception, of the Government's Expert Advisory Group on the Decade of Commemorations 2012-2022.
She has curated an exhibition to commemorate the centenary of Irish women in politics and public life, a 'pop up women's museum' supported by the Commemorations Unit of the Department of Culture, Heritage and the Gaeltacht, which has been on show in Leinster, Munster and Connaught before returning to Leinster in 2020.
Dr Eric Weitz
Professor Eric Weitz is an academic member of staff who is also a once and future actor and director. He has published The Cambridge Introduction to Comedy, The Power of Laughter: Comedy and Contemporary Irish Theatre, a number of articles and essays, and contributions to reference works like the Oxford Encyclopaedia for Theatre and Performance and the Encyclopaedia of Humour Studies. He is Chair of the Board for Smashing Times, a socially engaged theatre and film company based in Dublin, and on the Board of Directors for Collective Encounters, a socially engaged theatre company based in Liverpool, England.
Carla Ryan       
Carla Ryan was trained in Dublin though based in Meath. She received her Honours Degree in Drama (Performance) from DIT Conservatory of Music and Drama. During this time, she spent a semester training in Columbia College Chicago. Her recent roles include Annie in 'It's A Wonderful Life' (DIT), Margaret in 'The Typographers Dream' (Columbia College) and Grace Gifford with Smashing Times. She is also a member of the Smashing Times Youth Ensemble. Carla has a love of singing and is trained in Music Theatre Voice. She co-fronts the contemporary pop duo ELKIN. Having recently released new singles 'Cut My Tongue' and 'Green Eyes' ELKIN have received praise from the likes of BBC Introducing and RTÉ 2fm to name a few.
Margaret Toomey        
Margaret trained at Focus Theatre under the direction of Deirdre O'Connell and played in many productions there. Previous work includes Uprising in Project Arts Centre and national tour, Into the Mist at Axis Theatre, The Hen Night Epiphany at Focus Theatre, the Town Hall Theatre in Galway as well as five theatres in the Dublin area, Meet the Writers at Dalkey Heritage Centre, Dubliners at Fitzpatricks Castle, Testimonies at the New Theatre, Happy Birthday Dear Alice at the Mill Theatre and The Only Jealousy of Emer at the National Library of Ireland. Film and television work includes the character of Eileen Bishop in Fair City, This Time Round, Rat, Not Afraid Not Afraid, Dear Daughter and Claire sa Spéir. She played a part in a pilot comedy series for Channel 4 Good Morning Good Mormon and also played a role in Hold the Passion, a documentary on Focus Theatre.
Róisín McAtamney
Róisín is an actor and facilitator based in Dublin. Originally from Cork, Róisín undertook a BA in Drama Performance from DIT's Conservatory of Music and Drama. Upon graduating from DIT Róisín worked in New York on off-Broadway show Ten Ways on A Gun. Other theatre credits include Antigone, Romeo and Juliet and Smashing Times' The Woman is Present: Women's Stories of 1916 and If you could Read my Mind from the highly acclaimed Testimonies. Róisín has performed in the Smashing Times tour of The Woman is Present: Women's Stories of WWII performing in Deirdre Kinahan's new piece Ode to Ettie Steinberg, which toured to Ireland, Northern Ireland and Germany.
Geraldine McAlinden
Geraldine McAlinden is originally from County Armagh in Northern Ireland. Before becoming a professional actor Geraldine trained as a solicitor and worked in the UK and Ireland. She trained and worked part-time as an actor (and director for theatre) until 2012 when she left law to act full time. She has trained with The Gaiety School of Acting, The Focus Theatre and The Factory (Now Bow Street Academy) in Dublin. Geraldine's performance in Portrait of a Zombie led to her being long listed for an IFTA for Best Actress in a leading role in a feature film in 2013. She is one of the founding member of Alchemy 8 Productions. She has also directed, written and produced for theatre. Her tiny play 'Knowing' was published and produced by Fishamble's Tiny Plays for Ireland.
Lisa McLoughlin-Gnemmi
Lisa Mc Loughlin-Gnemmi has been Assistant Lecturer in Violin at DIT Conservatory of Music and Drama since 2001. She studied the violin in Dublin with teachers David Lillis (ex leader of the RTE Symphony Orchestra and String Quartet and member of the London Symphony Orchestra), Maeve Broaderick, Ronald Masin (former leader of the Concertgebow, Rotterdam) and Brian Mc Namara (DIT). Studying at the Royal College of Music for four years in London, she received an honours BMus degree receiving also her Performers and Teachers diplomas and ARCM under the tutelage of Rodney Friend (former leader of the NY Philharmonic) and Frances Mason. There she won the RCM Technical Prize and the Sydney Perry Award. During this period she also studied with Harry Caywood (former leader of the San Francisco Orchestra. On her return to Dublin Lisa worked with the National Symphony Orchestra of Ireland and the RTE Concert Orchestra covering both classical and light repertoire as well as opera. She also worked with Lyric Opera and Opera Ireland. She has also worked as a recording artist with the Irish Film Orchestra as well as doing childrens workshops with the Irish Chamber Orchestra inNorthern Ireland. A versatile artist, Lisa has appeared on television with the RTE Concert Orchestra as well as working with the National Symphony Orchestra on Naxos recordings and in weekly radio broadcasts as well as lunchtime concerts. She has also featured on the Ryan Tubridy show (radio). She has also worked as recording artist with Irish musicians such as Foster and Allen, Paul Brock, The secret Garden, Boyzone, Fury Village and Altan. In 2006-2008, Lisa received a masters degree in Music Performance from DIT achieving a first class honours in her final recital and a 2.1 in her overall degree. As a soloist and chamber musician, she has performed at venues such as The John Field Room at the NCH, TCD, UCD, The Goethe Institute, The Galway Arts Festival, as part the Music for Galway Concert series, Airfield House, the Bank of Ireland Concert series and many Arts Centres around the country. She also regularly performs with her husband, Sylvain Gnemmi, oboist with the National Symphony Orchestra of Ireland.